The safest way to invest is to find high quality companies that just happen to be on sale. While some prefer the thrill of speculation (and the massive gains that can be had in doing so), some don't have the time or the nerves to play that risky game. In this article, I aim to highlight such a quality company that the market seems to have irrationally discounted ahead of its earnings report: Qualcomm (NASDAQ:QCOM).
Quick Background
Qualcomm is one of the world's leading developer of semiconductor devices for the mobile chip industry. It sells two critical components into the smartphone world: the baseband processor (this is the chip that manages all the radio functions of the device) and the applications processor (the chip that does all the processing work that a device needs).
According to a report from Forward Concepts, Qualcomm was by far the leader in smartphone application processor shipments in 1H 2012: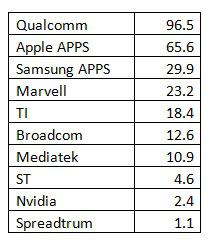 In baseband, Qualcomm is similarly dominant. According to a recent report, Qualcomm's baseband market share rose from 45% to 51% y/y in 1H 2012. The TAM saw 15% y/y growth to $8.1B. Its next nearest competitors - MediaTek and Intel (NASDAQ:INTC) - were distant second and third, respectively. The baseband business is much less sensitive to becoming commoditized than the applications processor business thanks to the lack of an ARM Holdings (NASDAQ:ARMH) style partner that will license out core designs for a small fee.
Another advantage that Qualcomm has here is that it actually integrates its baseband chip with some variants of its Snapdragon S4 system-on-chip, so it can further differentiate and provide a cost-savings for itself and its partners.
Last Report - A Knock-Out Marred By Supply Issues
In the latest quarter, Qualcomm reported stellar results:
Revenues of $4.63B, a 28% y/y increase and a 6% sequential decrease
$1.38B in operating income, up 24% y/y and down 9% sequentially
Generated $922M in operating cash flow, down 27% y/y
The main problem that Qualcomm seemed to have was not one of demand, but one of 28nm supply. Qualcomm's latest baseband processors are built on the Taiwan Semiconductor (NYSE:TSM) 28nm process. Unfortunately, TSMC has seen overwhelming demand for its 28nm wafers (and, until recently, yield problems), from a multitude of vendors, which has hamstrung Qualcomm's ability to meet all of its considerable demand.
That being said, it's better to have a supply issue than a demand one.
The Current Quarter - Estimates And Expectations
In the current quarter, analysts are modeling $0.82/share in earnings on a range of $0.79 - $0.87, which represents a modest y/y increase from $0.80/share. On the revenue side, analysts are looking for $4.67B, or a 13.5% y/y increase in sales.
These figures essentially lie at the midpoint of the guided ranges of $4.45B - $4.85B in revenues and $0.78 - $0.84 on the non-GAAP EPS side.
I don't expect Qualcomm to disappoint on either revenue or earnings - its Snapdragon chips power very popular designs such as the Samsung Galaxy S III (US version), the LG Optimus G, Google's (NASDAQ:GOOG) Nexus 4, Nokia's (NYSE:NOK) Lumia 920, Motorola's Droid Razr M, and many others. Its baseband chips - thanks to its near dominance of the LTE landscape - power designs that incorporate both its applications processors as well as those that use other designs such as the Apple (NASDAQ:AAPL) iPhone 5.
The Upcoming Guidance
The big unknown is the upcoming guidance for CQ4. Analysts are modeling $5.30B in revenues and $1.00 EPS on average. Watch the non-GAAP guidance numbers to see how well they line up with the analyst expectations, as this will really be the key driver for the stock. The current quarter is already expected to be good hence the emphasis on the CQ4 guide. There will likely continue to be very little competition to Qualcomm on the LTE side until Intel releases its next generation XMM 7160 radio with its "Clovertrail+"
Further, another growth vector for Qualcomm on a longer term basis is that its latest baseband chips will support TD-SCDMA, the standard air interface supported in China. This will open up the company to the 100M unit projected TAM in 2013 in China, up from the 60M TD-SCDMA units in 2012.
Finally, Windows RT devices could create some additional upside for the firm's baseband and application processors. Windows RT is a version of Microsoft's (NASDAQ:MSFT) Windows 8 that is binary compatible with the ARM instruction set. While Nvidia (NASDAQ:NVDA) seems to have an early lead by capturing the "Surface" win, the ASUS Vivo Tab RT, and the Lenovo Yoga 11, if Windows RT proves to be the platform of choice for netbook replacement, then Qualcomm and Nvidia stand to gain from a rising tide.
Conclusion
Qualcomm is an excellent company that is a leader in the wireless business. If the earnings report is great on the 7th, then current shareholders will be happy, and potential ones should initiate new positions on a pullback. If the earnings report isn't so well received, keep in mind that the fundamentals are fully intact and that buying in stages on any big drops for the long haul is something seriously worth considering.
Disclosure: I am long INTC, NOK, NVDA. I wrote this article myself, and it expresses my own opinions. I am not receiving compensation for it (other than from Seeking Alpha). I have no business relationship with any company whose stock is mentioned in this article.