Before focusing on today's all-star REIT, let's review the outlook for the multifamily industry. To start with, the forecast for strong demand and favorable demographics from the growing "echo boom" population has increased the high propensity to rent. Conversely, this pent-up demand from young adults (age 20-34) living at home and with roommates has accelerated rent demand. As the snapshot below illustrates, over 60 percent of young adults choose to rent.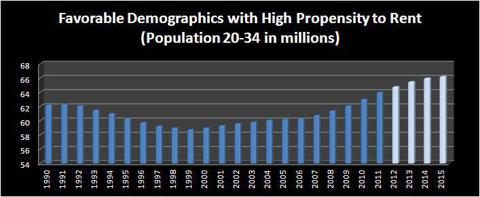 Also, the moveout rates from apartment residents purchasing homes have declined dramatically and that negative sentiment is further magnified by the requirements by mortgage lenders to qualify homeowners with strong credit scores and significant down payments.
Multifamily supply remains below long-term averages due to tighter capital standards, and the excess single-family home inventory does not compete with well-located apartment homes. Also, many vacant and foreclosed homes are located in remote areas and they lack amenities offered by professionally managed apartment communities.
So All That Leads to a Sound REIT Sector...
According to NAREIT, there are 15 apartment REITs with a total market capitalization of $71.463 billion (as of September 28, 2012). Stock returns from the apartment sector REITs have slowed as the sector had total returns of 6.84 percent for the year (according to FTSE NAREIT US REIT Index data), while the FTSE NAREIT All REIT Total Returns Index was up 17.37 percent during the same period.
Apartment market conditions improved for the seventh consecutive quarter, but according to a recent survey from the National Multi Housing Council, the pace has slowed. As explained by NAREIT's Carisa Chappell (in a NAREIT article, Multifamily Market Fundamentals' Improvement Slows):
NMHC's quarterly survey of CEO's and senior executives of apartment related firms nationwide regarding apartment market conditions noted that while the multifamily sector is benefiting from high occupancies and increased rental rates, recently that growth has come at a more moderate pace. The number of respondents who reported tighter rental markets than the previous quarter declined to 25 percent, reflecting a slowing of occupancy growth and rent increases. In the previous quarter, 55 percent reported tighter market conditions.
The general consensus for the sector is that despite the slowdown, supply-demand dynamics remain favorable for owners and, even after nearly three years of recovery, apartment markets remain strong.
Camden Property Trust: An All-Star REIT
Camden Property Trust (NYSE:CPT), based in Houston, is an S&P 400 company that owns interests in and operates 203 properties containing 68,831 apartment homes across the United States. The company has received numerous awards for workplace excellence and was recently named by FORTUNE® Magazine for the fifth consecutive year as one of the "100 Best Companies to Work For" in America, placing 7th on the list.
Camden was founded in 1982 by Rick Campo and Keith Oden (Cam + den) and the company went public in 1993. In 1997 Camden acquired Paragon Group and in 1998 the company acquired Oasis Residential. In 2005, Camden acquired Summit Properties, and today Camden has a market capitalization of $5.652 billion.
According to Camden's website, Rick Campo, CEO, began his real estate career after graduating from Oregon State University in 1976. After working for a private Houston real estate company, he co-founded Camden's predecessor companies (in 1982) and has spent almost 30 years building a company of great people that are renowned for their management proficiency, their development and construction capabilities and their savvy in the areas of technology, training and marketing. He has led the development, management, acquisition and disposition of real estate properties valued in excess of $10 billion; and under his leadership, Camden has grown from a Texas-based real estate firm with assets valued at $200 million in 1993 to an industry leader with a national footprint and assets valued at more than $8 billion.
Keith Oden was co-founder of Camden's predecessor companies (in 1982) and has served Camden as President and Trust Manager since 1993. As a Principal Executive Officer and Director, Oden drives Camden's strategic initiatives, leads the property operations and corporate support services, and promotes the company's culture. After completing his Masters in Business Administration from the University of Texas at Austin, Oden began his career as a management consultant with the then-public accounting firm Deloitte, Haskins and Sells in 1979. He joined Century Development Corporation, one of the most active real estate development firms in the Southwest in 1981, and later became Director of Financial Planning.
Camden: A Diversified Platform
Camden has a very well-balanced income model that has grown from 181 properties in 2008 to 203 properties (as of Q3-12).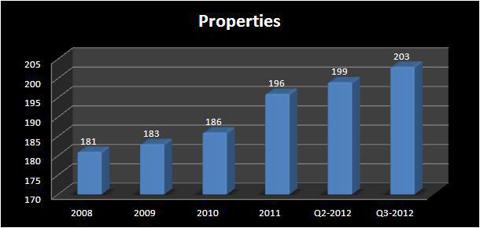 With around $5.218 billion in assets today, Camden owns and operates a well-balanced portfolio of high-quality apartment communities. In addition, Camden's broad footprint extends into many of the top metro areas for estimated gains. Here is a snapshot of the Top 25 metro areas based upon employment growth (in thousands):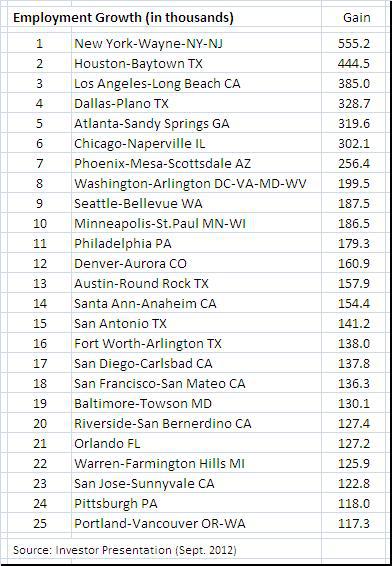 Here is a snapshot of the Top 25 metro areas based upon population growth (in thousands):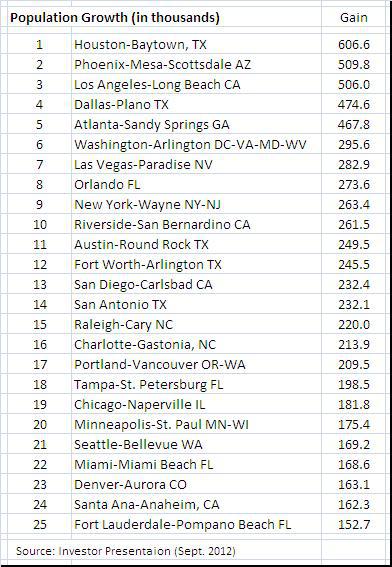 Over 97 percent of Camden's income is derived from the above-referenced markets and over 58 percent of the company's properties (based on number of properties) are located in Texas (25 percent), Florida (22 percent), and North Carolina (12 percent).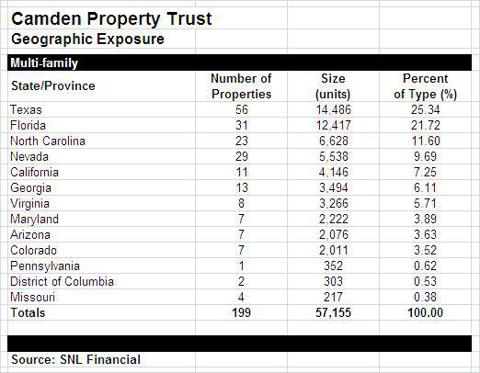 Camden's revenues are balanced between many of the major MSAs, with over 16 percent of the company's revenues in the Metro Washington, DC market.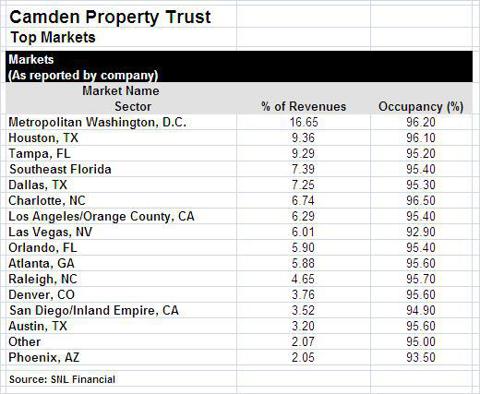 Camden: Operating Fundamentals Improving
Camden's physical occupancy averaged 95.6 percent in Q3-12, up from 95.1 percent in Q3-11 and 95.4 percent in Q2-12. As the snapshot below illustrates, Camden's superb management platform has been a strong part to the company's premium growth performance.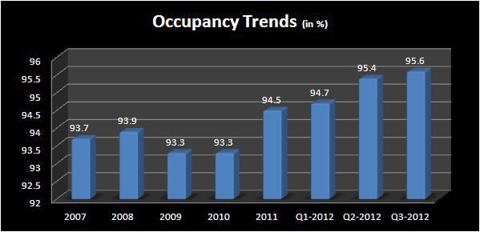 Also, as noted above, Camden has a balanced revenue model with properties in many of the major US cities. As evidenced below, Camden has targeted its acquisition and development strategy at many of the best markets in the nation - with the best performing markets of Houston, Charlotte, Washington (DC), Raleigh, and Denver.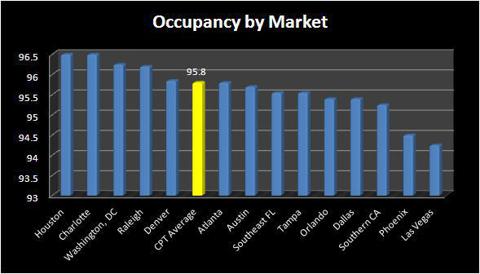 Also, as occupancies rise, Camden has also increased its average monthly in-place rents (same store portfolio). As Keith Oden, President of Camden, explained during the third quarter conference call:
For the third quarter in a row our on-site teams have outperformed our original plan and our reforecast, leading to our third straight FFO and same-store guidance upward revisions. Obviously, the market fundamentals are still very good. Less obvious to outside observers is the fact that our on-site and support teams are executing brilliantly.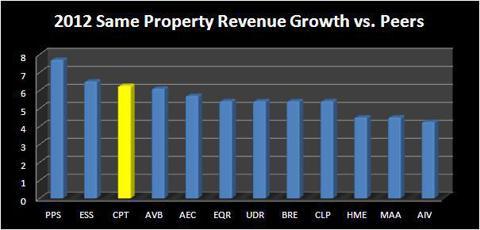 Here is a snapshot of 2012 same property revenue growth for Camden and its peer group (year-to-date 2011 vs. 2012):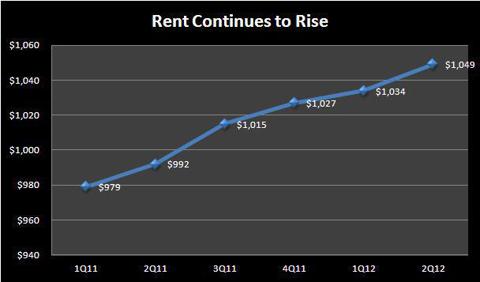 Household incomes for Camden residents are also rising: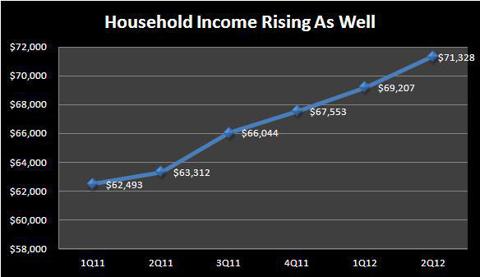 Conversely, average rent-to-income ratios for Camden's residents are falling: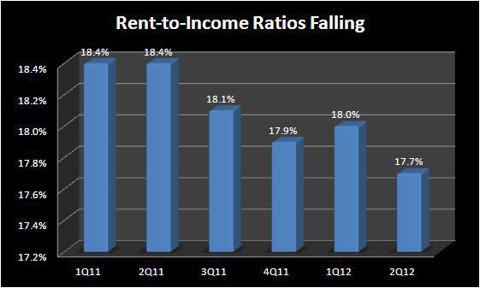 In the latest quarter (Q3-12), Camden had the highest quarterly NOI growth in 20 years. The company had double-digit NOI growth in nine of its 15 markets and the company had the second-best sequential revenue growth in its history, behind only the second quarter of last year. Five markets had better than 3 percent sequential revenue growth. Those markets were Charlotte at 4.6 percent. Denver and Atlanta at 3.3 percent, and Houston at 3.1 percent. Here is a snapshot of Camden's year-to-date (through Sept 2012) NOI growth performance and its peer group: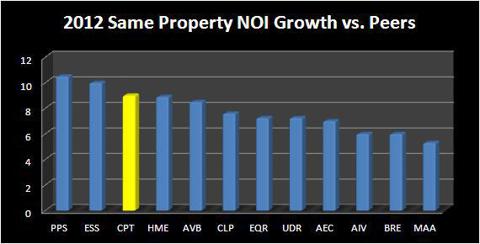 Funds from operations (FFO) for the third quarter was $82.1 million or $0.93 per share, representing approximately a $3 million or $0.03 per share improvement from the midpoint of the prior guidance range. Camden also revised its 2012 full-year FFO guidance to a range of $3.59 to $3.63 per diluted share, with the midpoint of $3.61 representing $0.07 per share increase from the midpoint of its prior guidance range. FFO guidance for the fourth quarter of 2012 is $0.94 to $0.98 per share with the midpoint of $0.96 per share representing $0.03 per share increase from the $0.93 per share the company reported for the third quarter.
Camden: A Strong Balance Sheet
Camden has an attractively liquid balance sheet that consists of a full availability of $500 million on its unsecured credit facility. In addition, the company has an unencumbered asset pool of approximately $4.8 billion. Other strong capital metrics include a 5.5x debt-to-EBITDA ratio and debt-to-market of 33.62.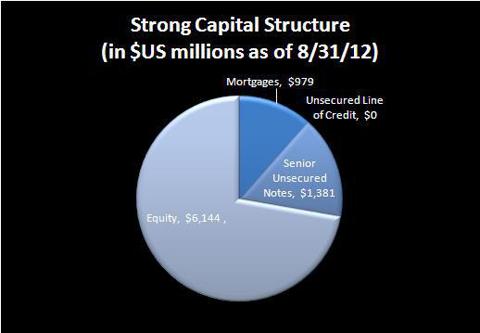 Camden has around 89.6 percent of fixed-rate debt with a weighted average of debt maturity of 6.3 years. The company's manageable debt maturities are well staggered and the company has sufficient liquidity to meet near-term needs.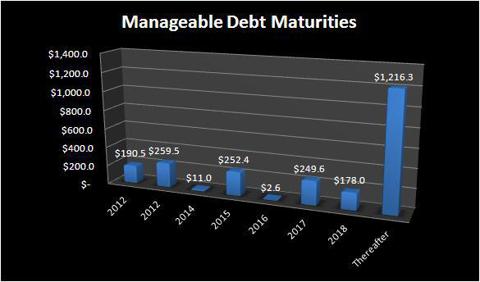 The Answer is Jobs, Jobs, and More Jobs
During the recent (Q3-12) earnings call, Camden's co-founder and CEO, Rick Campo, opened the call with the following:
There isn't much discussion and concern that the uptick in the single family markets will have a negative effect on our business. We think that an improving single-family market is a good thing for the apartment markets and the economy as a whole. Single-family and multifamily markets have done well at the same time during many economic cycles. The economic expansion beginning the 1994 through 2002 is a good case study on the solid coexistence of the single-family-multifamily markets.

During 1994 and 2002, eight-year period, the homeownership rate actually increased from 64% to 68% creating 4-plus million new homeowners. During that same timeframe multifamily construction averaged 250,000 apartments per year. Multifamily demographics were actually pretty poor during that time with the 18 to 30-year old cohort declining. During the same period, Camden had 45% NOI growth and our stock price more than doubled. The game changer was 23-million jobs.

Single-family market improvements will help expand job growth and will lead to a stronger business environment for all of us. It's all about job growth and it always has been.
I agree with Campo (the "game changer is jobs") and I also believe that Camden's continued success will be in the company's ability to continue recycling its older assets and redeploying its capital back into new development projects. Camden's development pipeline totals 5 percent (1 in lease-up and 4 under construction) for a budgeted capital cost of $337 million. The company has two completed projects in lease-up: Camden Royal Oaks II in Houston (61 percent leased) and Camden Westchase Park in Tampa (95 percent leased). Camden has a pipeline of eight projects for potential development, with an estimated cost of $594 million.
Sum Up the Camden Value Proposition
This is my first article on Camden Property Trust and I plan to include the apartment REIT in my future research universe. Camden is trading at $67.19 per share with a current dividend yield of 3.33 percent. Although the year-to-date total return of 10.78 percent is below the S&P 500 return of 14.47 percent, I think there is considerable room for capital appreciation and dividend growth.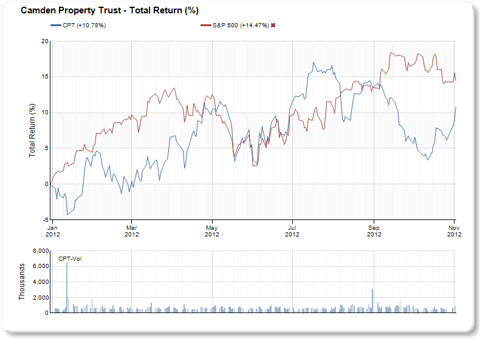 Like most REITs, Camden cut its dividend during the recession; however, the company is making sound progress towards re-growing its dividend.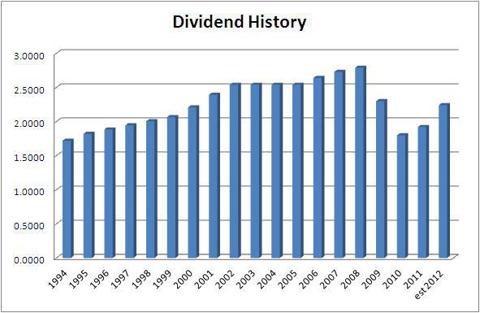 Camden's valuation range is between $71.00 and $74.00 with a consensus median NAV of around $72.50. (BOA (NYSE:BAC) is $71.10; JPMorgan (NYSE:JPM) $78.59; KeyBank (NYSE:KEY) $70.42; Baird $72.01; Wells Fargo (NYSE:WFC) $72.00). With current shares trading at $67.19, Camden is trading an 8 percent discount to NAV.
In terms of Camden's five-year performance, the company has outperformed the S&P 500 and the SNL US REIT Index (CPT's total return is 53.86 percent):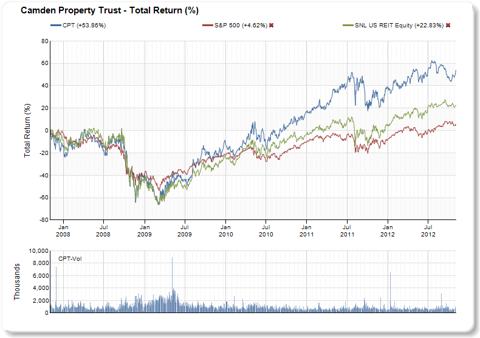 And in terms of Camden's ten-year performance, the company has returned 254.57 percent:
Although I am not a huge fan of the apartment sector (due to shorter contractual lease terms and lower barriers to entry), I am warming up to Camden's well-balanced platform and I think the stock is worth exploring. The fundamentals are solid and the company's strong balance sheet makes the REIT well-positioned to capitalize on future opportunities. That is why I consider Camden an ALL-STAR performer!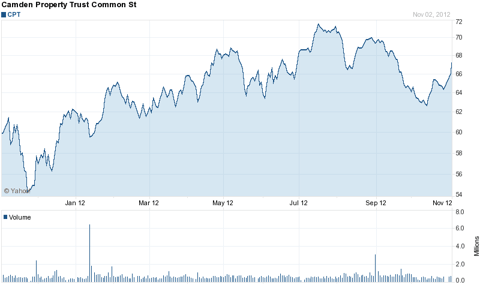 The following REITs were included in the peer group: (NYSE:PPS), (NYSE:ESS), (NYSE:AVB), (NYSE:AEC), (NYSE:EQR), (NYSE:UDR), (NYSE:BRE), (NYSE:CLP), (NYSE:HME), (NYSE:MAA), and (NYSE:AIV).
Source: SNL Financial, Camden Investor Presentation (Sept 2012). Camden Q3-12 Earnings Call, and NAREIT.
Disclosure: I have no positions in any stocks mentioned, and no plans to initiate any positions within the next 72 hours. I wrote this article myself, and it expresses my own opinions. I am not receiving compensation for it (other than from Seeking Alpha). I have no business relationship with any company whose stock is mentioned in this article.