In some ways, with the market being closed for the first two days of last week and the mixed impact hurricane Sandy had on the market's perceived value (it's fiscally stifling, yet also simulative), it's tempting just to toss last week's market action out the window and call it a statistical outlier - there's nothing meaningful to glean from it. On the other hand, whether it should or shouldn't matter is irrelevant; stocks ARE starting out this week where they left off last week, and traders' dispositions can't have changed that much this weekend.
We'll hash it all out in a second for option trading, right after reviewing last week's major economic numbers.
Economic Calendar
What a week! As if it being jam-packed with way more than the usual amount of economic numbers to digest wasn't enough, we had to digest them in only three trading days rather than the usual five. There's no way we can dissect everything, so we'll just hit the highlights, starting with the biggie… unemployment.
The bad news is, the unemployment rate inched upward, from 7.8%, to 7.9%. The good news is, the domestic economy still created a surprisingly strong number of jobs. The government figure said 184,000 private payrolls were added in October, which jives with the ADP number of 158,000 from earlier in the week. Both were stronger than anticipated, and stronger than the recent average. On the flipside, initial as well as ongoing unemployment claims stayed at their recent levels, coming in at 363,000 and 3.263 million - respectively - last week.
Generally speaking, consumers are still feeling reasonably well. The Conference Board's consumer confidence score ran up from 68.4 to 72.2 in October, which is the highest level since February of 2008, which was before anybody realized we were headed off a recessionary cliff. Hourly earnings were flat (falling short of the expected 0.2% increase), though personal incomes (total, on average) grew by 0.4% in September. Spending improved by more than either income measure, growing 0.8% in September.
Factories are busier too. Factory orders swelled by 4.8% in September, countering the 5.1% plunge from August, and construction spending grew by 0.6% for the same month. The government's preliminary productivity score for the third quarter - which is different than GDP - said productivity should come in higher, by 1.9%. The ISM index (which looks at service industries rather than manufacturing) inched higher, from 51.5 to 51.7, suggesting the modest expansion isn't isolated to just factories and industrial production.
All the rest is on the grid below. If we're headed into a recession, it's still not showing up in the economic numbers yet.
Economic Calendar

With last week's deluge of economic data, there's not much left in the lineup for a while. That's why this week is so light in terms of data. The main items we're really interested in are Wednesday's consumer credit total (indicating how much debt consumers are willing to take on - an indirect measure of confidence) and Friday's Michigan Sentiment score (which will confirm or negate last week's consumer confidence reading).
Stock Market
The shortened trading week was at least a positive one. The S&P 500 (SPX) (NYSEARCA:SPY) closed 2.26 points higher (up 0.16%) on Friday than it did the previous week. But it certainly ended things on a sour note; the sellers couldn't get out fast enough on Friday. It's what caused Friday's sharp reversal [remember, Friday started out bullishly], however, that's suggests the weakness at the end of the weak was more than just a little volatility.
On the daily chart of the S&P 500 below, you can see how the index just needed to brush the 20-day moving average line (thin, blue), and the 50-day moving average line (purple) before the selling floodgates opened. Worse, the 20-day line has now crossed under the 50-day average line, confirming that the market is at least in a short-term downtrend.
You can also see the CBOE Volatility Index (VIX) (NYSEARCA:VXX) has renewed its uptrend by pushing up and off of its 50-day moving average line.
From a momentum perspective, there's not much to dispute here - the index is in a downtrend, and is apt to stay in that mode until further notice. That's not to say a rebound is completely out of the question. There is, after all, a ton of support around 1396, where the lower 20-day Bollinger band, the lower 50-day Bollinger band, and the 100-day moving average line are all on the verge of converging. T he 200-day moving average line is waiting just below that level, around 1379. The bears have the edge right now though, in that the momentum is working against the market… and momentum is half the battle.
More than that, the selling volume on Friday was just as solid as the bullish volume on Wednesday and Thursday. For that matter, the selling volume has been stronger than the buying volume for the past three weeks (NYSEARCA:DIA) (NYSEARCA:IWM).
Just for a little perspective, here's a look at a chart of the NASDAQ Composite (COMP) (NASDAQ:QQQ), with the same indicators and same settings. It doesn't change a thing; the NASDAQ's VIX (VXN) is now in an uptrend, and the composite itself is pushing under all the key levels that should be floors. In fact, the NASDAQ Composite is just a few points away from crossing under the key 200-day moving average line (green). If the bulls are going to put up a fight, this is where (and when) it needs to happen.
NASDAQ Composite & NASDAQ VIX - Daily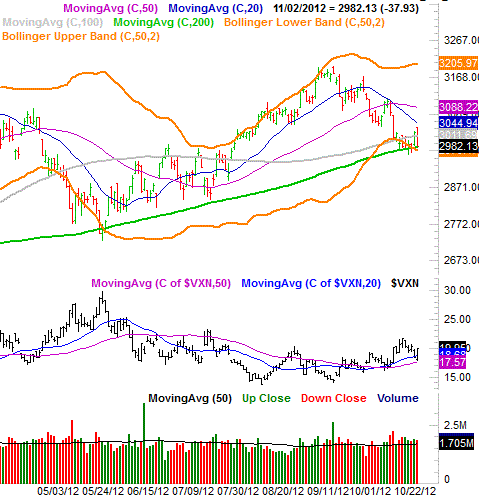 Sectors
It's been a while since we took a step back and looked at the bigger sector trends, mainly because it's been relatively quiet. But, we're finally starting to see a couple of noteworthy trends develop… both good and bad.
The bad one is the steep selloff we've seen from the technology sector (NYSEARCA:XLK) (NYSEARCA:IYW). As a group, Q3′s results were pretty disappointing, but even worse than the historical numbers were the pessimistic outlooks many of them seem to have shared. It is the worst-performing sector since mid-September, with no end in sight.
The good sector is one that's apt to surprise you - financials (NYSEARCA:XLF) (NYSEARCA:IYF) (NYSEARCA:KBE). The sector hasn't exactly had a great third-quarter earnings season either, yet optimism seems to abound. In fact, since mid-June, the financials are now the top-performing group, and are still marching higher at a sustainable pace.
Sector Performance, since June 14th, 2012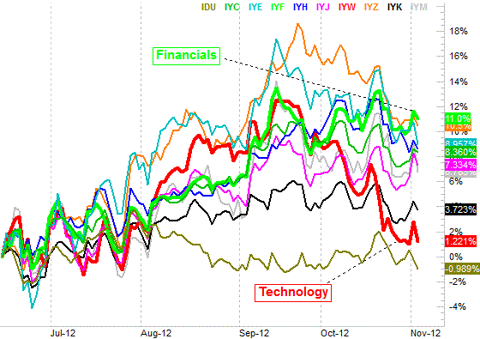 Of course, this is just a look at technical momentum. Though momentum is important, it's not the only factor to consider right now. We're also in the middle of earnings season, and that's playing a role in how well or poorly a group of stocks is performing too. So…
Earnings
Earnings season isn't over yet, so we're not done slicing and dicing the numbers. But, since we opened up the sector discussion above, we may as well round it out by adding in Q3′s earnings scoreboard - by sector - to date. Incredibly enough, the strength we've seen from financial stocks jives with the sector's earnings growth. Indeed, most of the trends we're seeing from the sector-based ETFs reflect Q3′s results.
Q3 Earnings Results, by Sector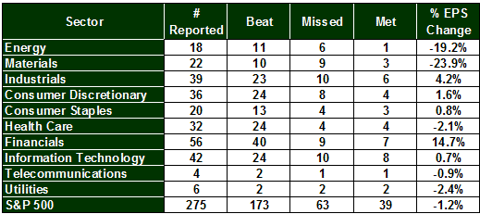 One caveat…. bear in mind that expectations (missed or met) can push or pull a stock as much as actual earnings growth or contractions can for option trading.
We'll have a deeper analysis of third quarter earnings for you next week.
Disclosure: I have no positions in any stocks mentioned, and no plans to initiate any positions within the next 72 hours. I wrote this article myself, and it expresses my own opinions. I am not receiving compensation for it. I have no business relationship with any company whose stock is mentioned in this article.
Additional disclosure: BigTrends Rapid Options Income clients haven an open SPY options position.