Perhaps out of fear of changing industry trends or perhaps out of undervaluation, the management of Advance Auto Parts (NYSE:AAP) has enlisted the help of Blackstone Group LP to facilitate a sale of the company. After having reported a decline in comparable-same-store sales and having reduced its EPS outlook for the year from a range of $5.55 to $5.75 to a range of $5.00 to $5.15, last week's news of a potential sale pushed the shares upward some 14%. It is now selling at a market capitalization of $5.85 billion compared to the $5.2 billion market capitalization of last week: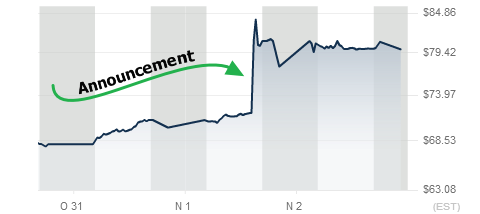 (Source: WSJ, accessed 11/3/2012)
The press release indicating the reduced guidance came at the tail end of a long successful climb in revenue and profitability: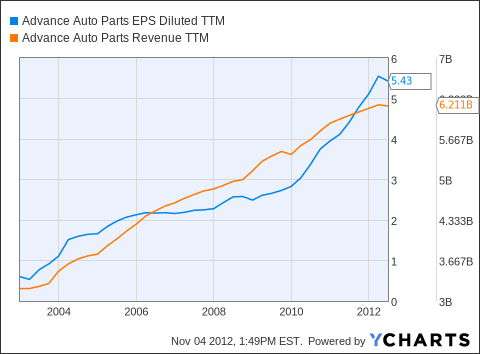 AAP EPS Diluted TTM data by YCharts
When one considers AAP's historic growth rate, the company has recently sold at a relative discount. AAP's free-cash-flow [1] yield on its 3,727 stores -- not counting the quarter to be released next Wednesday (the 7th) -- currently stands at 8.5%. This compares favorably with its 5,000 store competitor AutoZone (NYSE:AZO) who currently trades with a free-cash-flow yield of about 6%: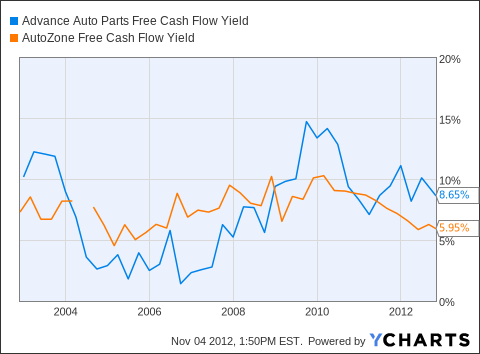 AAP Free Cash Flow Yield data by YCharts
On Selling Itself
AAP shopping itself around suggests, for me, two different interpretations:
The company could believe itself to be undervalued by the market, and shopping itself around will get a better appraisal by the market place -- including the stock market.
The company could be anticipating the need to make changes which are easier for a private company to make, rather than attempting it as a public company. That is, if the company needs to make adjustments which would inevitably result in a loss, the public markets would react poorly given the relative short term orientation of the market. It would be easier to make difficult but necessary changes as a private company.
While number two is always possible, it goes against management statements. Therefore, let's first entertain whether the undervalued by the market place. We will also look at the plausibility of the reasons given by managements for the same-store-sales declines. As we will discuss below, if the decline in same-store-sales was the result of bad management, then #2 would be of grave concern, but it appears as if AAP is experiencing a larger industry trend.
Management Statements On Declining Comps
With the comparable same store sales declines management found itself in the place of needing to explain what happened. Here are management's words, right at the start of the conference call:
"As you have seen in our earnings release this morning, our second fiscal quarter reflected a near-term slowdown within the industry and in our results."
The difficulty with such a statement is that its main rival, AutoZone, does not appear to be experiencing the same difficulties. For instance, for AutoZone's 4th quarter it reported:
"AutoZone, Inc...reported net sales of $2.8 billion for its fourth quarter (16 weeks) ended August 25, 2012, an increase of 4.6% from the fourth quarter of fiscal 2011 (16 weeks). Domestic same store sales, or sales for stores open at least one year, increased 2.1% for the quarter" (Press Release)
Yet AutoZone's more positive results could be due to the different geographic locations of the two companies' respective stores. For instance, AutoZone noted in the conference call dated September 19th, 2012:
"There were substantial differences in sales by regions…This year, the stores in the areas we'll define as the Northeast, Great Lakes and Plains underperformed materially compared to the rest of our store base. While representing about 1/3 of our total store base, their results affected our overall story in both Retail and Commercial."
Is this a plausible reason why AutoZone posted comparable same store sales growth while AAP reported a comparable same store sales decline? When we look at the two location maps, we see that such a conclusion is probably fair [2]. Below is a location map of AAP - notice that it is heavily located on the eastern seaboard:
(Click to expand)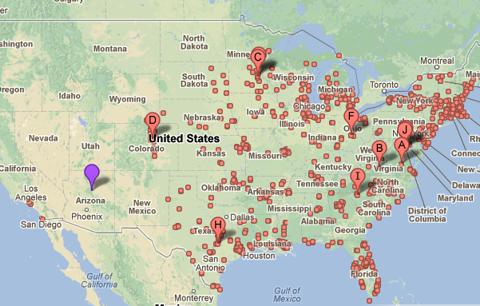 Click to enlarge
Below are AutoZone's locations. Notice its geographic spread:
(Click to expand)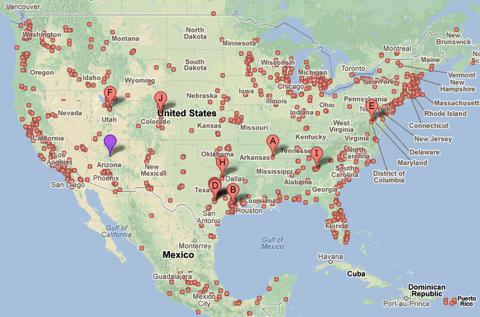 Click to enlarge
Very well, perhaps it is an industry trend rather than simply poor management by AAP. With AAP heavy concentration in the east it is possible that there is an industry slow down (supposedly because of weather) in that region.
There is one other thing we should point out about being on the eastern seaboard. That is, Hurricane Sandy has probably affected a good number of stores and it certainly has taken a bit out of the spending power of people in many north eastern states. By my estimate, Hurricane Sandy could have affected up to 800 AAP stores, if one simply counts the number of stores in the hardest hit states -- although, of course, it is far more likely that the number is way below that figure.
Valuation
If the company could be expected to achieve similar growth rates as if has in the past in the future then the company would be undervalued. And there is some evidence to support the notion that AAP could do more business in the future. For instance, cars on the road have an average age of 10.8 years old; and, further, driving patterns are below historical norms, suggesting that we may drive more in the future if driving catches up to the historical average.
And even while the average consumer is facing pressure (due to unemployment or underemployment, uncertainty, etc.), AAP still believes that the overall industry trends suggests that there has been a build up of future demand. As put by CEO Darren Jackson in the first quarter conference call:
"[The situation of the average consumer]...does not change the fundamental number of cars on the road, doesn't change the age and it does not change the deferred maintenance bill, which is $60 billion."
When AAP was selling at a market capitalization of $5.1 billion, the company was selling below what I thought it could be worth, and nearly below a level in which could be deemed to hold a margin of safety.
But given the destruction of purchasing power by Hurricane Sandy in the north east, it is prudent to aim lower with a purchase price. Therefore, if we see prices below $4.8 billion in market capitalization ($65 a share), the company starts to look very interesting. The current weakness in the company's most recent reported figures appears to be the result of the broader market rather than underperformance by the company's strategy.
We obviously may not see such a valuation, but if the share price fall back into the sixties, we ought to pay attention.
Note on Strategy
On a finally note, one reviewing the balance sheet of AAP would see a gradual rise in inventories which, under some conditions, could be the cause of alarm. Not in this case however because of the company's strategy of increasing the availability of products in its stores.
To do that, AAP has needed to increase its inventory balance, which, of course, requires additional capital. Yet, because AAP wants to keep its working capital low, the company has allowed accounts payable to increase as a percentage of inventory -- suggesting that the company's availability strategy could be working capital neutral -- and therefore not weighting on operating cash flow or free-cash-flow: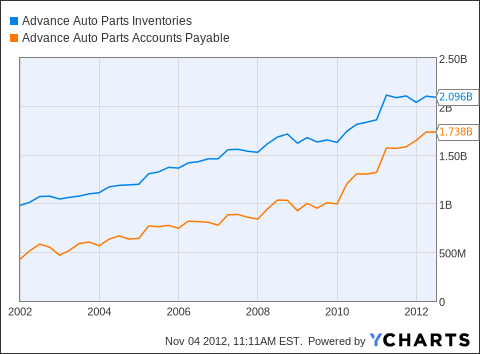 AAP Inventories data by YCharts
Conclusion
AAP may be slightly undervalued in a relative sense but it doesn't offer a margin of safety -- particularly because of (1) the recent rise in share price and (2) the effects of Sandy in a significant portion of states where AAP has a large presence creates uncertainty which needs to be mitigated by a better price. But like many good businesses, it deserves to be watched-listed and followed. With the current volatility in the market and a good chance of more negative news out of the north east as Sandy's bill is added up, we might see the shares pull back to valuations which are more attractive and offer a greater margin of safety.
Notes:
Free-Cash-Flow = FCF = Cash From Operations - Capital Expenditures
Using Google maps to create a location base map is not necessarily a good policy. It served to illustrate the point, however.
Disclosure: I have no positions in any stocks mentioned, and no plans to initiate any positions within the next 72 hours. I wrote this article myself, and it expresses my own opinions. I am not receiving compensation for it (other than from Seeking Alpha). I have no business relationship with any company whose stock is mentioned in this article.