As of Friday's close, KB Homes (NYSE:KBH) is trading at a market cap of $1.93 billion with a dividend of $1 per share and P/BV (as reported)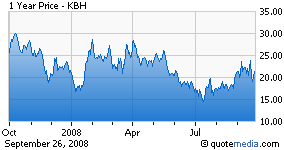 of roughly 1.5x.
This discussion will suggest that KBH is significantly overvalued considering the housing market has yet to trough and KBH will likely suffer meaningful, additional deterioration in tangible book value over the coming few quarters.
Here are the reasons why:
1) KBH just reported Q3 results. Backlog sits at 4,774 homes ordered. Net new orders were an anemic 1,329 units. In the 3rd quarter, KBH delivered and recognized revenues for 2,788 homes. At this run rate, KBH will burn through its current backlog by the end of Q1, 2009. The company stated on their conference call that they expect Q4 net orders to be equally as weak as Q3 as new product will not come on stream until Q1 of 2009. As a result, it should be expected that KBH's revenues should fall below $500 million/quarter by Q2 of next year (i.e. 2,000 homes x $230,000 = $460 million)
2) KBH's run rate for SG&A/operating expenses is still in excess of $100 million per quarter. With revenues certain to drop preciptously by Q2 of next year, KBH will have to take further charges in order to reduce their run rate further. Assuming $500 million in revenues, KBH's Op-ex is likely too high by at least a factor of 50% if not more. So, it is likely that KBH will generate further operating losses over the next few quarters as it works to right-size its SG&A against an ever deteriorating top-line.
3) KBH will have additional impairments that have yet to be recognized on the balance sheet. Specifically, we should expect additional write-downs for the value of land options, undeveloped lots, finished inventory on hand but unsold (roughly 1,000 units), and joint ventures. KBH's Tangible Book Value is only heading in one direction over the next few quarters - and that is south.
4) KBH's board of directors continues to pay a $1 dividend which effectively amounts to a return of capital to shareholders... but certainly not a return on capital as the company continues to generate operating losses and impairments. The board's posted dividend yield is an obvious effort to hide the fact that the balance sheet continues to bleed value. In fact, it would seem that each quarterly dividend paid accomplishes little else but to reduce tangible net worth by the amount of the dividend. How long is that sustainable? How long before Wall Street wakes-up to the fact that KBH is actually trading at close to 2x Adjusted Book Value? How long until KBH cuts its dividend?
5) KBH claims that they have $800 million available from their revolver if they need it. However, it should be noted that the line reduces to $650 million if Tangible Net Worth falls below $800 million...due to lower net orders and the obvious need for additional impairments, it would seem that KBH may face a reduction in their line by the middle of next year unless they can turn results around by the third quarter.
6) With roughly 90 million shares outstanding, each $90 million of after-tax losses, write-downs, cash outflows, etc. reduces TBV by $1...
Simple estimates of losses/impairments over the next 3 quarters would bleed KBH BV down closer to $10 per share v. current reported $13-$14...
This begs the following questions:
1) Will it still be responsible for KBH's board to pay out close to 10% of KBH tangible Book Value in the form of a cash dividend through 2009 and beyond?
2) At the current share price of $21.60, is 2x Adjusted Book Value an appropriate trough valuation for a shrinking homebuilder in the midst of a recession?
3) With insufficient backlog to convert inventory to cash beyond the end of this year, isn't it inevitable that KBH will have to turn to its cash surplus to finance operating losses until the cycle turns and further impair its liquidity and book value?
4) With unemployment climbing towards 7%, access to credit diminishing, the pool of credit-worthy purchasers declining, new foreclosures coming on the market every month, and an inventory overhang nationwide of close to 5 million homes...should one really expect housing starts to recover in the foreseeable future? eg. before 2010?
On a good day, I submit that KBH should trade at perhapss 1.3x ABV or close to $13 per share v. current price of $21.60. I estimate a true trough valuation as 1x BV so 1.3x BV is already discounting some kind of recovery.
I also submit that KBH's payment of a $1 dividend is as irresponsible as it is unsustainable.
While KBH may stay at current levels as it works through the final inventory in backlog, I expect meaningful pressure on the stock by the middle of next year and to see the stock trade significantly lower over the 6-12 months ahead as the housing market fails to recover and KBH keeps marking down its balance sheet.
Risks to this forecast come in the form of signs of a meaningful recovery in KBH net orders in early 2009. I view this as unlikely.
But even if this scenario materializes, it is unlikely KBH will trade much higher than its current price around $22.
Bottom Line: KBH is a short.
Target Price $13
Probability of Successful Short Sale - 70%
Probability the Stock trades flat - 30%
Expected Value - $15.50 per share
ROI - 25% plus
Disclosure: None