In a research note issued last week, William Blair Maintained coverage with an "Outperform" rating on Dynavax Technologies (DVAX), and a one-year price target of $9 a share, representing a premium of 122% to DVAX stock closing price of $4.06.
Dynavax's lead product candidate is Heplisav, a Phase 3 investigational adult hepatitis B vaccine designed to provide higher and earlier protection with fewer doses than currently licensed vaccines. Heplisav combines hepatitis B surface antigen with a proprietary Toll-like Receptor 9 agonist to enhance the immune response.
The FDA has set November 15, 2012, to discuss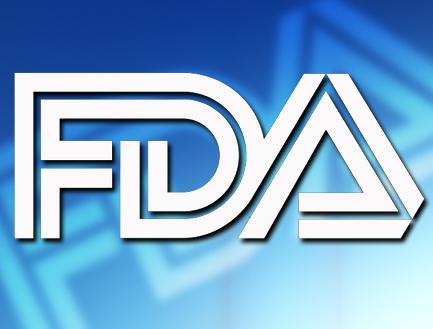 Heplisav's approvability at the VRBPAC (vaccines and related biological products advisory committee) panel. William Blair analysts assign 90% probability to eventual approval and a full adult label (18-­70 years as opposed to 40­-70 years). If approved, Heplisav will become the standard‐of‐care hepatitis B vaccine.
Customarily, the FDA sends the briefing documents of an advisory panel to the sponsor a month before the panel. The firm points out that Dynavax has received the briefing book from the FDA by now and no news so far is good news. Moreover, Dynavax had communicated that if there were material information, the company would disclose it to the public.
The firm summarized the key issues likely to be discussed at the VRBPAC as follows.
Efficacy - should be unequivocal. Since Heplisav has been shown to be superior to the current standard of care Engerix‐B of GlaxoSmithKline's (NYSE:GSK) in all populations tested to date, the discussions on efficacy should be unequivocal.
Safety - the safety profile of Heplisav has been shown to be comparable to Engerix‐B. Integrated safety analysis demonstrated that serious adverse event (SAE) rates for Heplisav and Engerix‐B are 2.7% and 3.7%, respectively. Integrated autoimmune event rates are 0.23% and 0.35% for Heplisav and Engerix‐B, respectively. To the firm knowledge, there is no single category of adverse events that stands out at a higher incidence than others in Heplisav‐vaccinated subjects.
One case of Wegener's granulomatosis - In March 2008, the FDA placed a clinical hold on Heplisav after occurrence of a single SAE of Wegener's granulomatosis, a rare form of autoimmune vasculitis that stains positive for c‐ANCA, in a Heplisav‐ vaccinated subject. A few months later, a vasculitis SAE was confirmed in a subject in the Engerix‐B arm as well, stained positive for p‐ANCA, demonstrating a more‐balanced incidence of systemic vasculitis between Heplisav and Engerix‐B (3:1 randomization favoring Heplisav). During the clinical hold, Dynavax retested more than 9,000 sera from subjects vaccinated with Heplisav, and none of the sera, except for the one Wegener's case, was positive for c‐ or p‐ANCA. Further, there was no presence of ds‐DNA antibodies detected either. After removal of the clinical hold in September 2009, Dynavax launched two Phase III studies involving more than 3,000 subjects and a data safety monitoring board (DSMB) was put in place to detect and adjudicate SAEs and autoimmune‐related SAEs. Heplisav passed every review by the DSMB, and the final integrated safety data, as discussed above, shows numerically lower adverse event rates than Engerix‐B. Therefore, the VRBPC panel might come to the conclusion that Heplisav is not likely associated with Wegener's.
The mechanism of the novel adjuvant - Heplisav is the first product containing the novel adjuvant TLR9 agonist that is up for approval. GlaxoSmithKline's Cervarix was the first vaccine approved in the United States that contained a novel adjuvant (a TLR4 agonist) other than alum. The FDA in October 2009 approved Cervarix for preventing human papillomavirus (HPV) infection. The firm points out that it is highly likely that the FDA would approve Heplisav, as it did Cervarix, and that the FDA recognizes the high unmet need in the hyporesponsive populations and desires to have these subjects adequately protected against potential HBV infection.
The extent of the label - After the removal of the clinical hold, the FDA instructed that further studies should be conducted in older adults who are less responsive to the currently licensed vaccines, including adults over 40 years old, and individuals with chronic kidney disease. In February 2012, the FDA agreed in the pre‐BLA meeting that Heplisav's label could be expanded to include healthy adults between the ages of 18 and 70, which is the full adult label. The VRBPAC panel could discuss this topic as well and vote on it.
William Blair analysts project peak sales of $330 million for Heplisav in 2018 for the CKD population and the HIV/HCV/liver disease population. For the U.S. diabetic opportunity, although Dynavax could cover this market itself, they continue to model a bell‐shaped curve peaking at about $475 million in revenue, with 35% royalties (net of cost of goods sold) to Dynavax on total U.S. sales from a partner with an established diabetes franchise, to be conservative.
In parallel, all partnering and/or acquisition talks will continue. The firm believes that it is the correct strategy for Dynavax to launch Heplisav independently and not subject the launch to the unpredictability of striking any partnership or acquisition deals. The key piece to the commercialization strategy is how to address the vast diabetic population in the United States. Good clarity on the commercial strategy should be continually positive to the stock.
The firm notes that Dynavax ended the quarter with $148.3 million in cash, which could be sufficient to sustain operations through Heplisav's commercial launch in the United States in 2013. Additionally, a $6 million milestone payment is expected to be received in fourth quarter 2012, as part of the collaboration with AstraZeneca (NYSE:AZN), and in advance of the initiation of the Phase I clinical studies of AZD1419, a second­ generation TLR9 agonist for asthma.
William Blair analysts think that Dynavax shares continue to represent a compelling risk/reward opportunity and with such assumptions, they derive the fair value of the stock at $9 per share.
The risks to the Outperform thesis include regulatory risks and intellectual property risks associated with Dynavax's lead candidate, Heplisav, as well as risks related to business‐development and clinical‐development activities.
My opinion on DVAX:
Currently, Dynavax represents an undervalued opportunity with a high reward potential. Given the strong Phase 3 data package, Dynavax's lead commercial candidate, Heplisav, is expected to receive FDA approval. If approved, a $9 price target which was given by William Blair is reachable.
Analysts are highly bullish on DVAX based on their latest research notes, and believe that Heplisav will be approved.
| | | |
| --- | --- | --- |
| Analyst Firm | Rate | Price Target |
| William Blair | Outperform | $9 |
| MLV & Co | Buy | $10 |
| Jefferies | Buy | $6 |
| Cowen | Outperform | - |
The company has a solid cash position. As of September 30, 2012, the company had $148.3 million in cash and cash equivalents. This fact should reduce the fear from near dilution.
85% of the company's shares are owned by institutions and mutual funds. It is a good indicator, since institutional investors (a.k.a. the "smart money") have access to sophisticated research and have a great deal of information on the companies they trade.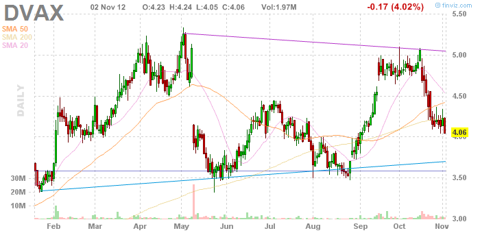 Disclosure: I am long DVAX. I wrote this article myself, and it expresses my own opinions. I am not receiving compensation for it (other than from Seeking Alpha). I have no business relationship with any company whose stock is mentioned in this article.