I first wrote about Zix Corporation (NASDAQ:ZIXI) back in late July when it was trading at $2.50 a share. The stock has climbed to over $2.90 since and is starting to pick up some positive catalysts. ZIXI now looks poised for its next move up.
Key recent positives for ZIXI:
Meldrum Group has now become the largest shareholder in Zix Corporation with over 10% of the company's outstanding shares and is pushing to replace three of the company's directors.
In its recent earnings report the company grew sales better than 15%. This was the 15th straight quarter of record revenues.
The new order component of sales grew a more impressive 31% Y/Y, a good omen for recurring revenue in the years ahead.
Zix Corporation stated during the earnings conference call that it expects to be at or near the high end its previous revenue guidance of $42 million to $43 million for the full year 2012.
Zix Corporation provides email encryption solutions in software as a service model in the United States.
4 additional reasons ZIX is solid growth play at under $3 a share:
The median price target held by the three analysts that cover the stock is $5 a share, 60% above the current stock price.
The company has a solid balance sheet with approximately 13% of its market capitalization in net cash on its books.
The stock has a five year projected PEG of under 1 (.88) and is selling at under 14x forward earnings, a significant discount to its five year average (39.5).
After bottoming recently, the stock has shown technical strength, is consolidating at a higher level and is solidly above its 200 day moving average (See chart).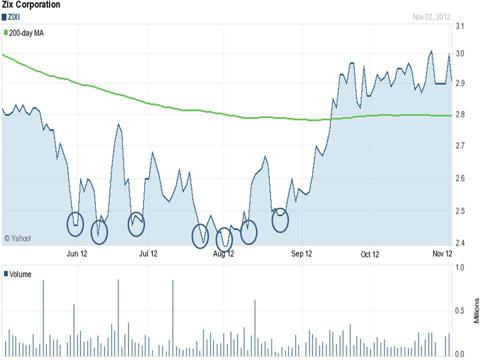 Disclosure: I am long ZIXI. I wrote this article myself, and it expresses my own opinions. I am not receiving compensation for it (other than from Seeking Alpha). I have no business relationship with any company whose stock is mentioned in this article.