On November 1, 2012, Yelp (NYSE:YELP) held a conference call to announce its third quarter results. Although most of the information provided during the call had been previously announced, the new information that was released was not received well by investors (as evidenced by the near 15 percent plummet in the company's stock price the next day).
The dramatic selloff left some investors puzzled, while others were left wondering whether Yelp might now be oversold (as described here). On Monday, investors may begin asking themselves whether Yelp's newly discounted stock price represents a good entry point. Cautious investors may be wary not to confuse value with weakness.
This article examines the new information presented during YELP's third quarter earnings conference call, along with independent third party data, which seem to show that:
Yelp's falling web traffic and weak revenue forecast provide evidence of a company in decline,
Yelp's future competitive strategy does not seem viable,
The current business model is broken.
Yelp - On Track to Become the Next MySpace:
During Yelp's most recent earnings call, the company issued weak fourth quarter revenue guidance that was lower than analysts' expectations (as described here). Savvy investors tracking Yelp's web traffic over the past few months, using independent third party websites like Quantcast, were probably aware that Yelp's fourth quarter guidance would be poor. They probably already knew that Yelp's web traffic began to rapidly decline at the start of September, as shown in the chart below. Unfortunately for Yelp and its investors, the downward pace of that trend line appears to be accelerating (a link to the chart can be found here).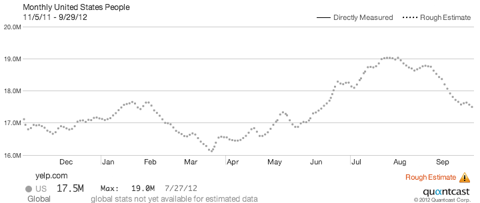 Investors need to be concerned with the Quantcast trend line because the revenue growth experienced by Yelp in the second and third quarter of 2012, tracks the trend line in the chart above. Logically, the recent downward trend in Yelp's web traffic should then indicate future revenue decline. Such a theory would help to explain and corroborate Yelp's management's forecast for a weak fourth quarter. Of course if Yelp's web traffic keeps dropping at its current pace, investors may begin to question whether Yelp should have issued even softer guidance for next quarter and if the company will end up going six consecutive quarters without making a profit. And if Yelp is unable to reverse this trend, how long before investors start wondering when it will join the likes of other internet "flash in the pans" like MySpace?
I'll Gladly Pay You Tuesday, For a Hamburger Today
Although a prior article (which can be found here) questioned the wisdom of Yelp's decision to acquire Qype, the extent of that poor decision-making only became fully apparent during the earnings call when a member of the Yelp management team indicated that:
"For the fourth quarter of 2012, we expect Qype to generate approximately $900,000 in revenue for the 2 months we will own it, and to incur about $2 million in expenses…"
The words above are a direct quote from Robert Krolik (Yelp's CFO and Principal Accounting Officer), the text of which can be found here. It essentially means that Yelp paid $50 million so it could spend $2 to make $0.90. Either Yelp's management team actually believes this makes good business sense, or the acquisition was not carefully thought through before consummation. Lending credence to the latter possibility, Geoff Donaker (Yelp's COO and Director) stated during the conference call with regards to Qype's integration into Yelp, that "we'll sort of figure out what the integration looks like in the months ahead." (emphasis added).
The fact that Yelp's management team made the decision to pull the trigger on the deal before knowing how Qype would be eventually be integrated into the larger business makes one wonder what other major business decisions (e.g. like becoming profitable for its investors) still need to be "sort of" figured out?
If It's Broken, You Should Fix It
Despite all of Yelp's other issues, some skeptics believe that the company's fatal flaw lies in its core business model which appears to be broken. One aspect of Yelp's broken business model can be found in the weak controls the company places on user generated content, as described here. The controls seem to be purposely weak to allow Yelp's users to generate as many reviews on the site as possible. Unfortunately, these unverified reviews also put local businesses immediately on the defensive because of the harm they do to their reputations. For example, Yelp allows its users to outright lie (as described here), it allows its users to remain anonymous, and provides no guidance on the rating system it uses (all of which are described here).
The end result of the problems existent in Yelp's business model is a situation where many of the company's potential customers (i.e. small local businesses) hate Yelp. To truly understand the visceral negative reaction that Yelp garners from its potential customers, one only has to visit the "We Hate Yelp" Facebook (NASDAQ:FB) page (that can be found here). It has hundreds of members and appears to be growing at a breakneck pace. Unlike almost every other business that tries to maintain good relationships with their customers, Yelp seems to be actively trying to alienate theirs.
Interestingly enough, rather than gear future investment to fixing these flaws by hiring new talent and developing new technology, Yelp seems to think that it will be able to force its broken business model on local businesses by spending more on advertising and hiring more sales staff. In response to questions about Yelp's direction for the future, Robert Krolick made it clear that the company would continue "investment in sales and marketing." Investors might want to consider how successful this future investment strategy is likely to be, especially in light of how unsuccessful it has been so far (as described here).
Conclusion
During the company's earnings call, Yelp's management team completely failed to address how it will successfully tap into mobile, despite the fact that Yelp's 8 million mobile users are currently dwarfed by FourSquare's estimated 20 million users (which is growing at a pace of 1 million users a month as described here). The company confirmed that its international expansion into 43 markets during a time of global economic crisis is not "very much contributing at all to [Yelp's] revenue." (emphasis added). On November 1st, it also became abundantly clear that Yelp is completely reliant on its closest competitors to survive and unable to exist as an independent platform. As Jeremy Stopplemen (Yelp's CEO) so eloquently put it, a majority of the traffic that is driven to Yelp comes from "search engines, particularly Google."
And while Yelp's management made it clear that they highly value Yelp's integration into Apple's (NASDAQ:AAPL) iOS 6, investors may be wondering if that feeling is mutual in light of the fact that Yelp's dirty crowd sourced data has been key in the epic failure of Apple maps and iOS 6, as described here and here. While Apple is going to have to rely on Yelp's dirty crowd-sourced data in the short term, one has to wonder how much longer a company so obsessed with perfection will continue to rely on Yelp's very imperfect model.
Most importantly, if web traffic and revenue start to rapidly decline (which appears to be happening), how much more growth can Yelp achieve if investors stop giving the company $2 to pay for every $0.90 cents it brings in?
Disclosure: I am short YELP. I wrote this article myself, and it expresses my own opinions. I am not receiving compensation for it (other than from Seeking Alpha). I have no business relationship with any company whose stock is mentioned in this article.
Additional disclosure: I own Yelp puts without owning any of the underlying stock, meaning I have a negative outlook on the company.