We revise our future outlook to bullish on Petroleo Brasileiro Petrobras (NYSE:PBR), based upon achieving 98 percent of nominal capacity, 31 percent increase in EBITDA, operational efficiencies and production start-up in the field of Campos basin and Gulf of Mexico. In our opinion, the company's expansion plans, its cost control philosophy and the expected increase in production activities, will enable the company to further improve its profitability position.
PBR's bright future prospects are reflected in its production start-up of Baleia Azul field in the Campos Basin, which will enable the company to add 100,000 barrels per day to its production capacity by February 2013. Moreover, investment in another lucrative project of oil and gas exploration in Chinook water field would help the company add 80,000 barrels of oil per day to its production portfolio. Currently, the company is on the track towards strengthening its position and becoming attractive for value investors.
In Q3, the company benefited profits of $2,744 million, as compared to a loss of $685 million in the third quarter of 2011. It has also expanded its margins by making its operations more efficient. PBR's EBITDA increased by 31 percent over the course of last one year.
The Brazilian company has also benefited from less fluctuation in the US dollar in the third quarter, as compared to the dollar strengthening by ~15% in the second quarter. Its revenues had decreased considerably in the second quarter due to the weakening of the Brazilian Real with respect to the US dollar. This effect also decreased the company's gross margin by 22 percent over the period of last one year. Keeping aside the exchange rate fluctuation, its revenue increased by 16 percent over the last one year, out of which, 7 percent was the increase in domestic demand, primarily because of a 19 percent rise in gasoline sales volume and a 6 percent each rise in diesel and jet fuel. However, cost of sales increased by 10 percent YTD, and this increment becomes 29 percent after excluding the effect of exchange rates. The main reasons contributing to this increase were a rise in sales volume of domestic oil products, increase in production taxes and higher depreciation expense due to start-up of new plants.
Price movement
In our opinion, the stock has bottomed out and is expected to show an upside. The stock has shown a downside of 7.5 percent YTD, mainly due to exchange rate fluctuation and an increases in cost. Although the company is entitled to exchange rate risk, but after looking at its future drilling prospects, we believe the company will be able to sustain its profits and show an upside.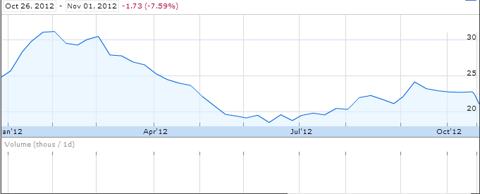 Source: Google Finance
Valuations
Petroleo Brasileiro Petrobras is trading at a forward price to earnings of 7.34x, which is at discount when compared to Exxon Mobil (NYSE:XOM) and BP plc's (NYSE:BP) forward P/E of 11.12x and 8x, respectively. It is trading at a price to sales of 1.07x, EV/Revenue of 1.58x and EV/EBITDA of 7.23x, at premium when compared to its competitors, as reflected in the table below. However, it is evident that its valuations have increased considerably compared to last month's valuations, as mentioned in our previous report. We believe its valuations will improve further, given that the company manages to sustain profits and effectively implements its growth plans.
Comp. Sheet

 

Petroleo Brasileiro Petrobras (ADR)

Exxon Mobil

Royal Dutch Shell (NYSE:RDS.A)

BP plc

P/S ((NYSE:TTM)):

1.07x

0.97x

0.45x

0.36x

Forward P/E(DEC 2013)

7.34x

11.12x

NA

8x

EV/Revenue

1.58x

0.96x

0.48x

0.45x

EV/EBITDA

7.23x

6.4x

4.39x

4.66x
Source: Yahoo finance
Disclosure: I have no positions in any stocks mentioned, and no plans to initiate any positions within the next 72 hours.
Business relationship disclosure: The article has been written by Qineqt's Energy Analyst. Qineqt is not receiving compensation for it (other than from Seeking Alpha). Qineqt has no business relationship with any company whose stock is mentioned in this article.