In spite of the many market reforms pursued in the last 34 years, China remains a centrally controlled economy. Through outright government ownership and a web of regulations, the Chinese Communist Party (CPC) remains in firm control of the economy deciding who will be in what business and for how long; and how fast or how slow the overall economy will grow. This means that unlike true market economies that undergo the usual business cycles, the Chinese economy undergoes political cycles, which coincide with the change in communist leadership - the economy usually slows down before a new leader assumes office and accelerates shortly after.
Since a new leader is about to take the helm of the CPC and the country's presidency this week, a new political cycle is about to begin, which can explain why the Chinese market has been sluggish lately. But how can investors ride this new political cycle?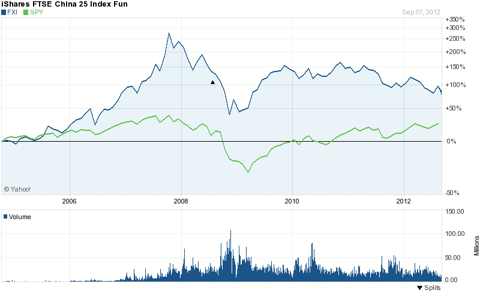 Traditionally, the best strategy is to buy companies that will benefit by the country's on-going reforms like banks; and companies that will benefit from the country' feverish construction like big resource conglomerates, Rio Tinto plc (NYSE:RIO) and BHP Billiton Ltd (NYESE:BHP). This time around, however, the strategy may have to be somehow different, as the new leadership is expected to change priorities, from feverish construction that has caused real estate bubbles, to policies that promote higher domestic consumption. The trouble, however, is that many Chinese consumer companies aren't publicly traded. Nevertheless, investors can still ride the new Chinese political cycle with three trades;
First, buy shares of the iShares of FTSE 25 China Find (NYSEARCA:FXI) and the large established companies with an oligopoly position like China Mobile (NYSE:CHL), CNOOC (NYSE:CEO), and China Petroleum (NYSE:SNP).
Second, take a close look at China's web-based companies that trade in New York like Baidu and Sohu that are trading at reasonable valuations. I particularly like Baidu (NASDAQ:BIDU) and Sina (NASDAQ:SINA), whiich have been unfairly punished, as they trade at reasonable PE and sound fundamentals.
| | | | |
| --- | --- | --- | --- |
| Company* | Business | Forward PE (December 2013) | Operating Margin (%) |
| Baidu, Inc. | Internet search engine | 17.42 | 57.25 |
| Sina Corp | Media and mobile value-added services | 57.31 | -0.57 |
| E-Commerce China Dangdang Inc. (NYSE:DANG) | Business -to-Consumer e-Commerce | - | -10.48 |
| Renren Inc (NYSE:RENN) | Social Networking | - | -33.77 |
| Youku (NYSE:YOKU) | Internet TV | 297.33 | -27.05 |
| Sohu.com Inc. | Brand advertising, on-line gaming | 13.80 | 27.47 |
Source: Yahoo.finance.com
* These statistics should be interpreted with caution, as Chinese accounting standards are different than those of the U.S. So they aren't comparable with those of their U.S. counterparts like Amazon.com (AMZN) and Google (GOOG).
Third, investors may want to buy shares of American companies with a large presence in China like Starbucks (NASDAQ:SBUX), Yum Brands (NYSE:YUM), Coca-Cola (NYSE:KO) and McDonald's (NYSE:MCD). Last year, for instance, Yum Brands (KFC, Pizza Hut, and Little Sheep) made $1.5 in operating profits in China compared with $315 million 10 years ago. Last week, Starbucks reported a big jump in its revenue and profits because of its China expansion.
Disclosure: I have no positions in any stocks mentioned, and no plans to initiate any positions within the next 72 hours. I wrote this article myself, and it expresses my own opinions. I am not receiving compensation for it (other than from Seeking Alpha). I have no business relationship with any company whose stock is mentioned in this article.