Back in February, I reviewed the latest earnings report from Whirlpool (NYSE:WHR) and concluded that the stock still had upside but it was better to buy on a dip. The dip finally came two months later and persisted several weeks after the S&P 500 (NYSEARCA:SPY) bottomed out on June 1st. That dip perfectly closed the February earnings gap up and four months later the stock has now almost doubled.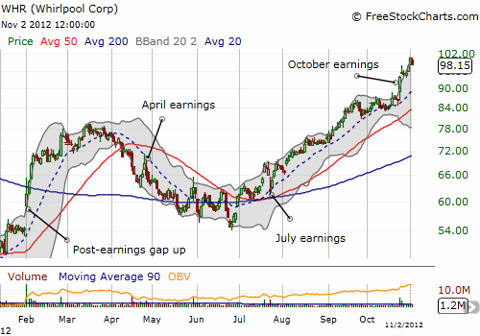 Whirlpool's roller coaster 2012 seems to be ending on a high note
Source: FreeStockCharts.com
At the time, I projected a year-end price target of $88 under the most optimistic scenario applying a 16 trailing P/E to the upper end of guidance for diluted EPS. On an annual basis, WHR last saw such a high P/E in 2002. Its current 12-month trailing P/E is 16 and forward P/E is 11. Guidance for the 2012 diluted EPS remains unchanged, but EPS for ongoing business operations has nudged upward to $6.90 - $7.10. Applying a 16 P/E to the upper end of THAT guidance gives a $114 price target. At $98.15, I am willing to call WHR fairly priced. Once WHR gives 2013 guidance in January, I will revise these targets. Whirlpool's (annual) EPS performance has been quite volatile, so this guidance should be closely watched. The EPS of $7.98 in 2010 was WHR's highest since 2007, a peak year. The EPS for 2011 was $4.99. Over the past 10 years, only 2009 and 2002 have been lower.
(Price/sales is around average and price/book remains at historic lows which seems to be part of a sustained downtrend. I provided graphs in my previous post on WHR.)
I believe the main story for Whirlpool this year was margin expansion. The company highlighted margins throughout its earnings presentation. WHR has generated three straight quarters of year-over-year margin expansion in its ongoing business operations. This margin has increased from a trough of around 2.4% in the third quarter of 2011 to 6.0% in the third quarter of this year (9% in North America). WHR claims it is on-target to hit 8% for this quarter.
Next year's story will have to be sales growth that leverages this margin expansion. This will require, for example, a continuation of the housing recovery in the U.S., stabilization in Europe, and continued strength in Brazil. Total net sales remained flat year-over-year with market demand at "recessionary levels" in North America (albeit 2% year-over-year growth) and a 20% drop in sales in Europe, Middle East, Africa.
North America was over 50% of WHR's revenue in the third quarter and over 70% of operating profit (note that I could not quite get the numbers in the earnings presentation to add up). Fortunately, WHR is "increasingly encouraged by leading demand indicators" in the U.S.:
Consumer confidence
Housing starts
Rental market
WHR provided additional commentary on the U.S. housing market but nothing quantitative (from the transcript of the conference call provided by Seeking Alpha):
"…we're beginning to see some positive growth trends, in particular recent U.S. housing trends."
"Given the recent trends in the housing market, it is yet too early to see that impact in our numbers. Yet, you see an increase in the building contract channels, but it's not to a magnitude that has had significant weight in our overall business. Having said that, with ongoing good news in the housing market, I expect that positive momentum to more and more show up in our overall numbers."
"… we are optimistic about some growth that we're seeing in some particular markets, and particularly trends that we're seeing in the U.S. housing market."
"…we continue to see some early but consistent signs of housing recovery, which makes us increasingly optimistic about a more structural demand recovery."
I am assuming that investors and traders shares in WHR's optimism based on the recent run-up in WHR to pre-recession stock prices even as the S&P 500 has fallen off its 52-week (and multi-year) highs. Even shorts have backed off WHR.
It turns out that the my last piece on WHR was timed right at the recent height of short interest. Over the following six weeks, shares short plunged by 50% AHEAD of WHR's near 3-month decline. The May swoon got shorts interested again. At this point, shares short are back to recent lows. If the timing of the shorts repeats itself, WHR could be topping out again. Regardless, I think the waning short interest is an overall good sign that fundamentals are indeed improving for WHR and that a recovery in structural demand in 2013 is very likely (absent major external shocks of course).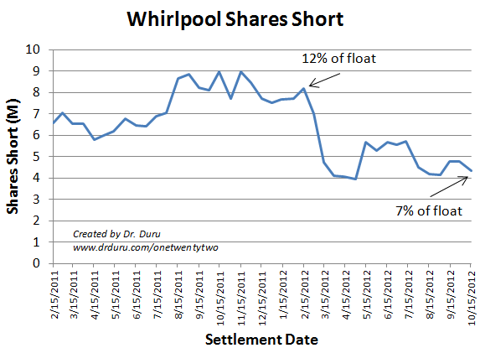 Shorts are much less interested in Whirlpool now
Source: NASDAQ short interest for WHR
Be careful out there!
Disclosure: I have no positions in any stocks mentioned, but may initiate a long position in WHR over the next 72 hours. I wrote this article myself, and it expresses my own opinions. I am not receiving compensation for it (other than from Seeking Alpha). I have no business relationship with any company whose stock is mentioned in this article.