LinkedIn (NYSE:LNKD) reported Q3 earnings on November 1. Initially it looked like a great quarter, particularly when you looked at very strong revenue growth. The market at first cheered those results, sending the stock up over $8 in after-hours trading. But by the time the market closed the next day, all of those gains had evaporated. Investors took a closer look at those numbers and came to realize that there is more to the story than what appeared to be an $0.11 EPS beat and a $8.1 million revenue beat.
Third Quarter Highlights
LinkedIn is a leading social and professional network that connects talent with opportunity; it is an on-line meeting place for job-seekers and employers to network and make hiring connections. From LinkedIn's website, here are its Q3 highlights:
Revenue for the third quarter was $252.0 million, an increase of 81% compared to $139.5 million in the third quarter of 2011.
Net income for the third quarter was $2.3 million, compared to a net loss of $1.6 million for the third quarter of 2011. Non-GAAP net income for the third quarter was $25.1 million, compared to $6.6 million for the third quarter of 2011. Non-GAAP measures exclude tax-affected stock-based compensation expense and tax-affected amortization of acquired intangible assets.
Adjusted EBITDA for the third quarter was $56.0 million, or 22% of revenue, compared to $24.7 million for the third quarter of 2011, or 18% of revenue.
GAAP diluted EPS for the third quarter was $0.02; Non-GAAP diluted EPS for the third quarter was $0.22.
The Closer Look
If you ask me, the above highlights are pretty impressive, especially the year over year revenue number. But a closer inspection reveals several things which take much of the shine off of those highlights. The revenue case for LinkedIn remains the most positive aspect about this company. It has done a great job growing revenue from a start-up in 2003 to forecast 2012 revenue of around $940 million. Revenue continues to grow, but there have emerged signs of a potential slowing in that growth rate.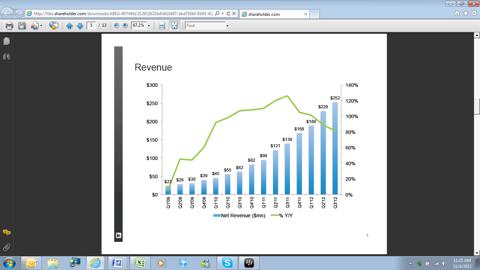 While the revenue curve is undoubtedly impressive, there are indications that such impressive growth won't continue into the future. The law of large numbers has now come into effect. It is much easier to make an enormous gain off of a small sales base; near triple digit percent gains as sales approach one billion will be much more difficult to achieve. Year over year revenue growth peaked at LinkedIn back in Q3 2011 when it reached over 120%. It has steadily decelerated since, now sitting at 82%. LNKD is priced for perfection (more on valuation at the end of the article) and revenue deceleration is not something that momentum investors cheer. It is not something that provides on-going support to a stratospheric valuation.
LinkedIn, on its corporate website, does an excellent job providing investors with plenty of information and data, clearly presented. It points out three key metrics that influence revenues: members, unique visitors and pageviews. A screenprint of that information graphs those three metrics: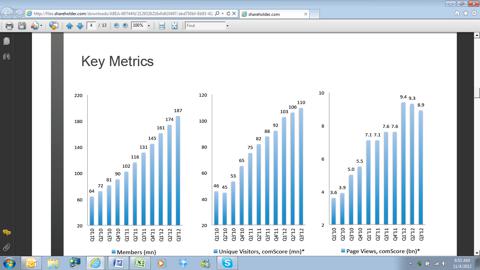 At LinkedIn, revenue is a function of the size of the network, members, and engagement, or the degree to which its members utilize the network. Members statistics can be a bit misleading, as LinkedIn notes in its 2011 Annual Report (page 17): "The number of registered members in our network is higher than the number of actual members because some members have multiple registrations, other members have died or become incapacitated, and others may have registered under fictitious names. Given the challenges inherent in identifying these accounts, we do not have a reliable system to accurately identify the number of actual members, and thus we rely on the number of registered members as our measure of the size of our network."
Engagement becomes the more meaningful metric. The two primary measures of engagement are not showing encouraging trends. LinkedIn defines Unique Visitors in its 2011 Annual Report (page 43) as: "unique visitors as users who have visited our website at least once during a month regardless of whether they are a member, based on data provided by comScore, a leading provider of digital marketing intelligence. We view unique visitors as a key indicator of growth in our brand awareness among users and whether we are providing our members with useful products and features, thereby increasing member engagement."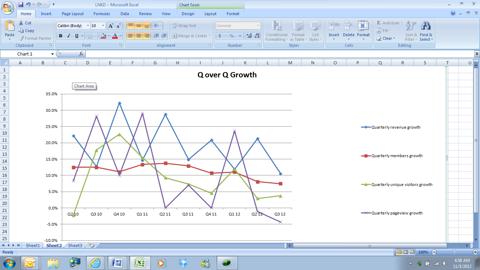 When quarter over quarter growth rates are plotted on a graph, the deceleration in revenue and in the three key metrics that drive revenue becomes quite apparent. Pageviews is the truest measure of engagement as it shows actual utilization of the site. Pageviews show the worst of the trends and has gone negative in the last two quarters. This has no doubt been affected in part by increased competition in the social and professional network space from players such as Facebook (NASDAQ:FB), Google (NASDAQ:GOOG), Twitter, Career Builder and Monster+HotJobs.
True Earnings Is The Bigger Problem
Momentum and growth investors place a lot of value on increasing the top line. The fastest way to increase earnings is to increase sales. The theory is that more sales leads to greater earnings contribution as volume over the break even drops an increasing amount to the bottom line. The theory is sound, but does it apply in the case of the LinkedIn business model?
Call me old-fashioned, but GAAP earnings are still a useful measure of business profitability. EBITDA is another useful measure, in some ways more useful, as it measures the cash generating ability of the operation, regardless of how it is financed or taxed, and therefore becomes the best measure of pure operating performance. I can appreciate both measures. But "adjusted EBITDA", the measure that LinkedIn's management focuses on, is a challenge for me. It reminds me of when I was the managing partner of a private equity fund and an associate of mine exclaimed his dismay at reviewing so many Information Memorandums that focused on "EBBS" (earnings before bad stuff).
If the theory of increasing revenue leading to increasing profitability were to hold for LinkedIn, we should see whatever operating measure you choose increasing at a faster rate than revenue, as increased scale provides greater profitability, thereby vindicating the focus on growing revenues. The graph below plots the growth in revenue since Q1 2010 versus the growth in LinkedIn's GAAP earnings, EBITDA and Adjusted EBITDA.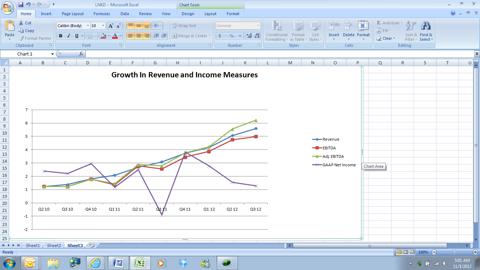 Since the beginning of 2010, revenue has grown 5.6 times. GAAP net income is up only 1.3 times. Adjusted EBITDA is up 6.2 times, greater than the increase in revenue, and thus vindicating the growth model, or so LinkedIn would have you believe. But Adjusted EBITDA is really just another form of EBBS. Its adjustment to EBITDA is to add back the stock compensation expense, because it is non-cash. I think this is highly misleading. It may not be cash, a share certificate or option has been issued in lieu of cash, but that certainly does not mean it is nothing at all. Warren Buffet, in his 1998 letter to shareholders, said it best: "If stock options aren't a form of compensation, what are they? If compensation isn't an expense, what is it? And, if expenses shouldn't go into the calculation of earnings, where in the world do they go?"
In Q3, LinkedIn's stock compensation expense hit its highest level ever, $14.6 million, up 38% over the previous quarter and up 294% over the same quarter last year. In Q3 revenue was up 10% over the previous quarter. While Adjusted EBITDA grew even more, 12% over the previous quarter, when you remove the adjustment for stock compensation and leave that expense in the calculation, EBITDA was up only 5% over the previous quarter, showing that LinkedIn did not derive any economy from scale in the quarter.
What probably spooked investors most when they had the opportunity to look more closely at the Q3 numbers, was the failure for the second quarter in a row for deferred revenue to keep up with the growth pace set by revenue. In Q2 2012 and Q3 2012 quarter-over-quarter revenue grew at 21.3% and 10.5% respectively. In the same quarters, quarter-over-quarter deferred revenue grew at 9.8% and 8.9%. This is a further indication of potentially decelerating future revenue growth.
Conclusion
LNKD's Q3 results have shown deceleration in revenue growth, as well as a deceleration in certain other key metrics and an actual decline in the key engagement metric, pageviews. Further, growth in adjusted EBITDA backs out the rapidly increasing cost of stock compensation and provides a mask over the actual situation of increased scale not enhancing profitability at either the GAAP net income or EBITDA levels. These failures to maintain historical growth rates, and the failure to enhance profitability ratios with scale, are particularly worrisome with a stock that is priced for perfection as shown in the following valuation table:
| | |
| --- | --- |
| Market Cap (intraday)5: | 11.35B |
| Enterprise Value (Nov 4, 2012)3: | 10.67B |
| Trailing P/E (ttm, intraday): | 688.90 |
| Forward P/E (fye Dec 31, 2013)1: | 84.75 |
| PEG Ratio (5 yr expected)1: | 2.43 |
| Price/Sales (TTM): | 13.58 |
| Price/Book (mrq): | 13.70 |
| Enterprise Value/Revenue 3: | 12.76 |
| Enterprise Value/EBITDA 6: | 101.62 |
(source: Yahoo.com)
While researching this article I developed increased respect for LinkedIn as a company and concluded that while it has done a masterful job growing revenue, it now faces increased competition which is bound to dampen that growth. Further, it has not delivered on the assumption of increased revenue leading to higher profitability ratios. My conclusions are that the market has placed far too high a premium on the value of its shares; that a closer look at the Q3 numbers shows the key metrics not supporting the market's initial enthusiasm; that deceleration and pricing for perfection cannot co-exist for any length of time.
Disclosure: I am short LNKD. I wrote this article myself, and it expresses my own opinions. I am not receiving compensation for it (other than from Seeking Alpha). I have no business relationship with any company whose stock is mentioned in this article.