Cummins Inc (NYSE:CMI) is one of the most followed stocks in the Industrial Goods sector. Cummins is a well known dividend player as well, having paid dividends since 1985 (according to Yahoo finance). This article evaluates the dividend basics of Cummins and also extrapolates expected returns for investors with a long horizon. Let us get into the details.
As done in a few previous articles, it always helps to put a company's numbers against its biggest rival to get some context. Caterpillar (NYSE:CAT) plays the "big brother" in this article to get a sense of where Cummins stands.
Current Yield: Cummins yield an exact 2% as of this writing. The company's new dividend payout of 50 cents a share came into effect this August and is likely to continue till the May 2013 payout.
Payout Ratio: Cummins has a very low payout ratio of 20%. This seems to be a positive for investors in the Industrial sector in general, as Cummins' rival Caterpillar has a low payout ratio (21%) as well. Needless to say, a low payout ratio gives the firm plenty of leverage to increase future payouts.
Cash on Hand: Cummins has a cash balance of $1.27 billion at the end of the September 2012 quarter. Caterpillar has a cash hoard of $3.36 in comparison. But as one would expect with cyclical industrials, the cash reserve of both companies swings wildly as shown in Cummins' chart below.

Click to enlarge
(Click to enlarge)
(Source: Ycharts.com)
Dividend Growth: Cummins does not command a place yet in the dividend champions list or even the challengers list for that matter. And it is obvious as to why. In 2009, as well as between 2000 and 2005, Cummins did not increase its dividend. However, over the past 3 years the dividend has tripled from 17 cents a share to 50 cents a share. Since dividend growth investors use 5 years as the base period, the average increase over the past 5 years has been 33%. In comparison, Caterpillar's average dividend growth over the past 5 years has been 13%. Cummins clearly wins here and with a low payout ratio to back it up, the dividend growth prospects look promising.
Extrapolation: Even though Cummins has a long history of dividend payments, the dividend growth has not always been predictable. This is understandable given the company's business cycles. However, that should not stop us from trying to understand what to expect from the stock. The table below uses a 10% annual growth for 5 years and 8% annual growth for the other 5 years. Investors can easily expect their yield on original cost to double much earlier than the time frame mentioned here, given the recent dividend growth history.
Note: Given Cummins' history, one should expect a bumpier ride as the dividend growth can be anywhere between 0 and 30%.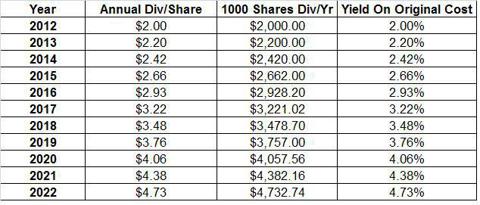 Click to enlarge
(Click to enlarge)
Conclusion: This article compared Caterpillar against fellow conglomerates 3M (NYSE:MMM), and United Technologies (NYSE:UTX) and concluded Caterpillar seemed to be the best choice. As noted in that article, UTX and MMM continue to have a higher payout ratio and PEG ratio than CAT and CMI.
This article shows Cummins runs close with Caterpillar in most of these metrics. With all the doubts about the slowing economy, it's understandable if investors are wary of industrial stocks in general. However, Cummins and Caterpillar both pay you to wait it out (stealing that line from Jim Cramer) and are considered the best of the breed.
Disclosure: I have no positions in any stocks mentioned, and no plans to initiate any positions within the next 72 hours. I wrote this article myself, and it expresses my own opinions. I am not receiving compensation for it (other than from Seeking Alpha). I have no business relationship with any company whose stock is mentioned in this article.