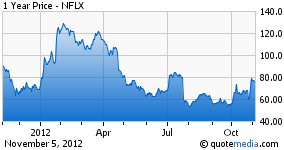 By late 2007, the impending fate of former movie rental giant Blockbuster (OTC:BLOAQ) began to come into clear focus for both current and former shareholders. The stock had fallen to new all time lows while Netflix (NASDAQ:NFLX) had emerged as more than just a momentary adversary. Everything from the company's decelerating earnings picture to management's unexplainable offer to buyout struggling Circuit City in April of 2008 screamed for investors to get out while they still had a chance. After all, the company was clearly in a state of flux, disarray and panic.
For those willing to hang in, only the words of Carl Icahn gave hope. The billionaire stood by the company even as most others saw bankruptcy as a near certainty. His positive remarks towards management, though, only slowed the inevitable fall that quickened after every negative earnings report.
Eventually, even Icahn himself realized his mistake. After the company formally filed for bankruptcy protection in 2010, Icahn came out afterwards and described his investment in Blockbuster as the "worst investment" he had ever made. His realization, however, still did little for the investors that had chosen to follow his path.
Icahn's past mistake should now be in the minds of all considering taking a stake in Netflix. Shares surged as much as 20% last week after reports Icahn had been buying the stock under $60 for the last few months. He provided praise in regards to the company's outstanding market position and referenced shares as being undervalued. A claim he used all too often while still trying to prop up the previously free falling Blockbuster.
For Icahn, the early returns are quite strong. With a near 10% stake in the company and shares closing Friday just under $77, the investment for him has really paid dividends. However, that doesn't mean such returns are in the works for others looking to take up a position. After all, in the past month, shares have gained nearly 30% in response to nothing other than two upgrades and Icahn's announced position. Such a rise screams danger especially when the gains surrounded a 12% drop following earnings.
As for earnings, don't expect those numbers to fuel massive returns even next year. After posting what is projected to be a fourth quarter loss, full year 2013 earnings are expected to come in at a meager $0.41. The greater downside, though, is that bottom line estimates call for the company to report losses in each of the four quarters. Overall, placing a heightened pressure on management to deliver.
At this point, Icahn believes Netflix is a great long term investment. To that extent, he maybe right. If the company can learn to again devote a greater respect towards customers, something they failed to do as shares climbed over $300, business could certainly return. Still, with the company reporting losses, shares near an $80 level they haven't clearly broken since April and praise from a man who has already failed investors once in the sector, I'd take the money and run.
Disclosure: I have no positions in any stocks mentioned, and no plans to initiate any positions within the next 72 hours. I wrote this article myself, and it expresses my own opinions. I am not receiving compensation for it (other than from Seeking Alpha). I have no business relationship with any company whose stock is mentioned in this article.