Morgan Stanley analyst Kathryn Huberty thinks that Apple (NASDAQ:AAPL) can't outrun a slowing economy. And she's betting her estimates on it.
In a research note Monday, Huberty downgraded Apple shares from "overweight" to "equal weight" and lowered her price target to $115 from $178 on the theory that the company can't beat a PC unit growth slowdown.
Huberty's theory, which rattled Apple shares along with an RBC downgrade, goes like this:
PC unit growth is decelerating. Here's how she is cutting her targets for Apple's December quarter.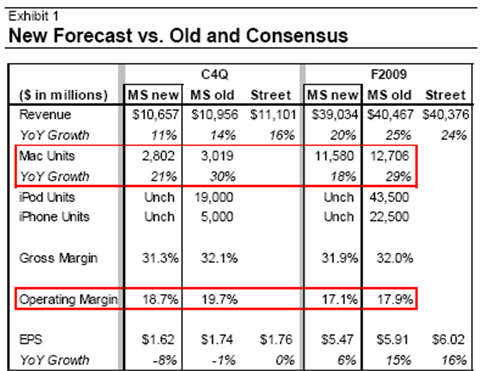 The big source of growth in the PC market is sub-$1,000 units. Apple doesn't play the sub-$1,000 game. Analysts have been beating this netbook worry drum in recent days. Huberty's money quote:
Our proprietary analysis of US PC shipments by price segment suggests that unit growth is shifting to the low-end of the market (sub $1,000). With 69% market share of US consumer PC sales above $1,500, we don't believe AAPL can continue to grow 3x the market rate near-term (which is what we believe is reflected in consensus models). Our revised Mac forecast assumes 18% YoY F2009 unit growth, down from 39% in F2008 (and our prior F2009 estimate of 29%). Going forward, we believe Apple's ability to maintain both its unit growth premium (roughly 3x) and average selling price (NYSE:ASP)  premium (roughly 1.5x) versus the market is unlikely.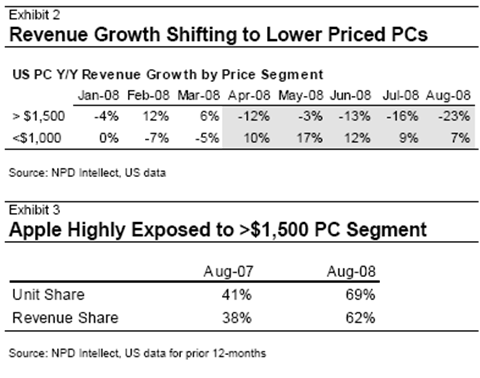 Apple's earnings growth will decelerate from a strong June quarter. Apple is expected to report fiscal third quarter earnings of $1.13 a share next month.
Investors are compressing earnings multiples for growth stocks. You only need a stock chart to figure that out. Here's Apple year to date.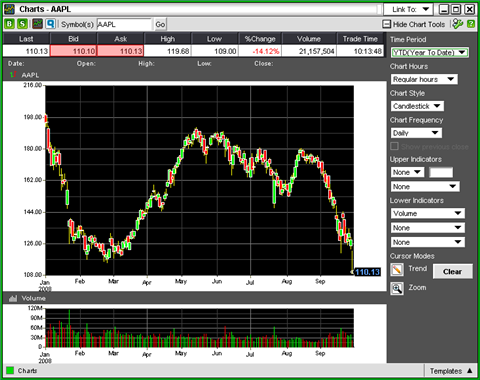 Simply put, Apple isn't immune from what's happening in the broader economy. It all sounds logical, but Huberty acknowledges that Apple's "2-3 year market share story is intact."
Huberty also notes that Apple is likely to deliver a conservative December quarter outlook–a prudent move that's totally in keeping with the company's playbook. The big question is whether Apple's outlook will be more than its usual lowball guidance. We'll soon find out.