Finding and executing a lucrative ex-dividend trade is partly finesse and mostly diligence. There are lots of resources available that will help you identify stocks that have high dividend yields. Taking a position in the stock by choosing a purchase price and a profitable exit point is an entirely different aspect of the trade.
Pairing a covered call with a stock that is about to go ex-dividend will protect the investor from the automatic downside movement on the ex-dividend date. If you are unaware, the market makers will adjust the price of the stock down by the amount of the dividend to recognize that it is payable to holders of the stock at the open of the market. Here are a few examples of ex-dividend trades for the coming week that use in-the-money covered call positions.
MetLife, Inc. (NYSE:MET) goes ex-dividend on November 7, 2012. Holders of the stock will receive a dividend of 74 cents per share. They can sell a November expiration $34 call option against their shares and receive the option premium of 91 cents. If shares trade above $34 at the option expiration date, the stock will automatically be called and the investor will receive a profit of 2.7% over 13 days held. If shares fall below $34, the trade will result in a profit until the break-even price of $33.09 is reached.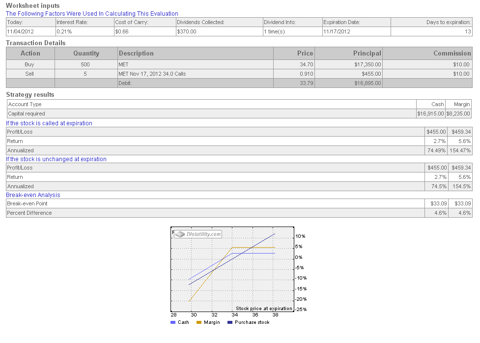 BP Global (NYSE:BP) goes ex-dividend on November 7, 2012 and will pay a dividend of 48 cents a share. Investors could sell the $42 strike price November expiration call for a premium of 83 cents per share. If shares continue to trade above $42, the trade results in a profit of 1.9% over 13 days, or 52.4% annualized. The break-even price on the trade is $41.21.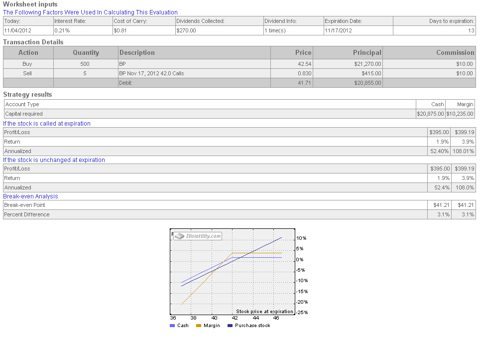 Seagate Technology Public Limited Company (NASDAQ:STX) goes ex-dividend on November 9, 2012 and will pay a dividend of 32 cents to holders of the stock on that day. Shareholders can consider selling the $28 call option with a November 2012 expiration, keeping the $0.64 premium on the option. If shares continue trading above $28, then the trade results in a profit of 3.3% over 13 days, or 91.94%. The break-even price on the trade is $27.09.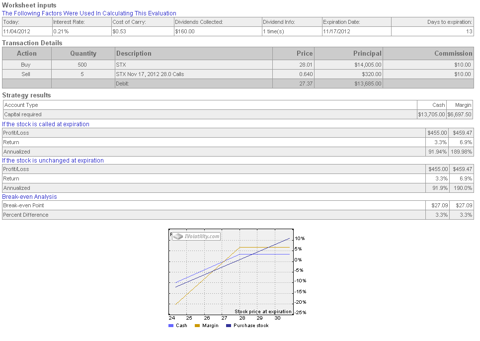 All of these ex-dividend covered call trades should be considered hypothetical. Do your own due diligence before investing. Calculations were provided by the Options Industry Council's covered call calculator.
Disclosure: I have no positions in any stocks mentioned, and no plans to initiate any positions within the next 72 hours. I wrote this article myself, and it expresses my own opinions. I am not receiving compensation for it (other than from Seeking Alpha). I have no business relationship with any company whose stock is mentioned in this article.