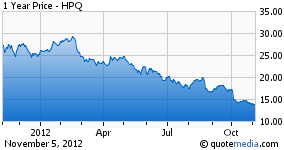 Hewlett-Packard (NYSE:HPQ) is in full hype mode.
It's rolled out a new line of printers and bought itself a prime seat at the Linux table for $500,000. CEO Meg Whitman keynoted a recent Gartner Symposium where she dinged Cisco (NASDAQ:CSCO) like she had a right to, while promising that her "multi-year" turnaround will eventually lead dividends and maybe even a phone.
Our own Vatalyst is among the analysts buying Whitman's spiel, calling her a "transformational leader." Trouble is, there's no there there.
Whitman's audience at the Gartner event were Chief Information Officers, or CIOs, who are very skeptical. The company's reputation in the printer space is poor, Forbes notes, with one writer there comparing its strategy to that of Xerox 20 years ago - ouch.
HP says it "wants" to be the biggest seller of "Ultrabooks" in China but Lenovo is fast becoming the globe's dominant supplier of PCs, and they're based in China. They're talking up tablets in the enterprise but they're not a player there and the market is moving - we need more than just talk.
And I have two words that solidify my view that HP is going nowhere fast - Martin Fink. Fink was recently named head of HP Labs, the company's research division, as well as the company's Chief Technology Officer. Fink had been running the Business Critical Services division, and was last seen in court begging that Oracle (NASDAQ:ORCL) be forced to keep supporting its servers with software. There is no evidence - none - that Martin Fink is a cutting-edge research executive. He's a salesman. And this is how Whitman plans to innovate, by putting a salesman in charge of her research unit?
I know how tempting it is to grab for a 3.84% yield and a stock that's been beaten-down by nearly 50% in the last year. You figure technology is turning around, they have a big name, they're going to get their share. But don't be fooled. Lots of big companies have been down this road before - Wang Labs, Silicon Graphics, Digital Equipment - there is no such thing in tech as too big to fail.
Talk is cheap. What counts in technology are results. Don't buy HPQ unless you see them. Don't buy hype.
Disclosure: I have no positions in any stocks mentioned, and no plans to initiate any positions within the next 72 hours. I wrote this article myself, and it expresses my own opinions. I am not receiving compensation for it (other than from Seeking Alpha). I have no business relationship with any company whose stock is mentioned in this article.