Unless you have been living under a rock, you are probably very aware Apple (NASDAQ:AAPL) closed down on the day Friday 3.31% at $576.80. This was the lowest closing price for the shares since Jul,y but signaled the first time AAPL closed below the 200 day moving average since November 25, 2011. Since this time AAPL shares have moved from a low of 385 on that day to north of 700.00 in September. Unfortunately, this also means some investors bought at a much higher price from the current level and need to make up for some losses. This article is dedicated to those who are bullish AAPL and how to leverage your gains to the upside.
For long-term investors, the drop in AAPL share price last week represents an excellent entry a potential reversal play while capturing a more than 1.8% annual dividend yield. Unfortunately for the average retail investor this means putting more capital to work than most have in play. To buy just 10 shares of AAPL an investor must throw down 5,800.00. If one purchased AAPL before ex-dividend this will give you a dividend of just 28.00 for the quarterly dividend. This seems insane to options investors such as me. Putting 5.8K at risk in order to collect 28.00 seems just silly in my opinion.
This is where I turn to the options market to not only leverage my bet but also cut the capital needed to make a significant return. I do believe AAPL has overshot to the downside and could be due for a rebound in share prices. Whether it is the holiday shopping season, technical trading machines, or even funds buying AAPL in terms of a Macro investment a recovery in AAPL is likely. The real question is how do I make money on this thesis without shelling out 58K for 100 shares. The answer is options!
Using the Fibonacci Retracement levels AAPL has moved from a May 18th low of 522.18 to a high of AAPL has moved from a high of 705.07 on September 21st of this year. We have now retraced 130 points from the high so a potential snapback is likely. See the chart below provided by Trademonster.com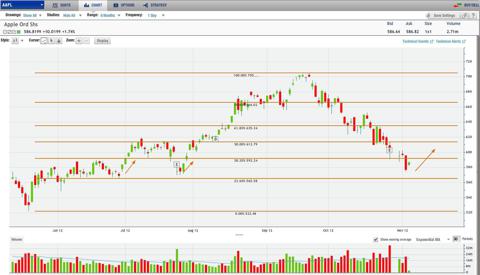 Click to enlarge
My thesis is AAPL is headed higher but will possibly run into resistance around the 650-666 range. Thus a call butterfly seems to make all the sense in the world to me right here.
For those who are new to options a call butterfly is a somewhat complex strategy where you want the stock price to run to the short strike. Here's my trade structure.
Long 1x 600 AAPL January 13 Call
Short 2x 650 AAPL January 13 Call
Long 1x 700 AAPL January 13 Call
I'm trying to put on this structure for 8.00 or 800.00 per contract with a max profit of 4,200.00. Yes that's more than 500% if AAPL were to close at 650 at January Expiration. See the profit loss chart graph below.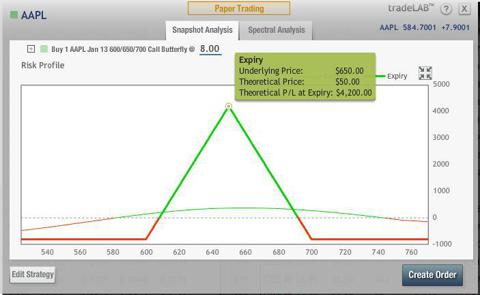 Click to enlarge
This type of trade gives you large leverage to the upside but defines your risk to just 800.00 vs ~58,000.00. Now for those who follow my articles knows I'm all about trying to make volatility work to my advantage. In this case volatility is already at my advantage in as AAPL has already reported and is currently trading with an implied volatility of just 30.9%. One way to really juice your returns for those willing to stomach the risk or just have more conviction AAPL's stock will go up.
Buy the 600-650 call spread now for ~14.00-15.00 then when AAPL moves back towards the 600 -610 level sell the 650-700 call spread against it to complete the call fly for a net debit of ~0.00. Yes this takes your initial trade from 800.00 to ~14.50 but allows you to reduce the cost to 0 or even a slight credit if AAPL does rally hard from here allowing you to potentially make 5,000.00 or more.
So to recap you can spend ~58,000 to buy 100 shares of AAPL and possibly make 7,000 if AAPL moved to 650.00. Or you can spend 800.00 and possibly make 4,200.00 on the same move. Yes I understand profits then decline if AAPL gets above 650.00 but this is why we make trade adjustments if necessary. The harsh truth is most retail investors can't put 58K to work as this would violate investment percentage rules. Most professionals say you should not allocate more than 5% of a portfolio to a specific stock. If this is the case and you have a 1M portfolio then this article is probably not for you. However, to the rest of the retail investing world the call spread or call butterfly could be a great way to leverage a bullish bet of AAPL to the upside.
As always, happy trading, and stay hedged.
Remember, equity insurance always looks expensive until you need it!
Disclosure: I have no positions in any stocks mentioned, but may initiate a long position in AAPL over the next 72 hours. I wrote this article myself, and it expresses my own opinions. I am not receiving compensation for it (other than from Seeking Alpha). I have no business relationship with any company whose stock is mentioned in this article.
Disclaimer: The opinions in this document are for informational and educational purposes only and should not be construed as a recommendation to buy or sell the stocks mentioned or to solicit transactions or clients. Past performance of the companies discussed may not continue and the companies may not achieve the earnings growth as predicted. The information in this document is believed to be accurate, but under no circumstances should a person act upon the information contained within. I do not recommend that anyone act upon any investment information without first consulting an investment professional as to the suitability of such investments for his or her specific situation.