The Hershey Company (NYSE:HSY) reported strong financial performance for the third quarter of 2012, along with raising its full-year guidance. In the long term, the company offers strong sales growth of 5%-7% and earnings growth of 10%. With a decent dividend yield of 2.4%, we reaffirm our buy rating on the stock. The recent dividend hike makes it a great stock to add to one's retirement portfolio.
The Hershey Company reported its third-quarter performance last week. It is North America's largest quality chocolate producer. It is the global leader in sugar confectionery and chocolate products, and has total annual sales of more than $6 billion. For Q3 2012, the company reported net sales of $1.75 billion, representing an increase of 7.5% year over year. The increase in sales was due to a price and volume increase of 3.9% and 2.1%, respectively. This is a positive sign for the company, reflecting that the company has strong brand image and market power, as it was able to pass on the commodity price increase to consumers, alongside increasing sales volume. Adjusted earnings per share for the company were $0.87 in Q3 2012, representing an increase of 3.6% year over year.
To further increase its market power and transfer the impact of increasing commodity prices to consumers, the company has been aggressive in terms of its advertising spending, which was up 12% year over year. For the full year -- i.e., 2012 -- advertising spending is expected to increase by 13%-15% year over year. We believe it is important for the company to increase advertising spending so that it can perform well in a competitive environment and fulfill its long-term growth targets.
Gross margin for the company improved by 0.70% in the quarter, as compared to Q3 2011. This was mainly due to higher pricing, improved efficiencies, and increased productivity. The company has been successful in expanding and maintaining its margins despite the fact that commodity prices are on the rise. The chart below displays margin trends since 2009.
Click to enlarge image.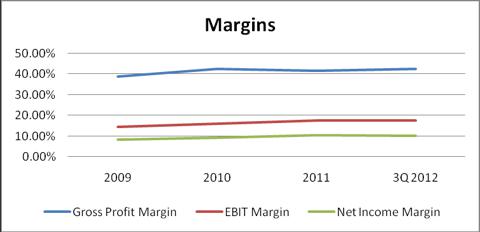 Click to enlarge
Source: Hersheys.com and Qineqt's estimates.

Guidance
The Hershey Company raised its full-year adjusted earnings guidance, which is now in the range of $3.22-$3.25 per share, representing an increase of 14%-15% year over year. Previously, the company was expecting adjusted earnings to be $3.17-$3.23 per share, or 12%-14% year over year growth. The guidance was raised due to higher gross profit margin. Full-year net sales growth range has been narrowed slightly; net sales are now expected to grow in the range of 8%-9%. Gross margins are expected to expand by 1.2%-1.4% year over year because of less increase in input cost than what the management was previously anticipating.
The company has a five-year strategic plan under which net sales are expected to grow in the range of 5%-7%, whereas earnings are expected to grow by 10%. It has been focusing on its five popular brands and is anticipated to register net sales of $10 billion by the end of 2017.
Dividends
The quarterly dividend was declared to be increased by 10.5%. Currently, the stock offers a dividend yield of 2.4%. The Hershey Company has a strong dividend history. Quarterly dividend has increased to 0.42 cents per share as compared to 0.29 cents in 2008. It has an operating free cash yield of 3.8%.
Valuations
The company has a forward P/E of 19 times, which is supported by the higher growth rate of 10% per annum for the next five years. The company also has a high ROE of 66% and a PEG of 2.2.
Disclosure: I have no positions in any stocks mentioned, and no plans to initiate any positions within the next 72 hours.
Business relationship disclosure: The article has been written by Qineqt's Consumer Staples Analyst. Qineqt is not receiving compensation for it (other than from Seeking Alpha). Qineqt has no business relationship with any company whose stock is mentioned in this article.