American International Group Inc. (NYSE:AIG) continues its slow and steady progress, and while the stock has done very well this year, it still offers the long-term investor the ability to potentially double their money within 3 years. The stock trades below $35 despite its book value of $68.87 per share on September 30, 2012. Year-to-date the company has earned $4.21 per share, and at TTCM, we believe the company has normalized earnings between $6-8 per share. The U.S. government has reduced its stake to only 15.9% of the company, and after already realizing a solid profit, it is reasonable to believe that the government could unload the remaining shares at any day at a large profit to its cost basis. This will remove a considerable overhang to the company moving forward. After reporting earnings, AIG's stock declined significantly as analysts were somewhat disappointed that the combined ratio of the P&C business was 105. It will take time for AIG to get all of its businesses humming like they should be, but the large margin of safety makes the reward worth waiting for.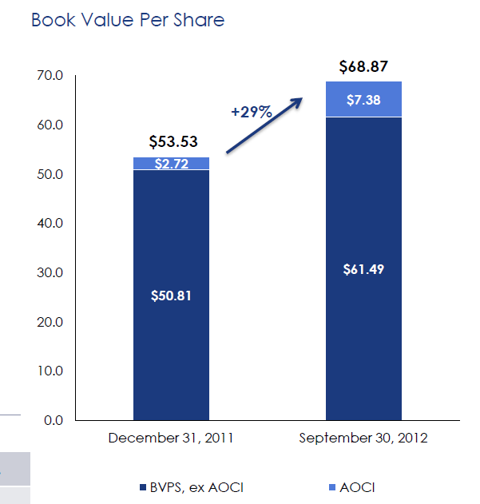 Source AIG 3rd Quarter Investor Presentation
As you can see from the table above, AIG's business value continues to improve mightily yet the stock's gains have paled in comparison. This sets the stage for future appreciation.
What Robert Benmosche has done with AIG has been nothing short of amazing. When he took over AIG, the company was being bullied by bureaucrats to make rapid and stupid dispositions despite poor economics. Benmosche leveraged his respected reputation, by threatening to quit if the government wouldn't allow him to maximize shareholder value when disposing assets, as doing so as quickly as possible when market conditions weren't favorable, was the surest way of forcing taxpayers to take a loss. Repaying the Federal Government has absorbed enormous amount of attention and time, and now that this large obstacle has been overcome, I believe it is a matter of time before Benmosche and his team improve the core operating businesses profitability. Short-term thinking analysts will argue against me and say that AIG's low ROE is the reason the stock should trade a discount to book. In my estimation these analysts aren't seeing the forest through the trees.
AIG consists of 4 primary businesses. The two core businesses, AIG Property Casualty (formerly Chartis) and AIG Life and Retirement (formerly SunAmerica), have book values of $49.6 billion and $38.9 billion, respectively. On a pretax basis, it is reasonable to assume $1 billion per quarter in normalized earnings power for each of these businesses. AIG Property Casualty generates about 50% of net premium written outside of the United States. AIG still retains an attractive distribution channel in emerging markets despite the large dispositions of very valuable assets that have already occurred. AIG Life and Retirement is mostly a U.S. based business, and AIG has an opportunity to increase the focus on distribution and marketing now that it has fewer businesses to focus on. The recent tuck-in acquisition of the Hartford Financial (NYSE:HIG) brokerage business is an example of this, and I'd expect to see similar transactions moving forward.
Aircraft Leasing (ILFC) has a book value of $7.9 billion and will be divested in an IPO at the first opportunity according to Benmosche. This will offload a low ROE, capital intensive business, providing additional cash, which can either be reinvested into higher earnings operations, or used to buy back stock at a large discount to book value. The mortgage business, United Guaranty Corporation only has a book value of $2.5 billion, and UGC is arguably the strongest mortgage insurance company in the U.S. with new business being written at a 20% return on capital. I'm fine with AIG holding on to UGC, but I believe it would be prudent for the company to firewall it from its other operations so that it doesn't seep up capital in a negative real estate environment. AIG also retains ownership stake of just under 14% of AIA, which is worth close to $6 billion. Between Aircraft Leasing and AIA, there should be roughly $14 billion of capital, which if unloaded and invested in AIG stock at current prices, would purchase roughly $28 billion of AIG's shareholder equity before tax considerations. In the context of a business that has a market capitalization of $44.8 billion, this is an enormous opportunity to create shareholder value.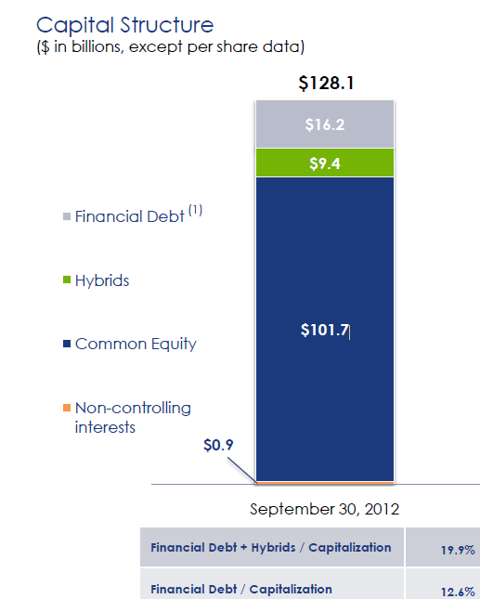 Source AIG 3rd Quarter Investor Presentation
AIG possesses the largest amount of shareholder equity of any pure insurance company in the world. After Friday's sell-off the stock is trading at less than 50% of book value. Assuming the company can earn 10% on equity, the investor at 50% of book value is getting a 20% return on investment. These situations don't last forever, particularly for well-financed businesses such as AIG.
Because AIG will now be regulated by the Federal Reserve, and will have to deal with the CCAR process and Dodd Frank, there is really no question that AIA and Aircraft Leasing will be divested. These new regulations are extremely punitive for minority interests such as AIA. Upon divesting these entities, AIG will be overly capitalized, so the only reasonable courses of action will be to shrink the equity base through buying back stock, paying dividends, or investing in higher returning businesses. When combined with a more laser-like focus on the P&C and Retirement businesses, AIG's ROE will be much improved 2-3 years out. Management is targeting a 10% ROE by 2015, and I believe that it is setting the bar fairly low, particularly when we see interest rates start to rise. The reduced share count could potentially boost normalized EPS well above my $6-$8 normalized EPS estimates. In the most recent conference call I believe that management disappointed Wall Street by talking down the idea of more share buybacks, and I think a big reason why this is necessary is the ambiguity in which the Federal Government conducts the CCAR process, and the hesitancy to create a disappointment should the Fed's evaluation be different than AIG's internal capital models.
Already this year the company has bought back $13 billion of stock at prices close to 50% of tangible book value. $8 billion was bought in the 3rd quarter alone. Debt to total capital stands at about 20%, and management believes that over the next 12-18 months the company could see an upgrade from some of the ratings agencies as it manages its liabilities. The insurance companies have already paid the holding company $5.3 billion in dividends through the end of October, which exceeded the annual target of $4-5 billion.
AIG Property and Casualty reported operating income of $786MM, compared to $492MM in the year ago period. The company benefited from lower catastrophe losses, underwriting improvements, and higher net investment income. This was partially offset by increased expenses. Third quarter net prior year adverse development was $145MM, or 0.2% of total reserves. These reserves stemmed from environmental, primary casualty and workers compensation. AIG has made efforts to improve its reserving, but it will take time to resolve all of the issues from the past. The accident year loss ratio as adjusted was 66.5%, nearly a 2 point improvement over the comparable period last year.
AIG Life and Retirement posted operating income of $826MM, up 75% from $471MM in the 3rd quarter of 2011. The business was helped by higher equity markets and stronger partnership returns. Total AUM was up 10% YoY to $275.5 billion.

Source AIG 3rd Quarter Investor Presentation
AIG Life and Retirement is being negatively impacted by this low interest rate environment. The table above shows the impact, so any increase in rates could powerfully add to the bottom line, and is a meaningful component to our estimates of normalized earnings power.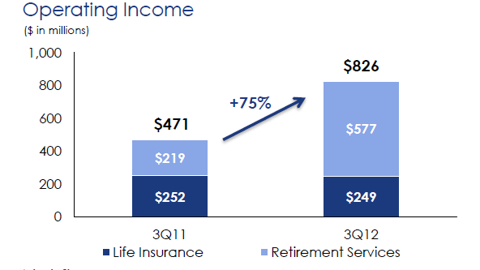 Source AIG 3rd Quarter Investor Presentation
The Mortgage Guaranty business has not contributed to profits for quite some time, but it is certainly headed in the right direction. This quarter, the business earned $3MM, up from a loss of $98MM a year ago. Net Insurance written has just about doubled over the last two years, as very high risk-adjusted returns. I believe that as the legacy mortgage book becomes an increasingly lower percentage of the overall business, UGC could contribute roughly $250-$400MM to pretax profits per annum.
To sum it all up, AIG is not one of the elite insurance operating companies at this point in time. AIG's distribution system and international footprint is still extremely strong, and as rates increase, the overall earnings power of the company should really shine through. The company has evolved from a massive conglomerate that became virtually unmanageable for anyone not named Hank Greenberg, and is now a more traditional P&C and Wealth Management company. The strong balance sheet and more vanilla business offerings, reduces the risks moving into the future. Hurricane Sandy's impact won't be known for a few months most likely, but any losses should be quickly recouped by price hikes on potentially lucrative commercial and consumer lines. The price of AIG's stock is ultimately the biggest reason to invest, as it really cannot be justified when one looks at just what the investor is getting for under $33 per share. Price is what you pay and value is what you get, and AIG is one of the top 3 opportunities that we see in the market right now.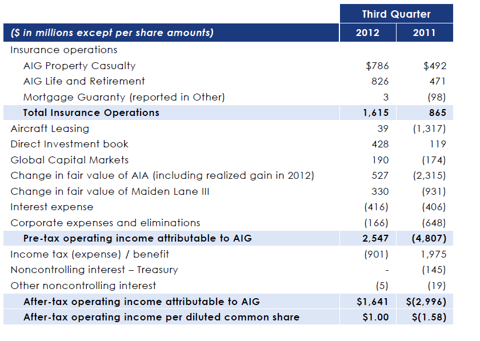 Source AIG 3rd Quarter Investor Presentation
Disclosure: I am long AIG. I wrote this article myself, and it expresses my own opinions. I am not receiving compensation for it (other than from Seeking Alpha). I have no business relationship with any company whose stock is mentioned in this article.