We will begin our examination of Starbucks Corporation (NASDAQ:SBUX) with a look at the challenges facing coffee retailers, and what SBUX has done to overcome them.
Supply
There is virtually no barrier to entry for coffee retailers. Along with countless Mom&Pop coffee shops springing up all over the place, Starbucks is faced with serious competition from big companies such as McDonald's (NYSE:MCD), Panera (NASDAQ:PNRA), and Dunkin' Donuts (NASDAQ:DNKN). Each of these has specialties which allow them to capture a certain portion of the market share.
· McDonald's recently launched its McCafe campaign in which it sells premium specialty coffee beverages at a slight discount to SBUX. It also sells large coffees as part of their dollar menu. MCD has an excellent platform from which to compete as it already has so many stores in prominent locations with drive-thru windows. Together, these aspects allow MCD to pull in the lion's share of customers focused on either convenience or value.
· Panera uses its high-quality and reasonably healthy full menu to capture the breakfast and lunch crowd. SBUX is currently weak in its food service, so many customers who find Panera's coffee choices comparable are lost over the lunch hour.
· Dunkin' Donuts, much like Panera, uses the rest of its menu as the draw. To get an idea as to how this hurts Starbucks' business, picture the situation which happens very commonly in big cities such as NewYork or Boston in which a Dunkin' Donuts is directly across the street from a Starbucks. The customer can choose between a coffee or a coffee and a donut.
So how does Starbucks manage to thrive against a sea of nearly infinite competitors? Two primary factors have led SBUX to its recent success: The increase in overall demand for coffee, and specific initiatives made by Starbucks which have held their market share.
Demand
Over time, the price of coffee has risen significantly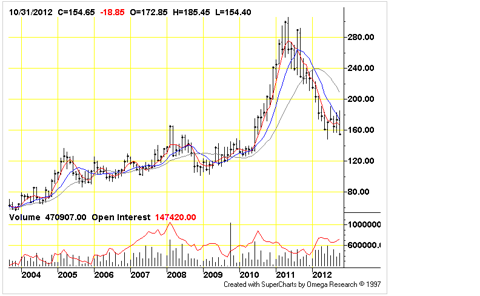 Demand of coffee is rooted in the demand for caffeine so it becomes essential to understand not just the retail competitors of Starbucks, but the other sources of caffeine which compete with the coffee industry.
Various competitors are popping up, from the age-old tea and soda, to the science facilitated synthetics such as energy drinks, caffeine pills and dissolving sub-lingual strips. The concern would be that these would seem to take market share away from coffee, but they actually have had the opposite effect through their function as a gateway drug. Teens and other non-coffee drinkers will try these products and develop an addiction to caffeine. The side-effects or inconveniences of these other products lead to a transition over to coffee. Other factors have also contributed to the industry's demand.
· Coffee is perceived to increase worker productivity, so purchases by employers are incentivized.
· Ephedrine has been outlawed making caffeine the most prevalent legal weight loss drug.
The demand of the industry is very strong, and there is absolutely no reason to believe it will subside.
Starbucks Initiatives
1) Branding: Starbucks has carefully crafted a premium product which consumers seem to prefer even at the higher prices. It is this brand recognition as the vendor of a high quality product that allows SBUX to capture such a significant market share.
2) Customer loyalty cards have been quite successful with nearly $3B loaded onto them.
3) Groupons: Starbucks recently released a groupon which collected more than 1.5mm customers within 24 hours. Such offers allow them to temporarily compete with McDonald's on a value basis with the hopes of keeping some of the customers who tried the product.
4) Launch of in-store premium bakeries: As these have the potential to serve both healthier baked goods and sugary donuts, it provides Starbucks with the tools to fight back against the menus of Panera and DNKN. Also, this will capitalize on the high customer volume by increasing per-ticket revenues.
5) The Verismo System: A major demographic of coffee consumers that SBUX has not been able to reach are those who brew their own. This new system is designed to reach these customers, and it carries the Starbucks premium brand to enhance sales.
These efforts, along with the booming of the industry as a whole, have manifested in a tremendous 3rd quarter earnings report linked here. The company is very strong and has been performing stupendously. While the 3Q surpassed expectations, it was met with a 9.05% increase in stock price. This almost entirely accounted for any extra growth and returned the stock to a fair valuation. With a forward estimated P/E for the fiscal year ended October 2013 of 19.63 it seems to be fully valued. Along with the earnings growth came a 24% increase to the dividend, but it remains only a 1.3% annual yield. SBUX is arguably a great vantage point for exposure to the powerful coffee industry, but in my opinion it would be wise to wait for a price dip.
Disclaimer: This article is for informational purposes only. It is not a recommendation to buy or sell any security and is strictly the opinion of the writer.
Disclosure: I am long MCD. I wrote this article myself, and it expresses my own opinions. I am not receiving compensation for it (other than from Seeking Alpha). I have no business relationship with any company whose stock is mentioned in this article.