This year, Yum Brands (NYSE:YUM) has returned over 22% for its shareholders. This return has added over $6.6 billion in shareholder value and has propelled the security to decade highs. Through this article, I will explore the fundamentals which have propelled YUM to these heights, and lay groundwork as to why I believe that share price could continue rising in the future.
Growing Fundamental Strength
In order to analyze YUM from a fundamental standpoint, I have relied on two metrics: return on assets and return on equity. Return on assets is the net income of the firm divided by average total assets. This figure tells the analyst how efficiently an organization uses its assets to generate profits. Return on equity is the net income of the company divided by the directly-invested shareholder equity. Through studying these two figures, an analyst can better understand the effectiveness of management in making organization decisions and the efficiency of the company in using its assets to bring in profits. The chart below shows 10 years of return on assets and return on equity for YUM.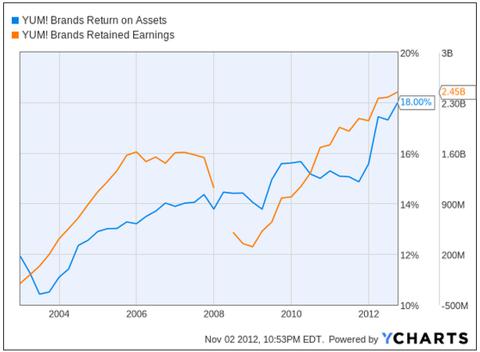 The first thing to notice when studying these two metrics is that YUM has improved in almost every single year for the past decade. This tangibly means that YUM has become more efficient at using its businesses, franchise licenses, supply chain, and other business aspects to bring profits into the organization. Additionally, the chart shows potential investors that management has proven more than capable in handling investments through the delivery of a solid and growing return. The consistency of growing returns ultimately means that YUM is not only surviving in the competitive restaurant industry, but also thriving.
Return on assets and return on equity are very helpful in that they provide the analyst with a proxy as to the success of a business in capturing market share. If a firm is able to generate strong returns on top of investments and assets, it fundamentally means that it has captured a significant market share. If YUM was currently dealing with significant competition, returns would be diminished as additional expenditures would be required to thwart competitors. Since returns have been steadily growing for a decade, it can easily be claimed that YUM possesses strong brand names and its competitive edge is such that it is in position to experienced continued profit and growth.
An organization which is experiencing solid and consistent growth in returns is one which warrants an investment from a fundamental standpoint. If a firm proves itself capable of beating competition and bettering itself for a decade, than equity investors can typically entrust capital to the organization. Even though YUM has demonstrated excellent growth throughout the past 10 years, stock prices have not always correlated to firm success. For this reason, I believe that investors should not immediately purchase the stock, but should instead wait until price confirms the fundamental picture of a growing organization.
Technically Speaking
YUM has delivered strong and growing performance for the past decade. This performance has led the security to increase over 450% since 2002. Over the past few months however, prices of YUM have experienced a brief decline. I believe that this decline represents a pullback in an existing uptrend. I feel that investors who believe in the strength of YUM should consider initiating a position in YUM in the near future. The recent pullback in share price represents an excellent investment opportunity in that it is a clear example of the market being swayed by temporal crowd psychology in ignorance of the progressive fundamentals.
Since YUM is a strong company and share price has fallen over the past few months, I suggest two courses of action. The first course of action is to wait to purchase until price overcomes the yearly of $74.50 established in late-April. I believe that this method of waiting for price to set a new high before purchasing the stock is a more conservative course of action. I favor this approach in that I believe individuals should always factor in risk when making investment decisions. The second approach to participating in YUM would be to immediately purchase the security. This approach provides the more active investor an opportunity to become involved in the security, however there are added risks. Price is currently approaching a key test of resistance at the yearly high of $74.50 and if it is unable to surpass this threshold, active participants will be losing on their trade, even though their fundamental thesis is correct. An additional risk of active participation is that price may not ever reach $74.50 and could immediately decline, leaving the shareholder with a loss. Whichever course the investor takes, I believe that all positions should be exited if price breaks the ascending trend-line. If price falls below $66 per share, then I believe that active and passive investors should consider exiting all positions.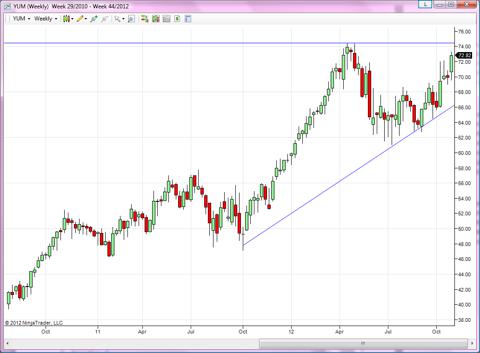 Disclosure: I have no positions in any stocks mentioned, and no plans to initiate any positions within the next 72 hours. I wrote this article myself, and it expresses my own opinions. I am not receiving compensation for it (other than from Seeking Alpha). I have no business relationship with any company whose stock is mentioned in this article.