In September 2012, I gave an initiation call for Mindspeed (NASDAQ:MSPD), a turnaround play at $3.35 per share, and the shares have basically consolidated there this whole time, a very bullish indicator. Mindspeed is a semiconductor pure play on the wireless LTE (4G) market. I believe that the popularity of Apple's iPhone 5 and Samsung's Galaxy S3 will force mobile service networks (MSNs) to deploy the next generation base stations across the globe at a feverish pace. Mindspeed holds a solid footing in this space and therefore should be bought at these prices. Here's why I'm buying the shares of Mindspeed into earnings November 5th post market hours for a run to $8 per share:
Raymond James initiated an outperform rating on the shares after their positive earnings preannouncement on September 12th. A strong sign that Raymond James sees a company that has turned the corner and that positive news awaits investors.
LTE4G is the buzz word. The company is a pure play on wireless LTE (4G) and has very strong intellectual property in its portfolio. The company should be seeing increased visibility from the media as MSNs deploy LTE networks. One of the reasons that I believe we will see the rapid introduction of these base stations is that the carrier's LTE networks have a problem with coverage and capacity. More customers want access inside their homes, lack of home coverage is the now the number one reason for customer churn. Indoor base stations will fix this coverage hole. Data loads are increasing exponentially and without anything being done, bandwidth capacity will be exceeded. Passing data from the wireless networks onto the base stations will remove pressure from the network.
The company trades at less than 1x 2014 revenue estimates. The company has expended its total available market (NYSE:TAM) from $500 million to $2 - $3 billion through the introduction of new products and by entering new markets over the past 12 - 15 months. Historically, Mindspeed trades at 2x - 3.5x revenues. I see the current market opportunities bigger and better than the previous markets they served. The company has to relay to Wall Street that its 28 design wins are with many top tier OEMs and that they are becoming production orders ahead of schedule.
The company has publicly stated that they'll be profitable by the March quarter 2013. Stocks tend to act 6 months ahead of events. We are within 5 months of the March quarter and we are hearing positive tones from management that business is percolating. The company could have favorable language on the conference call that backs up a profitable quarter in March if not December and excites a very large institutional investor base on this small cap company.
Mindspeed is a takeover candidate and a positive conference call will place a takeover premium on the shares. Broadcom (BRCM) and Cavium Inc. (NASDAQ:CAVM) are two names that jump out at me. A back of the napkin calculation gets me to $8 - $9 on a takeover. A Romney win could open a massive Monday takeover stretch and Mindspeed's deep IP portfolio makes it a frontrunner.
Mindspeed raised funds via a convertible bond offering in June of this year to the tune of $32 million or roughly $8 million shares at a conversion price of ~$3.90. I believe the shares have not traded above this price for that reason alone. Institutions are holding off purchasing the shares until they know for sure the shares can handle 8-9 million shares above $4 per share. Positive results or a large order will assure them that this overhang can easily be digested hence the consolidating pattern in the stock.
Mindspeed currently believes that they're two years ahead of the competition with their Transcede product portfolio. Proof of that lead becomes evident when you see that they have a 70% market share of the pico cell market that is estimated to grow from approximately 3 million units to 65 million units over the next 4 years. A tremendous growth opportunity for any company!
The Company has 28 design wins and the number could exceed 30 when they report earnings later this evening. A solid indicator for future revenue growth.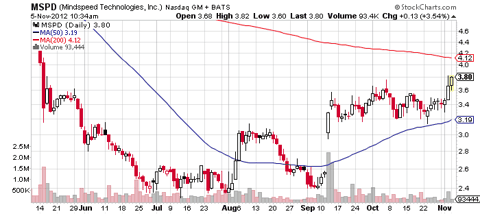 Looking at the daily chart, in September, MSPD broke out to new highs and since then it has been in a trading band from $3 to $3.80. Today, MSPD is pressing up against the upper level and with an increase in volume, or good earnings tonight we could see it break out to $5.00 and then make a run to $8.00 or $9.00.
Fundamentals:
Market Capitalization: $185 million
Cash: 48 million
Debt: zero
Revenue:
2013 (Sept) estimates: $154 million
Q1: $37 million Q2: $38 million Q3: $39 million Q4: $40 million
2014 (Sept) estimates: $184 million
Q1: $43 million Q2: $44 million Q3: $47 million Q4: $50 million
EPS estimate: 2013(Sept): $0.08 - $0.10
EPS estimate: 2014(Sept): $0.35 - $0.40
Gross Margins: 57 - 60 percent
Breakeven point: $37 million (approximately)
Takeover target price: $8 - $10 (2.5 - 3 x 2014 revenue estimates of $8.50 - $10.00).
Mindspeed is a relatively small cap name that many retail investors haven't heard of or come across, but the company is actually a derivative of the defense contractor Rockwell and then Conexant. The company has very strong IP and as a result it has very high barrier to entry products in the markets they serve. That said, I believe Mindspeed is set to deliver a solid outlook on LTE (4G) and will also be on course to deliver one of many upside surprise quarters for the next 8 to 10 quarters ahead as LTE and small cell base stations are deployed at a feverish pace.
The company is trading at 1 x 2014 estimates which historically is a great risk reward for this deeply rich IP semi-conductor company. The Apple iPhone 5 is on the market, the Samsung Galaxy S3 is gaining massive share, the iPad, the iPad mini and tablets are being brought to market for data hungry consumers. This all puts massive pressure on Verizon, AT&T, China Mobile, Virgin, Orange and other world service providers to upgrade to the LTE standard. Mindspeed just happens to be able to provide the chips for all standards (CDMA, GSM, TD-CDMA) that are used throughout the world. In fact, today China Mobile announced that Mindspeed's baseband system-on-a-chip (SoC) is being used in its TD-SCDMA small cells.
At the end of the day, users are accessing more data than ever before and the major wireless equipment players such as Ericsson (NASDAQ:ERIC), Nokia Corp. (NYSE:NOK) and Alcatel-Lucent (ALU) are going to be hit with massive pressure from all the MSNs to deliver them soon. Mindspeed sits on 28+ design wins and when the news of production orders hit the Wall Street Journal then shares of Mindspeed will already be at $6 per share. I'm buying pre earnings and post earnings as I believe MSPD has turned the corner just in time for LTE to be turned on around the world.
Disclosure: I am long MSPD. I wrote this article myself, and it expresses my own opinions. I am not receiving compensation for it. I have no business relationship with any company whose stock is mentioned in this article.