Starbucks Corporation (NASDAQ:SBUX) is a roaster, marketer, and retailer of specialty coffee, operating in more than 50 countries, with a total of 19,972 locations as of Sep. 8, 2012. SBUX sells coffee, espresso, teas, cold blended beverages, complementary food items, and other accessories, as well as distributes packaged coffee, VIA single-serve packets, K-Cups, and tea through grocery stores and warehouse clubs. Despite the increased competitive pressure and evolving industry dynamics, SBUX's increased packaged goods distribution, licensing partnerships, and international expansion should sustain its low-double-digit average revenue growth and steady cash flow growth over the next decade. In the long-term, SBUX's leadership position in the specialty coffee market is also expected to be maintained with its wide economic moat based on meaningful scale advantages and a brand that commands premium pricing. In the near-term, over-valuation concerns and slowed economic growth may affect the share price negatively.
Recent News
On Nov. 1, 2012, SBUX released its Q4, 2012 report, where the detailed earnings call transcript can be read here. The Company reported fourth quarter net income of $0.46 per share, compared to $0.47 in the prior year period. The result was 1 cent higher than the consensus estimate of $0.45. SBUX also increased its full year 2013 EPS forecast from the previous guidance of $2.04 - $2.14 to $2.06 - $2.15, better than the consensus estimate of $2.13 EPS. SBUX also declared a dividend increase of 24% to 21 cents per share, as reported by The Dividend Daily. That is the fourth dividend hike for SBUX since it began to distribute dividends back in 2010. With these positive numbers, SBUX closed strongly higher on Nov. 2 with 9.05% gain and closed at $50.84. SBUX's buy rating was reiterated by Deutsche Bank and its price target was increased from $55.00 to $56.00, as reported by Benzinga.
Fundamentals Overview
Below, we will take a look at SBUX's key stats as compared to its competitors in the restaurants industry, under the consumer cyclical sector.
| | | |
| --- | --- | --- |
| Key Stats | Starbucks Corporation | Industry Average |
| Price/Earning ttm | 28.3 | 19.6 |
| Price/Book | 7.2 | 6.1 |
| Price/Sales ttm | 3.0 | 2.1 |
| Revenue Growth (3 Yr Avg) | 4.1 | 4.5 |
| EPS Growth (3 Yr Avg) | 55.6 | 14.5 |
| Operating Margin % ttm | 14.9 | 18.8 |
| Net Margin % ttm | 10.7 | 10.6 |
| ROE ttm | 28.5 | 32.9 |
| Debt/Equity | 0.1 | 3.7 |
Source: MorningStar
While SBUX's revenue growth of 4.1 is slightly lower than the industry average of 4.5, SBUX's EPS (3 year average) growth of 55.6 is outstanding, as compared to the average of 14.5. While the operating margin of 14.9% is lower than the average of 18.8%, SBUX's net margin of 10.7% is slightly better than the average. Despite SBUX's lower ROE of 28.5, compared to the average of 32.9, SBUX maintains a solid, healthy balance sheet with debt-to-equity of 0.1, compared to the average of 3.7. With strong EPS growth, solid balance sheet, and leadership position in the market, we expect SBUX to enjoy a higher P/E; however, SBUX's P/E of 28.3, P/B of 7.2, and P/S of 3.0, compared to the industry averages of 19.6, 6.1, and 2.1, may not be fully justified. The current valuation for SBUX is also higher than the 5 year averages for P/B of 5.5 and P/S of 1.8, except P/E of 29.1. With its consumer cyclical nature, SBUX's share price will also be impacted adversely when the economy slows down.
Short-term Technical Analysis
SBUX closed at $50.84 with 9.05% gain on Nov. 2, due to the positive earnings release. The volume of 27.48M is 2.98x of 30 day average volume of 9.23M. In the past 52 weeks, SBUX was trading in the range of $40.55 to $62.00. As seen from the chart below, the MACD (12, 26, 9) indicator had reversed the bearish sign, started from Oct. 25, to a bullish sign today. With today's 9.05% gain, SBUX had closed above its 50-day MV of $48.92 and its R1 resistance pivot point of $50.04. SBUX also tested its 200-day MV of $51.16 today, but failed to stay above it. From the momentum perspective, RSI (14) of 64.42 is showing the increased buying momentum. In the short-term, if SBUX can clear its 200-day MV barrier, the next resistance will be $54.19 (pivot point, R2). If SBUX falls below 50-day MV again, the next support levels are $43.01 (pivot point, S1) and $40.13 (pivot point, S2)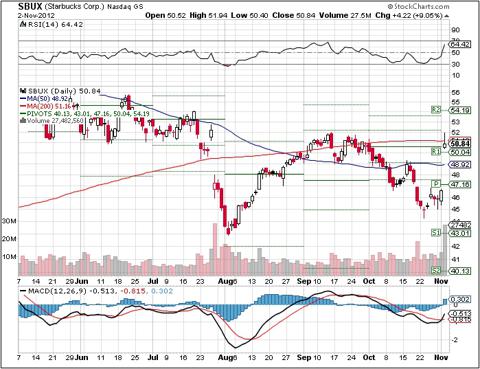 Source: StockCharts.com
Options Play
While we are very positive about SBUX's fundamentals and its competitive edges, the near-term concerns of over-valuation and economic uncertainty are suggesting us to take a pause before rushing into buying or at least to buy with a discounted price. For long-term investors with a bullish view and who would like to acquire SBUX stock for the long-term, we will review a bull credit put spread below:
Short 1x Jan. 19, 2013 Put at the strike price of $47.00 for the credit of $0.98
Buy 1x Jan. 19, 2013 Put at the strike price of $45.00 for the cost of $0.62
The maximum profit is $0.36 and the maximum risk/margin requirement is $1.64. The potential return for the margin used is 21.95%, for 2.5 months of investing period, if SBUX closes above $47.00 upon options expiration. If SBUX falls below $47 on Jan. 19, 2013, the cost for the acquisition will be $46.64 per share, which gives us 8.26% edge over the current price of $50.84. Interestingly, the discounted purchase price is almost the same price as before the Q4 earnings release on Nov.1 with the closing of $46.62. For more conservative investors and for those who do not trade options, it won't hurt to wait a bit longer for this hot stock to cool down before establishing the long-term position.
Note: All the prices are quoted from the closing of November 2, 2012 and all calculations are before fees and expenses. Investors and traders are recommended to do their own due diligence and research before making any trading/investing decisions.
Disclosure: I have no positions in any stocks mentioned, and no plans to initiate any positions within the next 72 hours. I wrote this article myself, and it expresses my own opinions. I am not receiving compensation for it (other than from Seeking Alpha). I have no business relationship with any company whose stock is mentioned in this article.