Commodity Chart Of The Day
Daily Natural Gas
(click image to enlarge)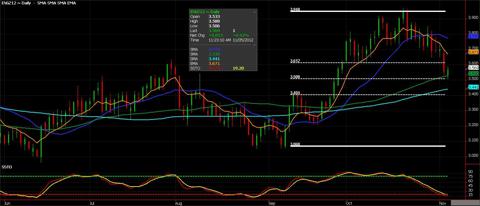 In the last two weeks, prices of natural gas have lost nearly 12%, off just under 50 cents in December futures. On the lows today, my objective at $3.50 was achieved. With a 50% Fibonacci retracement complete, dragging prices to oversold levels, close out all bearish plays and look to reverse in the coming sessions.
The 50 day MA -- identified by the green line -- is being challenged as of this post. Let's see in the coming days if the 100 day MA -- identified by the light blue line -- comes into play. I have started to price out bullish option strategies as well, and long future entries are on my radar… stay tuned.
Once we get a buy signal, traders should attempt to get long, trying to capitalize on a trade higher into the end of the year. I see a trade north of $4 into the winter, and would advise long entries to be buying early 2013 contracts to allow enough time for the trade to develop.
Risk Disclaimer: The opinions contained herein are for general information only and not tailored to any specific investor's needs or investment goals. Any opinions expressed in this article are as of the date indicated. Trading futures, options, and Forex involves substantial risk of loss and is not suitable for all investors. Past performance is not necessarily indicative of future results.
Disclosure: I have no positions in any stocks mentioned, and no plans to initiate any positions within the next 72 hours. I wrote this article myself, and it expresses my own opinions. I am not receiving compensation for it. I have no business relationship with any company whose stock is mentioned in this article.