In Charles Carlson's 1996 book Buying Stocks Without a Broker; the author said that although R.R. Donnelley & Sons Company (NASDAQ:RRD) may not have a government sponsored license to print money, you wouldn't know it from its bottom line. The author gave it a 5 star performance rating and a "thumbs up" rating to its Dividend Reinvestment Plan. During the 1990's, RRD was the world's largest and most profitable commercial printing company and it reeled off a 33 year streak of dividend increases from 1971-2003, before snapping it in 2004 and seeing its annualized dividend frozen in time at $1.04.
RRD was a forgotten stock on our pay no mind list until last year, when we received an email from someone we knew at a local RIA about RRD. This RIA has held RRD since Q2 2010 and this email was touting RRD as a turnaround play. At the time, RRD was yielding 5% and the RIA's thesis was that RRD would be harvesting its cash flows for dividends and share repurchases. Unfortunately, the thesis hasn't worked out the way the RIA expected it to as the shares have dropped by 40% since Q2 2010 and by 27% since we were alerted to it. At least it wasn't the only firm that held turnaround hopes for RRD.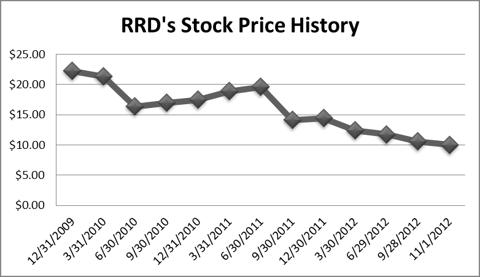 Click to enlarge
Source: Morningstar Direct
Although we prefer to redact the name of the local RIA firm and employee (because it is someone we know) we can see that it is but one of many firms that have a significant stake in the company. Other local active managers in our town that own a significant stake in RRD as of Q2 2012 include Columbia Management (4.14%) and Putnam Investments (3.08%). The largest shareholder of RRD is The Capital Group Companies and its affiliates (including the American Funds Mutual Fund Family), which owns 20% of R.R. Donnelley's stock. Granted, The Capital Group is the ninth largest money manager in the world and it has $1.08T in AUMs, but at least it isn't an index shop. NFJ Investment Group owns 8.72% of R.R. Donnelley and its parent Allianz has 2.3%. LSV Asset Management has 4.11% and Elm Ridge has 2.61%.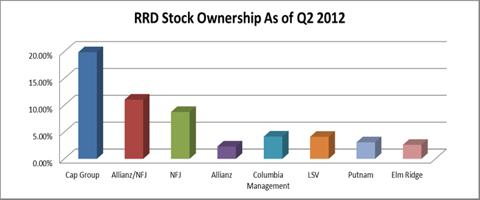 Click to enlarge
Source: Morningstar Direct
Anyway, back to the email we received about RRD. The email touted RRD based on a number of reasons and we debunked each reason listed. We were inspired to write about it because RRD came out with uninspiring EPS as well as a significant decline in its FCFs on a year-over-year basis. Here is a replay of what our friendly neighborhood RIA was saying about RRD.
"RRD is using their FCF (stock traded at a 10% FCF yield (as of August when we received the email)) to buy back 25% of their outstanding shares over the next two years." We were amused at the thought of RRD buying back 25% of its shares over a 2 year period because it had only repurchased 10% of its shares from 2004-2010. The good news is that the company is halfway towards its repurchase goal as it borrowed $500M to repurchase shares under an accelerated repurchase agreement with an investment bank. RRD received 19.9M shares under the agreement in May 2011 and an additional 9.3M shares in November 2011. In 2012, the company has issued 1.9M shares under its employee stock compensation programs. The bad news is that it spent an average of $17.12/share with this agreement in 2011 and yet its shares trade at $10.02 as of November 1st.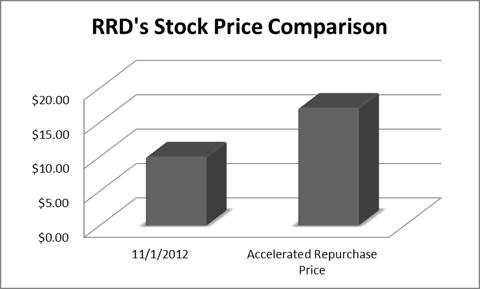 Click to enlarge
Source: Morningstar Direct and RRD's Q3 2012 10-Q Notes
"RRD has taken a hard look at further acquisitions in its own industry and said "No thanks"." We beg to differ because anyone can see that RRD had spent $4.3B on empire building acquisitions since 2005, including $440M in 2010, $142M in 2011 and $89M in 2012. RRD has taken $3B in asset related impairments since 2005 and its market capitalization is currently $1.8B.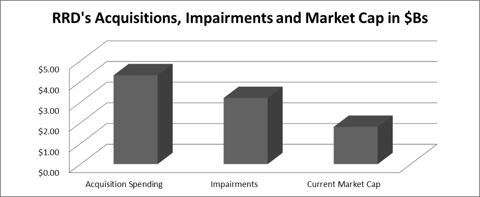 Click to enlarge
Source: Morningstar Direct and RRD's Q3 2012 10-Q Notes
"RRD shares trades at a 10% FCF yield and is a liquid way to participate in this profitable leveraging strategy and get paid 5.5% to do so.(figures were quoted as of August 2011)" We were tempted to take a long position in the company this year because the company's shares had declined from $14/share in August 2011 to $11 in October 2012 before the October 18th fiasco involving the mishandling of Google's (NASDAQ:GOOG) earnings release. We like that the company now has a 10% dividend yield and 17.1% free cash flow yield as well as increased operating income on a year-over-year basis for Q3 2012 and YTD 2012. However we didn't like the fact that the increase in operating income for Q3 2012 and YTD 2012 is due to lower depreciation and amortization accruals, as well as lower asset impairment charges. Despite cutting its selling, general and administration expenses by ~13% for Q3 2012 and YTD 2012, these cuts were not enough to make up for declining gross margin dollars due to the company's continuous decline in sales. Also, we didn't like the fact that the company had a free cash flow deficit of $80M for YTD 2012, versus $164.6M in YTD 2011.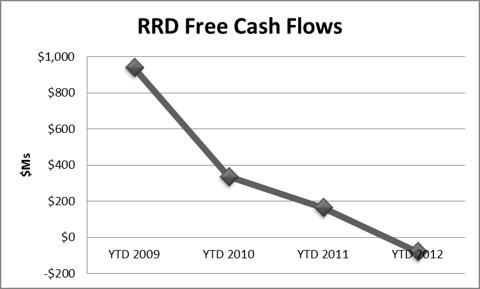 Click to enlarge
Source: R.R. Donnelley's Financial Results Website
"Instead, RRD is leveraging up its balance sheet, utilizing currently artificially low rates to reduce its after tax cost of capital…borrow now and paying back in future devalued dollars." RRD has $3.79B in short and long term debt outstanding as of Q3 2012. The company generated $553M in free cash flows last year and paid out over $700M in dividends and net share repurchases. Assuming that the company wisely refrains from pursuing the rest of its buyback and generates the same level of free cash flows this year, it will pay an estimated $187M in dividends, leaving $366M in available cash for 2012. We think that if anything, it would be more prudent for the company to use its remaining unencumbered cash flows to pay down debt rather than share repurchases or boosting the dividend since the company has a significant debt load, as well as $1.12B in pension and post-retirement benefit liabilities.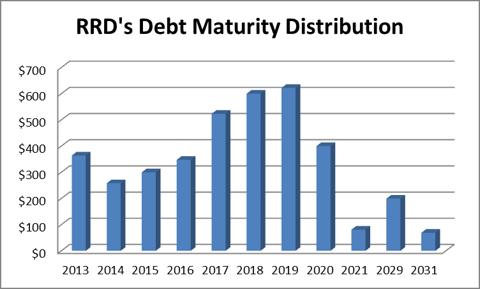 Click to enlarge
Source: RRD's Q3 2012 10-Q Notes
In conclusion, we've kept a loose file on RRD since we received an email from a local RIA touting it. However, we're not ready to join the RIA and other asset managers who have a position in the company. We like the high dividend and free cash flow yields that the company has and we like that well-regarded asset managers are putting their client's money in the company. However, we don't like the secular decline of the company's primary business as well as the acquisition related spending that the company has made in order to give itself a new lease on life. At least this whole episode teaches us that just because large and famous institutions have a position in a company, doesn't mean that investors have to jump right it. It is important for investors (especially professional investors like us) to take the time necessary to conduct (y)our own research especially when someone seems to have fallen in love with a stock.
Disclosure: I have no positions in any stocks mentioned, and no plans to initiate any positions within the next 72 hours. I wrote this article myself, and it expresses my own opinions. I am not receiving compensation for it (other than from Seeking Alpha). I have no business relationship with any company whose stock is mentioned in this article.
Additional disclosure: This article was written by an analyst at Saibus Research. Saibus Research has not received compensation directly or indirectly for expressing the recommendation in this article. We have no business relationship with any company whose stock is mentioned in this article. Under no circumstances must this report be considered an offer to buy, sell, subscribe for or trade securities or other instruments.