In our June report comparing Sprint Nextel (NYSE:S) to Nokia (NYSE:NOK) we analyzed the progress of those once-great telecom titans in turning around the weak performance that both companies have been enduring since the beginning of 2006. We elaborated on how both companies were once well-respected mobile communications industry pioneers but have seen shocking revenue declines and losses, value-destroying acquisitions and company credit ratings cut to junk during the last seven years. Our thesis underlying the creation of our June report was that Sprint was a better telecom turnaround story and we were able to conclude that our thesis was met and it was reinforced with our September update. Here is why we see Sprint continuing to make more progress than Nokia in its corporate turnaround:
Revenue Trends:
Sprint Nextel: We were ecstatic when Sprint came out with its Q2 2012 results because its year-over-year wireless division revenue grew at a faster rate than Verizon Wireless (NYSE:VZ) or AT&T Mobility (NYSE:T). Although its Q3 2012 results were not as impressive, Sprint's year-to-date wireless division revenue growth rate was 3bp higher than Verizon's. An even bigger positive takeaway with regards to revenue growth between Sprint Nextel versus the AT&T-Verizon duopoly is that Sprint had grown its YoY wireless revenue at a faster than AT&T Mobility's YoY revenue growth for 3 straight quarters and its YoY wireless service revenue for the last 5 straight quarters. We can see our thesis about Sprint improving its competitive position and serving to sap the growth rates of AT&T Mobility, Verizon Wireless and especially T-Mobile USA is continually confirmed on a quarter-by-quarter basis. While Sprint's Wireline revenue declines are of a greater magnitude than that of AT&T or Verizon, Sprint's Wireline only accounts for less than 11% of its most recent quarterly revenues, versus 34.2% for Verizon and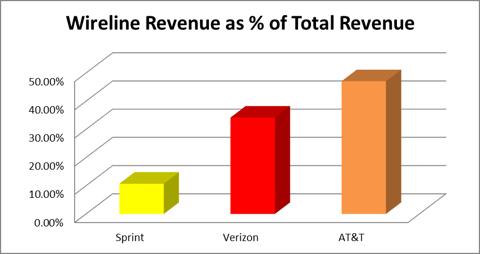 Click to enlarge
Sources: MRQ Earnings press releases for Sprint, Verizon and AT&T
Nokia: Nokia's revenue results in the most recent quarter were not as positive as Sprint's. Unfortunately for Nokia, it did not even have positive year-over-year revenue growth in any of its divisions except for 2.6% growth by the Nokia Siemens Networks Division. Considering the weakness of the euro currency during the Q3 2012 period in relation to the Q3 2011 period, we'd like to see what NSN's constant currency results were during Q3 2012 and Q3 2011. While both companies had registered linked quarter revenue declines in Q3 2012 versus Q2, we can see that Sprint's linked quarter revenue decline of 1% was narrowing than Nokia's 4% during this period. In Nokia's defense, Nokia can make the claim (and granted its pretty lame) that only its Devices and Services Division saw a wider revenue decline than Sprint Wireline. Unfortunately for Nokia Nation, Sprint's Wireline business only accounts for 10.7% of its total revenues while Nokia's Devices and Services Division accounts for about half of Nokia's total revenues. In short, we can conclude that Nokia's revenue trend is worse than Sprint's because Sprint's weakest division is its Long-Distance Wireline business and that division's revenue decline was only 11.6%, versus a 19.4% decline in Nokia's revenues.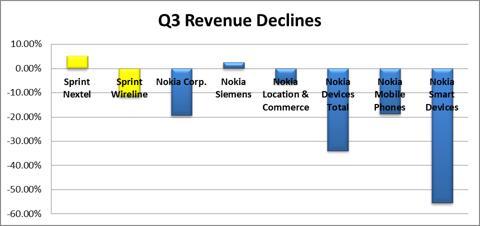 Click to enlarge
Sources: Sprint and Nokia's Q3 2012 Earnings Releases
Free Cash Flows Trends:
Sprint Nextel: Sprint Nextel burned through $268M in free cash flow in the first nine months of 2009. We're not happy that Sprint's free cash flows are temporarily depressed in order to fund the Network Vision network upgrade project however if it wasn't for Network Vision, Sprint wouldn't have earned the right to sell Apple's (NASDAQ:AAPL) cutting-edge iPhone smart phone device or Apple's innovative game-changing iPad tablet computing device and Sprint would probably have to declare bankruptcy or beg T-Mobile USA to acquire it. Sprint's Network Vision project has enabled it to join the AT&T/Verizon duopoly in offering wireless services on the 4G-LTE wireless network protocol as well as scrapping the old archaic 2G Nextel iDEN network. Sprint's 4-G LTE network debuted in 6 cities in July and it has grown to 32 cities as of October. Sprint is also targeting over 100 more cities by the end of 2013.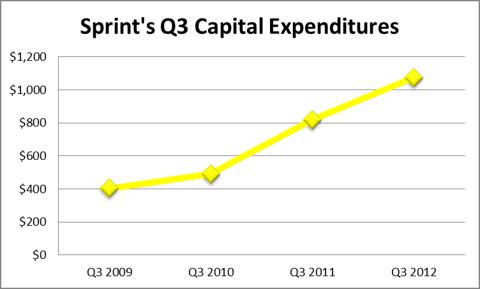 Source: Bloomberg LPClick to enlarge
Nokia: Nokia's cash flow picture was not as pleasant as Sprint's. Nokia is the exclusive home of The Burning Platform and Nokia is pleased to announce that it is now burning cash too. Nokia burned through €1.23B in the YTD 2012 period even though the company harvested €122M from the sale of assets and proceeds from loan receivables. It is obvious that Nokia is burning through cash worse than Boston arsonist Frankie the Flame Fraine even though it reduced its CapEx by 29%, cut staff and sold off assets. Nokia's YTD cash burn of €1.23B was significantly worse than Sprint's $268M cash burn even though Sprint has been aggressively investing in its Network Vision network upgrade and Nokia has been in retrenchment mode.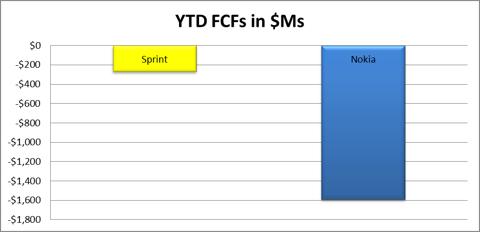 Click to enlarge
Sources: Sprint and Nokia's Q3 2012 Earnings Releases
Telecom and Technology Partnerships:
Sprint: Sprint has partnered with Ericsson to manage its network since 2009. Ericsson's dollar equivalent revenue is almost double Nokia Siemens's and it has avoided the worst of the telecom equipment weakness due to Sprint's Network Vision. While Sprint's handset lineup is comparable to the AT&T/Verizon duopoly, the key smartphone it offers is Apple's iPhone. With regards to the handset marketplace in the US, there is the iPhone and then there is the iPhone's competition. Since Sprint has earned the right to sell the iPhone last October, it has sold 6.3M iPhones in the 12 months that it has been selling the iPhone. Sprint's iPhone sales to new customers have been 40% or better since it began selling the iPhone device last year. 20% of Sprint's 30M postpaid customer base is on the iPhone and we have seen penetration increase by 5% each quarter. Sprint's tablet computing lineup is not as robust as the AT&T/Verizon duopoly, however it will be joining the iPad party in November and currently offers the Motorola Xoom with Wi-Fi and that is more than what Nokia can offer.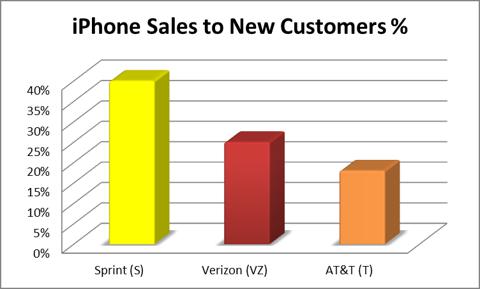 Click to enlarge
Sources: MRQ Earnings press releases for Sprint, Verizon and AT&T
Nokia: Since Nokia's CEO Stephen Elop fired off the infamous Burning Platform memo in February 2011, Nokia has abandoned its Symbian operating system in favor of Microsoft's (NASDAQ:MSFT) Windows Phone platform. Nokia announced its first four Nokia Lumia devices in November and enlisted AT&T to heavily promote the Nokia Lumia 900 in exchange for being the exclusive home of the Nokia Lumia 900 in the US. Unfortunately for Nokia, sales of the Lumia have been real gloomy, especially in North America (only 300K sold in Q3 2012). Nokia's stakeholders can take heart that Verizon will be working with Nokia to eventually sell Nokia Lumia Windows 8 Phones. Unfortunately, we don't expect this to happen until next year as AT&T will be the exclusive home of Nokia's flagship Lumia 920 Windows Phone 8 smartphone device. Sprint's iPhone sales volume in Q3 2012 was higher than Nokia's North American sales volume in the comparable period and that was the fourth straight time that happened. Although we were disappointed that Sprint only sold 1.5M iPhones in the most recent quarter, we can see that Sprint's telecom and technology partnerships are better than Nokia's and that this has been reinforced with the fact that Sprint is crashing the iPad party held by the AT&T-Verizon duopoly.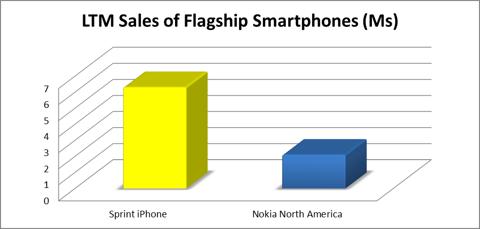 Click to enlarge
Sources: Sprint and Nokia's Last Four Quarterly Earnings Releases
Macroeconomic environments:
Nokia has more global diversity than Sprint. Nokia has access to fast growing markets in Asia, Latin America and Africa, as well as slow-growing markets in Europe and North America. We're not surprised that Europe (-19%) and North America (-50%) have seen the sharp declines in sales volume for its mobile devices in its most recent quarter. However, the huge unit sales volume declines in the Middle East/Africa market (-27%) and China (-64%) should be a wakeup call to Nokia and its stakeholders. We thought that the Chinese market was supposed to be Nokia's saving grace, according to Nokia bulls. Sprint generates all of its revenues from the US, which we believe will perform better than Europe and offers greater potential than consensus economic estimates in 2013 and beyond. We have also seen that the emerging markets and BRICs countries are seeing decelerating growth and increased investment risks.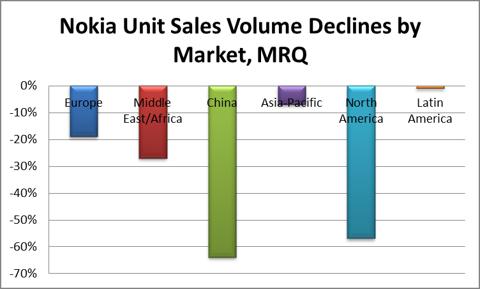 Click to enlarge
Source: Nokia's Q3 2012 Earnings Release
Conclusion:
Based on these 4 reasons, we conclude that Sprint offers a much greater likelihood of turnaround potential in the telecom sector instead of Nokia. Our thesis continues to be validated by the fact that SoftBank has stepped in with a $20B buyout for 70% of the company. We were saddened by Sprint accepting this deal because we felt that Sprint had a decent chance to gain ground against the AT&T/Verizon duopoly. Meanwhile, Nokia Nation is hoping that Microsoft will take pity on Nokia's pitiful performance and acquire it so it doesn't go bankrupt. We can see how even while Sprint was in the midst of a multi-year, multi-step transition process, it was still able to outperform Nokia by a wide margin since the end of 2008. We can see that both companies are gambling on a revolutionary smartphone. Sprint is gambling its company's future on selling the Apple iPhone and Nokia is hoping to restore its growth and profitability with the Nokia Lumia 900 Windows phone. So far we find much greater momentum for Sprint and its Apple iPhone partnership than Nokia and its Windows phone partnership with Microsoft and AT&T because Sprint's iPhone sales volumes are way ahead of Nokia's North America Lumia sales volumes over the last 12 months. Sprint Nextel has not yet caught up to AT&T or Verizon and may never catch up to that duopoly but it is obviously that at least Sprint's not as bad Nokia.
Click to enlarge
Source: Morningstar Direct
Disclosure: I am long S, AAPL. I wrote this article myself, and it expresses my own opinions. I am not receiving compensation for it (other than from Seeking Alpha). I have no business relationship with any company whose stock is mentioned in this article.
Additional disclosure: This article was written by an analyst at Saibus Research. Saibus Research has not received compensation directly or indirectly for expressing the recommendation in this article. We have no business relationship with any company whose stock is mentioned in this article. Under no circumstances must this report be considered an offer to buy, sell, subscribe for or trade securities or other instruments.