After a rough year of huge losses, missing analyst estimates, and plunging revenues, Alpha Natural Resources, Inc. (ANR) reported a decent quarter, suggesting a turnaround is at hand. Finally, the company saw improved margins, even in the face of declining revenues. As the coal prices rebound due to either a rebound in global demand or higher domestic natural gas prices, Alpha Natural and the coal sector in general should benefit.
The company is a leading provider of metallurgical coal used in steel-making, and is a major supplier of thermal coal to electric utilities and manufacturing industries.
While the struggles in the industry caused the stock to implode over the last year, the prospects for the sector remain strong. Both metallurgical and thermal coal remains in high demand from regions where natural gas prices are significantly higher than in the U.S.
Q3 Earnings Highlights
The company reported the following highlights for Q3 2012:
Total revenues in the third quarter were $1.6 billion compared with $2.3 billion in the third quarter of 2011, and coal revenues were $1.5 billion compared with $2.0 billion in the third quarter last year.
Alpha shipped 13.2 million tons of Powder River Basin (PRB) steam coal, 9.8 million tons of Eastern steam coal, and 4.9 million tons of metallurgical coal.
Average per ton realization for PRB shipments rose to $12.87 in the third quarter of 2012 compared with $11.98 in the year-ago period. The average realization per ton for Eastern steam coal shipments was $66.40 compared with $67.07 last year, and the average per ton realization for metallurgical coal decreased to $129.96 in the third quarter of 2012 compared with $168.49 in the third quarter of 2011.
The primary reason for the reduction in revenue was lower metallurgical revenues due to a 23% decline in average per ton realizations, and an 18% decrease in shipment volumes. The Eastern steam reduction in coal shipments also contributed.
The company reported a much smaller than expected loss at $0.16. Analysts had expected a loss of $0.45. Most importantly the company shifted from missing analysts' estimates and reporting sequentially larger losses. The previous quarters had seen losses of $0.27 and $0.33, respectively.
Market Outlook
The market outlook remains improved and positive for the long term, while the short term outlook for the most important metallurgical coal market has turned mixed. The global seaborne metallurgical market has been hit with excess supply, causing spot prices to fall below production costs for a portion of the world's supply. The company estimates that over 30M tons of production has been curtailed.
Demand from China for infrastructure projects is expected to increase in 2013. Typical with all commodities, demand from Asia, and specifically China, will be key to profits going forward.
Thermal coal demand in the U.S. continues to be largely based on the prices of natural gas. In the earnings call, the company provided the following natural gas pricing estimates that are needed to make these regions advantaged for utility use:
Powder River Basin - $2.75 to $3.00 per MCF
Northern Appalachia - $3.50 per MCF
Central Appalachia - $4.00 per MCF
With the current prices around $3.55 per MCF, only the Central Appalachia region faces pressure from natural gas having a more favorable cost structure. With most future prices over $4, the market is clearly at a major tipping point where utilities will have fully switched back to coal. In early 2012, the percentage of electricity produced by coal hit a 40-year low of 32%. The usage has already rebounded to 39%, showing the benefits to the sector from the rising natural gas prices.
Seaborne thermal coal continues to show promise, though the limited shipping capacity and relatively higher margins on metallurgical coal would suggest that thermal coal should remain relatively small in the seaborne equation.
Analysts' Estimates
One of the primary reasons for the recent turnaround in the stock is that Alpha Natural has finally began meeting estimates established by analysts. Typically, stocks can't turn around until investors are comfortable that analysts' revisions have reached bottom. Rising estimates tend to create momentum in stocks that lead to higher prices.
As noted in the below estimates provided by Yahoo! Finance, while the Q2 numbers met expectations, the future numbers continued to slide. So far after Q3 solidly beat estimates, the forward estimated losses are starting to decline.
(click images to enlarge)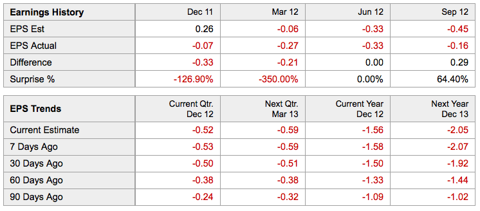 Click to enlarge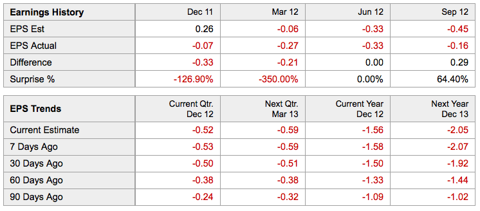 Click to enlarge
Stock Price
The stock remains very volatile in the second half of 2012. After substantial declines since peaking out near $70 at the start of 2011, the stock appears set for a strong rally in 2013.
The below chart shows the relationship to market leader Peabody Energy Corporation (BTU) and the U.S. Natural Gas Electric Power price: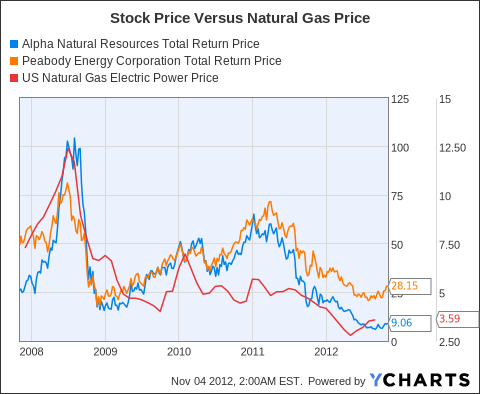 ANR Total Return Price data by YCharts
Though Alpha Natural became a global metallurgical coal powerhouse after agreeing to buy Massey Energy for $7.1 billion in cash and stock last year, the stock still trades based on the domestic natural gas price, per the chart. The significant price increase at the end of 2010 shortly disconnected from natural gas prices. By the end of 2011, however, the stock had quickly fallen back in line with the declining natural gas prices.
Conclusion
The stock trades substantially below 2011 levels, though global demand for coal is expected to remain strong for decades. Both China and India will ultimately need more seaborne supplies to boost economic growth. Any short-term impacts from domestically low natural gas prices will abate over time.
Investors should focus on strong companies with large reserves in periods of cyclical weakness. Though Alpha Natural's stock price has already made a significant run from the recent lows, the stock is becoming even more attractive, as analyst estimates appear to have bottomed out. The momentum from rising estimates and increased global demand could push the stock back to 2012 highs that are more than 100% above current levels.
Disclosure: I am long ANR. I wrote this article myself, and it expresses my own opinions. I am not receiving compensation for it (other than from Seeking Alpha). I have no business relationship with any company whose stock is mentioned in this article.
Additional disclosure: Please consult your financial advisor before making any investment decisions.