Low U.S. Treasury yields and a desire to diversify their bond portfolios have pushed investors to exchange traded funds that track emerging market corporate debt.
"People are still underallocated to other parts of emerging markets outside of the sovereign-credit universe," Fran Rodilosso, portfolio manager for Market Vectors ETFs, which launched its Emerging Markets High Yield Bond ETF in May, said in a recent Wall Street Journal report.
The ETF vehicle has allowed exposure to many asset classes that were previously difficult to access for individual investors. ETFs have allowed seamless, cost-effective exposure to specific areas of the bond market, and provided superior liquidity. Companies in emerging markets have bonds that have much more room to run up and on average, most international investors prefer to purchase sovereign debt, reports The WSJ.
Emerging market bonds offer higher yields than those in the U.S. and emerging market companies have lower debt levels, and the ability to pay off debt compared to U.S. corporations.
Fixed income ETFs have gathered about $15.5 billion in assets in total, per iShares data, and the sector has gained $6 billion in new assets in 2012, reports Mark Paul for StakeBuzz. Furthermore, around 20% of the 57 fixed income ETPs trading are new funds that debuted this year. This proves that the U.S. dollar denominated bond funds are successful, and popular, despite their infancy.
According to Barclays, the emerging markets corporate debt, in total, was on parity with the U.S. junk bond market, with a net asset value of $1 trillion as of May 2012.
Emerging Markets Corporate Bond Fund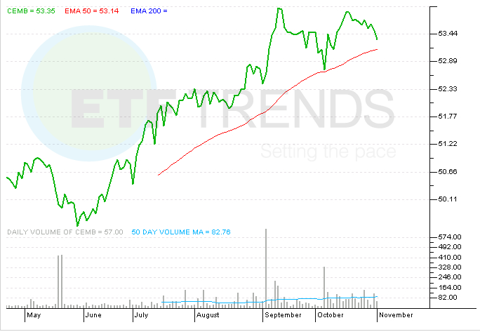 Tisha Guerrero contributed to this article.
Disclosure: I have no positions in any stocks mentioned, and no plans to initiate any positions within the next 72 hours. I wrote this article myself, and it expresses my own opinions. I am not receiving compensation for it. I have no business relationship with any company whose stock is mentioned in this article.