Editor's note: This article was originally mis-attributed to Michael Shedlock's authorship. We apologize for the error.
I did a very shoddy back of envelope analysis yesterday on Mosaic (MOS) in terms of cash flow and the ability to completely buy back all its shares ...
Only 68 more points down for Mosaic before it gets to zero. I think down from 6x earnings to 5, do we hear 4? Looking at their balance sheet last quarter they had $2 Billion in cash/equivalents versus $1.6B in debt - so net $400M. Their cash flow was $1 Billion in 1 quarter alone. With realized prices higher this past quarter than the previous they should generate even more than the $1 B in cash last quarter. This will allow them to reduce their debt significantly and be somewhere around $1.5B cash net of debt. And add at least $1B every quarter after for quite a long time. With a $30B market cap starting in 2009 they should be able to generate $5B in cash a year which in theory means they can buy back 1/6th of the company every year, and by 2015 be private ;)
See, unlike some companies losing 50% of value in one quarter, others actually have tremendous stories and huge cash flow - even if fertilizer prices drop 25% from here the cash flow will be immense. It has not mattered as hedge funds who are levered seem to sell at any price due to redemptions, but if this continues, either buyouts will happen or the companies will declare huge dividends and/or take themselves private. At some point valuation does matter again - there are real businesses out there - these are not just stock symbols for hedge funds to trade in manic nature.
It looks like an analyst agrees with me today (or is an avid blog reader). I keep saying some of these valuations are absurd, but the stocks just keep going down - it is truly amazing. I am now wondering if these companies will soon begin to trade lower then their cash on hand.
Shares of Mosaic Co., the world's largest phosphate producer, jumped Tuesday, a day after a sharp selloff that left analysts relatively upbeat on the company's share price. The stock has lost about half its value since mid June.
On Tuesday, analysts cited the Plymouth, Minn.-based company's attractive valuation. Soleil Securities analyst Mark Gulley estimates that Mosaic generates a robust free cash flow yield of about 16 percent. Free cash flow, or operating cash flow minus capital expenditures, measures a company's ability to generate cash and reward owners. It also is more difficult to manipulate than net income.
Gulley also said that with shares trading at three times the company's earnings before income, taxes, depreciation and amortization, a buyout of the company could be paid for in three years.
Citi Investment Research analyst Brian Yu reiterated his "Buy" rating on the shares and his "positive long-term position on the North American fertilizer market."
I don't have a copy of the report but I am wondering if the statement above means that, if a company bought Mosaic, the cash flow would literally pay for the entire bill in 3 years? Not sure.
Either way, in this new environment cash is king, so despite the relentless selling, we want companies that generate cash like mad - which the fertilizer companies will at this price of their products, or 20-40% lower. Again potash (the nutrient) has not budged one iota (yes, the other two nutrients show some signs of weakening, as some readers have pointed out - but not dropping 50-60% like the stock price).
Again, it is all relative. Much like people are running away from global growth stocks since their growth rates are falling from 60% year over year to potentially 20-30% year over year - that's still not all bad. Especially when they are running into stocks shrinking 15% a year, hoping to once again grow 10% a year.
But that's logic, and we don't use that around here anymore. I will look forward to tomorrow's earnings report and have hopes the company will take steps to defend its stock. Obviously the chart is a disaster and people will be shorting once it rebounds to a resistance level (and true to form we'll have to sell assuming the worst once we hit those levels - since the worst has come to fruition over and over since July 1)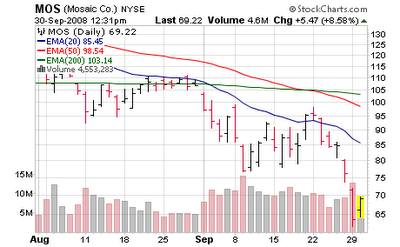 Disclosure: Long Mosaic in fund and personal account