We just thought that is was too funny not to share with our blog readers.  Key first round match-ups recap: The Fed decisively beat AIG, and the heavyweight Freddie Mac goes on to the next round with a bye.  Congress has snatched a victory over the Bailout Fund. Haha! Clearly, these brackets were built with some clever little insights.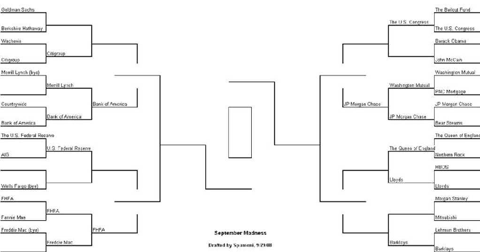 (Click chart to enlarge.)
With venerable Wall Street firms – many with more than 100-plus year histories – collapsing week by week over the last month, this has definitely been a September to remember. Many major banks are seemingly battling to position themselves for what lies ahead.  We will continue to keep you up-to-date on the latest "competitor" to be knocked out!