We maintain our positive stance on Chesapeake Energy (NYSE:CHK) after looking at its revenue of $3 billion, which beats the street estimate by approximately $600 million. Its earnings per share of $0.1 are in-line with the street's estimate. The company's cheap valuation, 10 key development areas in the U.S, dividend yield of near 2%, increasing cash flow generation capability and a shifting focus towards oil and liquid natural gas make it a strong prospect for investors. In our opinion, the company is on the right track towards strengthening its balance sheet position by significantly reducing its debt. For this purpose, the company has signed an agreement to sell non-strategic assets, comprising those of midstream and Permian Basin, and some other assets, for the amount of $6.9 billion. Moreover, according to the 34 analyst estimate, its earnings will grow up to 177 percent by the end of fiscal year 2013. We believe it's a great turnaround stock to hold in a portfolio in order to generate large profits going forward.
An important development is that the company has identified 10 key areas, which comprises of 21.3 tcfe of confirmed reserves, as shown in the graph below. In this way, the company has mitigated the geopolitical, technological and economic risk associated with the Gulf of Mexico and international markets.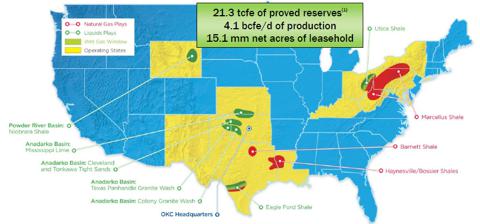 Source: Company Website
The company's profitability was hurt due to the decrease in natural gas prices but the rebound in natural gas prices, to $3.4/mmbtu from the all time low of $1.9/mmbtu in the month of April, is a positive sign for the company's future profitability. Going forward, in our opinion, the expected increase in natural gas consumption due to a structural shift from oil to gas and seasonal demand would enable the company to increase its drilling activities.
The second largest United States natural gas producer is continuously strengthening its position in the oil and liquid gas market as well. Average annual production of liquids has increased by 51 percent over the course of last one year. The company has plans to make considerable capital expenditures, consisting of around 85% and 88% in the FY 2012 and FY 2013, respectively, as shown in the graph below. We believe that continuous spending in liquids drilling would improve its market standing, from the 11th largest United States liquid producer to somewhere in the top 3.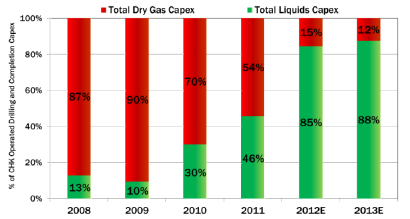 Source: Company Website
Chesapeake is expected to improve its liquidity position and financial flexibility, as it has recently signed an agreement with the Bank of America (NYSE:BAC) for a $2 billion loan. This loan will enhance its revolving credit facility and enable the company to pay off the outstanding borrowings. Most of its debt is about to mature, and this loan will definitely help the company maintain its balance sheet position, without selling any assets. The company has a current liability of $15.7 billion and it aims to decrease it to $9 billion by selling its non-strategic assets worth $6.9 billion.
Due to achieving operational efficiencies in the third quarter, the company has witnessed a considerable increase of 27 percent in adjusted EBITDA, and a 25 percent increase in operating cash flows. The company registered a loss, primarily because of low natural gas prices, which eventually made it write off the value of some of its assets. Its loss in the third quarter was ~$2.1 billion, when compared to profits of $879 million in the third quarter of the last year. However, we believe it will be able to make profits, given the expected increase in natural gas consumption going forward materializes.
Valuation
The stock is trading at a forward price to earnings of 14.7x, at discount when compared to Petroquest Energy's (NYSE:PQ) forward price to earnings of 15.2x. Looking at some other important metrics, it is trading at a price to sales of 1.03x and an EV/EBITDA of 5.33x, at considerable discount when compared to its competitors. Therefore, we recommend investors to maintain their long position in the stock.
Comp sheet

 

Chesapeake Energy

Petroquest Energy

Gastar Exploration (NYSEMKT:GST)

Price/Sale

1.03x

2.6x

1.7x

Forward Price/Earnings (Dec 2013)

14.7x

15.2x

7.4x

EV/EBITDA

5.33x

6.4x

5.8x
The stock is down more than 8% since its earnings release as the company has delayed some of its asset sales till 2013. We think this dip is a great entry point for long term investors.
Disclosure: I have no positions in any stocks mentioned, and no plans to initiate any positions within the next 72 hours.
Business relationship disclosure: The article has been written by Qineqt's Energy Analyst. Qineqt is not receiving compensation for it (other than from Seeking Alpha). Qineqt has no business relationship with any company whose stock is mentioned in this article.