Southern Copper Corporation (NYSE:SCCO) has delivered strong performance to its shareholders this year with a 22% year-to-date return. This return has been excellent for individuals in that it has added nearly $6 billion in shareholder value to the company. Despite these excellent returns, I believe that SCCO is due for a correction in price in the near future. Through this article, I present the case that SCCO's fundamentals are in decline and the current intermediate uptrend may soon reverse.
Examining Growth
In order to objectively analyze SCCO, I have relied heavily on two key metrics: return on assets and return on equity. Return on assets is the net income of SCCO divided by its average total assets. Return on assets informs the analyst about the organization's efficiency at using its assets to generate profit. Return on equity is the company's net income divided by directly invested shareholder equity. Return on equity allows the analyst to gauge the success of management in generating a profit for direct shareholders. The chart below provides five years of return on assets and return on equity for SCCO.
(click images to enlarge)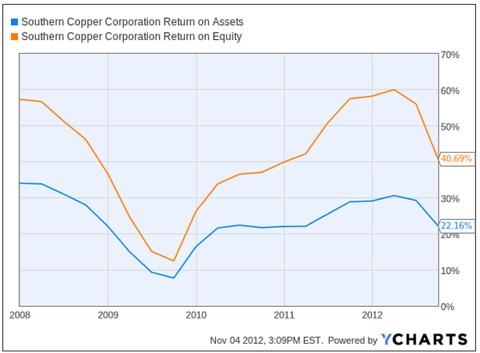 It can be seen that throughout the past five years, SCCO has experienced volatility in its returns. Beginning in 2008, SCCO began a slow decline in efficiency and shareholder performance, which lasted until the fourth quarter of 2009. During these months, share price experienced similar volatility in that it declined by 73% in 2008, followed by a gain of nearly 200% in 2009, as organizational returns began to turn upwards again. Between the years of 2010 and 2012, returns improved and increased, and share price responded with added volatility and a gain of nearly 17%. Through studying these two distinct periods of decline and growth of returns, it can be seen that the company's share price tends to follow the direction of organizational returns.
From a fundamental standpoint, this makes perfect sense. As an organization increases its return on assets and return on equity, it tangibly means that it is bettering its ability to use investments and assets to bring profit into the company. As a company betters itself, the market should respond and reward it with a higher share price that reflects the improvement in the fundamental condition of the organization.
For the past five years, SCCO has tended to follow this rule: as organizational returns move, so does the share price. Over the past two quarters however, SCCO has experienced a decoupling. Since the second quarter of 2012, organizational returns have steadily declined. This fundamentally means that the company is losing its ability to generate profits from its assets and investments. Historically, this degradation of fundamentals has led to a decline in share price. Currently, share price for SCCO is up 22% year-to-date, as I mentioned above. I believe that prices will ultimately revert, and the historical relationship between company performance and share performance will once again be upheld. For this reason, I believe that investors should begin to look for shorting opportunities in SCCO. Since the company has experienced a rapid decline in fundamental performance, I believe that the share price will begin to decline in the near future.
Technically Speaking
Rather than simply shorting the security today, I believe that investors should attempt to logically enter the market at the most opportune time. SCCO has historically demonstrated high levels of volatility, and investors would be wise to think through the risks prior to initiating any trade. Through an examination of a chart of trading data, it can be seen that SCCO is in a moderately strong uptrend. Prices experienced a large sell-off during 2011, and have begun a gradual process of recovery. This recovery has struggled with the significant price hurdle of $37 per share -- a level which has been contested five times in the past two years. Since $37 per share has historically been an area of both support and resistance, I believe that more aggressive investors should short any break below this level. For the more risk-averse investors, I believe the best course of action is to short when the price finally breaks the ascending trend line, or $32-34 per share.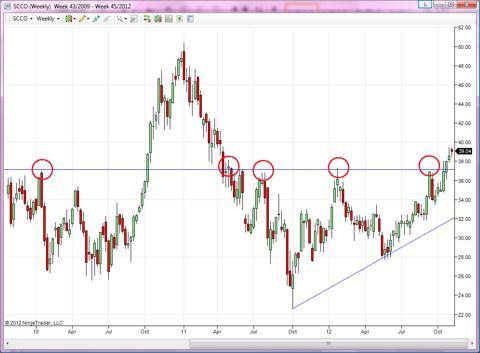 Disclosure: I have no positions in any stocks mentioned, and no plans to initiate any positions within the next 72 hours. I wrote this article myself, and it expresses my own opinions. I am not receiving compensation for it (other than from Seeking Alpha). I have no business relationship with any company whose stock is mentioned in this article.