The Eagle Ford Shale is a large deposit of oil and gas that could be the most significant economic development in the history of the state of Texas, even if Clint Eastwood's and John Wayne's combined box office revenues were considered. In 2011 alone, this rich play had more than a $25 billion dollar impact on the local South Texas economy.
With the Shale's location in South Texas just sout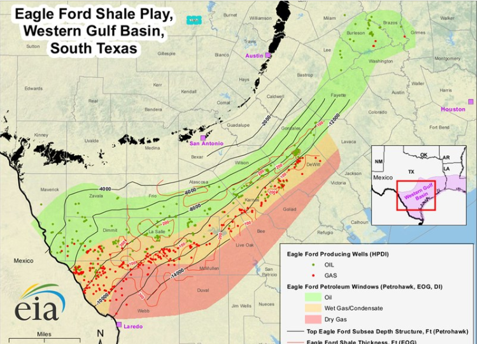 h of San Antonio, this region is nothing like the undeveloped era of the Wild West. To the surprise of many, this deposit is one of the most active deposits in the world, boasting a current count of roughly 269 rigs, which feverishly pumps out glorious U.S. oil and gas at attractive rates.
Eagle Ford's best attribute is that even with gas prices relatively low, this area is still attractive since it also produces oil and NGLs like ethane, propane, and butane. In fact, The Eagle Ford Shale has some very attractive oil prospects, which are little known and underestimated by many investors.
Profitable drilling results, together with the large prospective area and reachable underground reserves, combine to make the Eagle Ford a top oil shale prospect in the United States.
A recent report by IHS Inc. (IHS), a leading global source of shale information and analytics, alleges that the Eagle Ford may even challenge the Bakken Shale, a leading oily shale play located in North Dakota and Montana.
According to IHS's assessment, usual well performance and peak production of the top wells in the Eagle Ford Shale exceeded the best wells drilled in the Bakken Shale. The potential in the Eagle Ford is made evident by a highly competitive acquisition activity, with some deals passing $20,000 per acre in 2011.
IHS's summer press release quoted Andrew Byrne, director of equity research at IHS and author of the study saying:
"Our analysis at IHS indicates that Eagle Ford drilling results to date appear to be superior to those of the Bakken," said Byrne, "Although the well counts aren't nearly as high at this point in development of the Eagle Ford, the peak of the well-distribution curve compares favorably with the Bakken."
Prior to joining IHS, Mr. Byrne was a financial analyst for Value Line Publishing, focusing on the energy and mining sectors. He has nearly a decade of experience in Canadian oil shale plays as an exploration geologist. Byrne holds a bachelor's degree in geology, and a Charter Financial Analyst (NASDAQ:CFA) qualification, and is a member of the CFA Institute, Petroleum Analysts of Boston, and the Boston Security Analyst Society. Although Byrne isn't very well known but he seems very well qualified.
With so much promise in the Eagle Ford Shale, how can investors best harness this up and coming deposit? There are over 200 active operators in the prospective 30 county area in the Eagle Ford Shale. Some well known companies like Chesapeake Energy (NYSE:CHK), Anadarko (NYSE:APC), and Apache (NYSE:APA) have positions in the Shale, while smaller companies like Rosetta Resources (NASDAQ:ROSE), Carrizo Oil & Gas (NASDAQ:CRZO) and Forest Oil Corp. (NYSE:FST) do as well. There are also some even lesser known companies that are actively growing in the Eagle Ford too, like Magnum Hunter (MHR) and Goodrich Petroleum (GDP) just to name a couple.
But with so many companies in this region, which are the best picks? Which companies have the most leverage to the Eagle Ford Shale?
This could be a daunting assessment, but we can consider Eagle Ford Acreage/Enterprise Value, or A/EV. This statistic will determine which companies have the most acreage in the Eagle Ford as a percentage of total value of the company. If the underrated potential of this deposits value comes to fruition and continues to be unlocked by exploration efforts, these companies hold the most upside, since they are the most levered by EV. I stumbled upon an investor presentation of a company called Matador Resources, (NYSE:MTDR), a small yet fast growing company which seems highly levered to the Eagle Ford Shale by this metric. We can compare MTDR's Eagle Ford Acreage/EV to competitors in the Eagle Ford:
| | | | |
| --- | --- | --- | --- |
| Company | Symbol | Net Eagle Ford Acres/EV (Net Acres/$mm) | 2012 Est. Capex % Eagle Ford |
| Swift Energy Co. | (NYSE:SFY) | 51.0 | 57% |
| Matador Resources Co. | (MTDR) | 48.1 | 84% |
| Goodrich Petroleum Corp. | (GDP) | 36.7 | 64% |
| Forest Oil Corp. | (FST) | 34.9 | 45% |
| SM Energy Co. | (NYSE:SM) | 33.3 | 36% |
| Newfield Exploration Co. | (NYSE:NFX) | 32.1 | 7% |
| Carrizo Oil & Gas Inc. | (CRZO) | 26.1 | 63% |
| Penn Virginia Corp. | (PVA) | 25.7 | 92% |
| Rosetta Resources | (ROSE) | 24.3 | 93% |
| Chesapeake Energy | (CHK) | 21.9 | 30% |
| Magnum Hunter Resources | (MHR) | 14.9 | 40% |
| Pioneer Natrual Resources Co. | (NYSE:PXD) | 9.3 | N/A |
| Plains Exploration & Production Co. | (NYSE:PXP) | 6.7 | N/A |
| Apache Corp. | (APA) | 4.3 | N/A |
| Anadarko Petroleum Corp. | (APC) | 4.0 | N/A |
Source: MTDR's Oct '12 Investor Presentation
In comparison to the leading companies in the Eagle Ford Shale, it seems MTDR is leading the way in harnessing the upside potential of this developing play. With a combination of 48.1 net acres/EV metric and a whopping 84% of estimated 2012 Capex devoted to the Eagle Ford alone, MTDR seems best exposed to the upside that this promising deposit offers.
In addition to these impressive metrics, which prove MTDR's overwhelming exposure to this Shale, MTDR estimates 90% of their Eagle Ford acreage is in the prospective oil and liquids areas. Also, they claim 100% of this committed Eagle Ford Capex has been targeted for oil rich zones.
Aside from MTDR's focused exposure in the Eagle Ford, there are other growth characteristics that are impressive as well:
On schedule to double adjusted EBITDA for the second year in a row
Increased oil production over 6x year over year for the first 6 months of 2012 versus same period 2011.
Proved oil reserves have grown over 80% in the 6 month period from December 31, 2011 to June 30, 2012
192% NGL production growth from Q1 '12 to Q2 '12, with finalization of a natural gas gathering, transportation, and processing agreement, paving the way for continued growth.
over 30,000 acres near big players:
Source: MTDR's Oct '12 Investor Presentation slide # 11
This slide shows MTDR's proximity to valuable properties held by big names in the Eagle Ford, such as CHK, EOG Resources (NYSE:EOG), Marathon Oil Corp (NYSE:MRO), and others. It also shows some transactions for acreage in nearby locations. The most impressive was as high as $30k/acre, which was for Marathon's purchase in May of 2012.
The strengths are clear for MTDR: amazing production growth, proved oil reserves growth, EBITDA growth, and over 30,000 acres in the Eagle Ford Shale near M&A activity, which has proven to be very valuable.
The Eagle Ford Shale might still be underappreciated as an oily play by some investors, and if so they might be mistaken. Industry experts like Andrew Byrne of IHS seem to think the best wells of the Eagle Ford are outperforming that of alternate shale plays, like the Bakken, making the Eagle Ford Shale the strongest bull in the U.S. oil arena. Small yet growing companies with the most net acreage/ EV and strong Capex focus, like Matador Resources, could be a great investment as the full potential of this play is realized going forward. Matador Resources has been a solid grower, and if this continues while the Eagle Ford Shale is developed further, investors will be rewarded.
Disclosure: I am long CRZO. I wrote this article myself, and it expresses my own opinions. I am not receiving compensation for it (other than from Seeking Alpha). I have no business relationship with any company whose stock is mentioned in this article.
Additional disclosure: I have owned MRO in the past year. I may initiate long positions in any stocks mentioned over the next 72 hours.