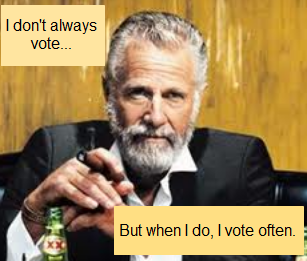 I'm not going to post much of anything until Wednesday assuming there is a decisive (hopefully) outcome in the U.S. What's the point? The conventional wisdom is markets may rally if Obama wins since QE and ZIRP will continue. A Romney win might mean less sugar for the vacuum tubes. A hung election is the worst outcome naturally. And so it goes.
But while you're watching the returns, just remember Greece is having its own election Wednesday. Why is this important? The country only has enough money for one week. Further, there has been no agreement on austerity with the troika allowing for more aid. The current Greek parliament has a majority of 5 is my understanding and of course austerity isn't popular in the streets of Athens. This may be part of the reason German 2-year notes are now at negative yields (-.014%) as investors flock to them on fear of a Grexit.
Markets did little on the day eking-out small gains on light volume. This makes snarky comments and charts a useless effort.
That said we'll look a few charts just for show.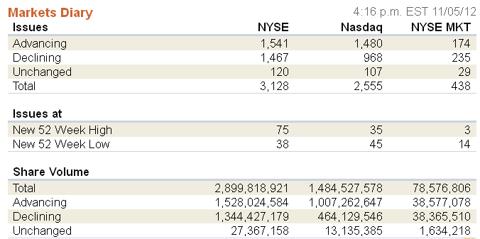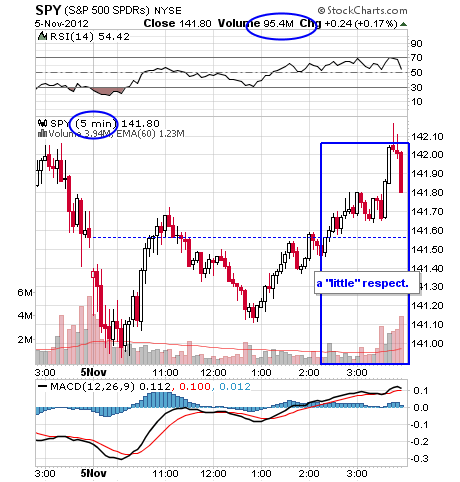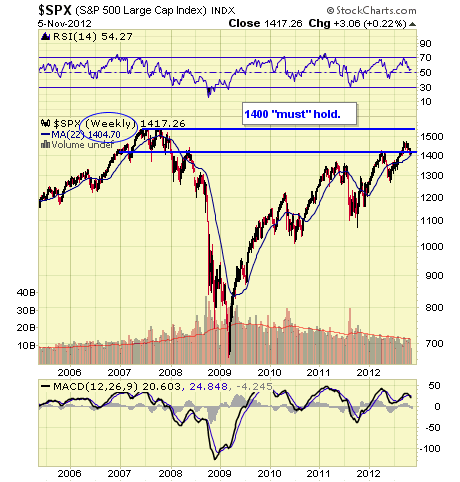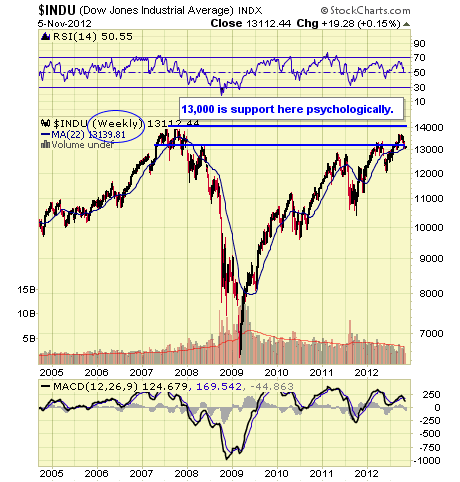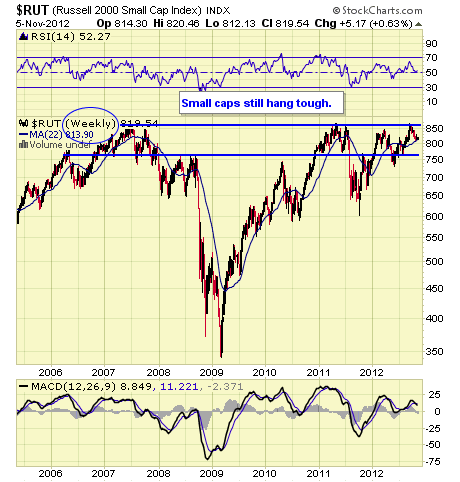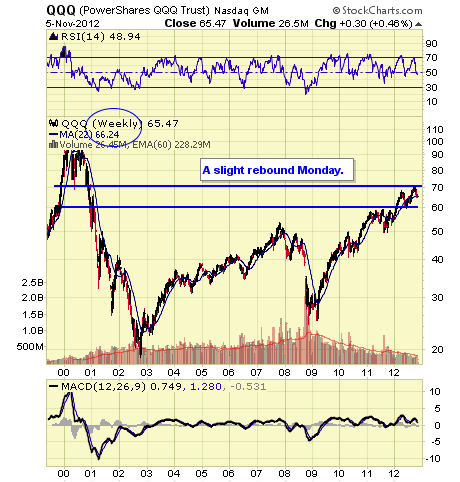 Continue to U.S. Sector, Stocks & Bond ETFs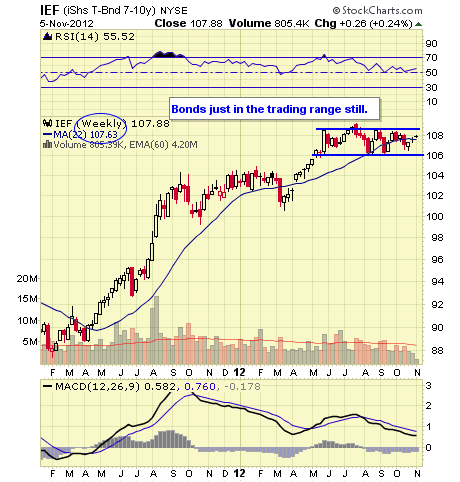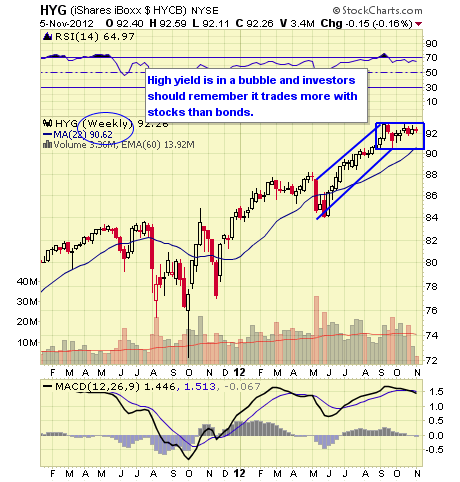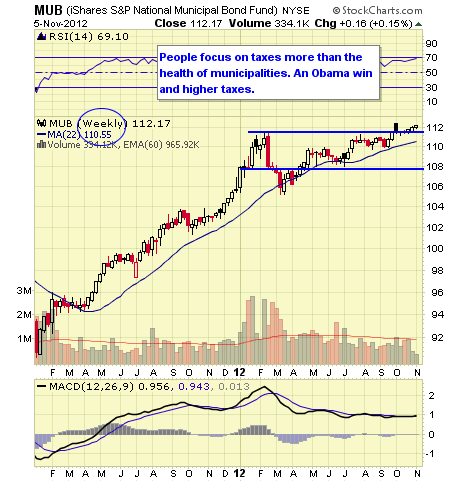 Continue to Currency & Commodity Market ETFs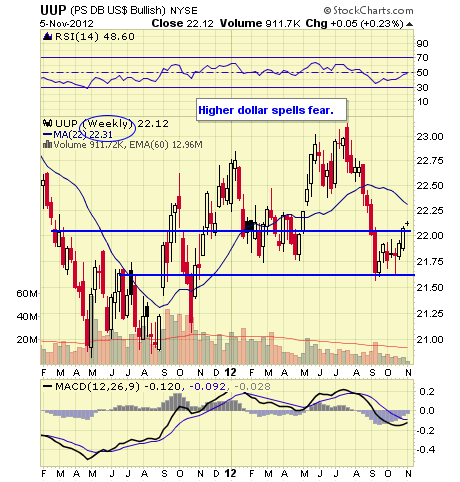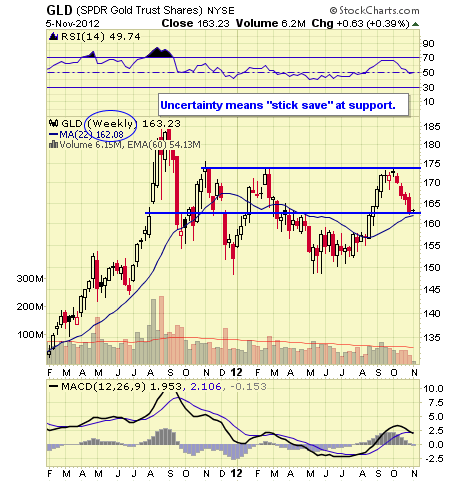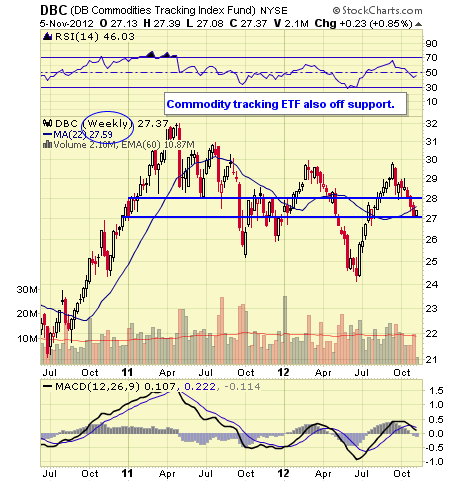 Continue to Overseas Sectors & ETFs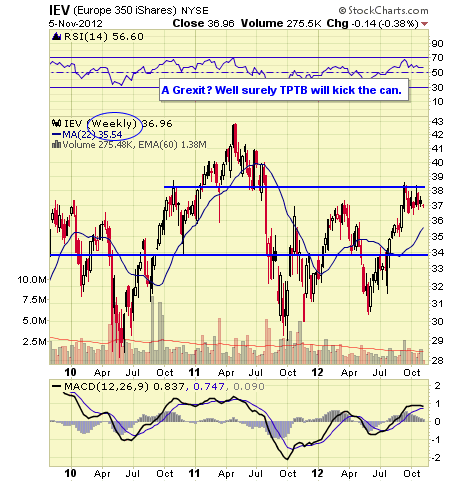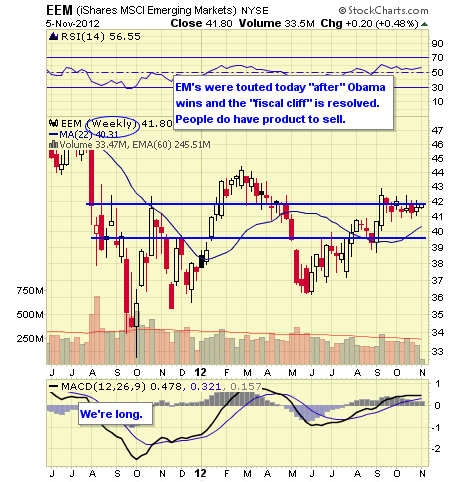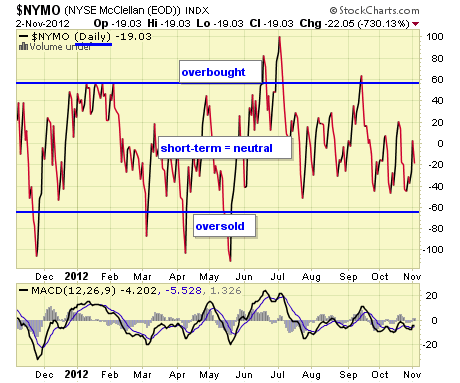 The NYMO is a market breadth indicator that is based on the difference between the number of advancing and declining issues on the NYSE. When readings are +60/-60, markets are extended short-term.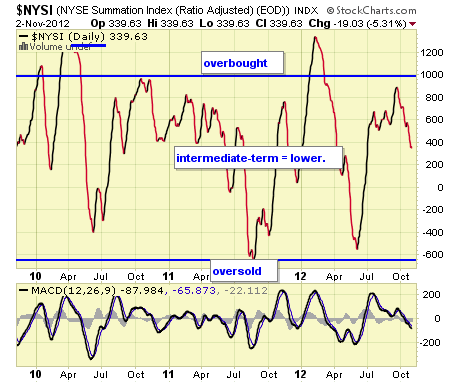 The McClellan Summation Index is a long-term version of the McClellan Oscillator. It is a market breadth indicator, and interpretation is similar to that of the McClellan Oscillator, except that it is more suited to major trends. I believe readings of +1000/-1000 reveal markets as much extended.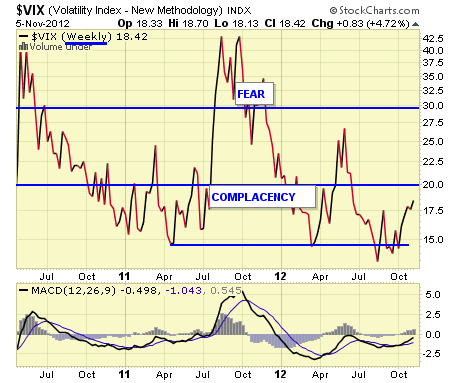 The VIX is a widely used measure of market risk and is often referred to as the "investor fear gauge". Our own interpretation is highlighted in the chart above. The VIX measures the level of put option activity over a 30-day period. Greater buying of put options (protection) causes the index to rise.
Concluding Remarks
Okay, that's it for me. May the best man win, or at least win outright.
Disclosure: I have no positions in any stocks mentioned, and no plans to initiate any positions within the next 72 hours. I wrote this article myself, and it expresses my own opinions. I am not receiving compensation for it. I have no business relationship with any company whose stock is mentioned in this article.
Disclaimer: The ETF Digest maintains active ETF trading portfolio and a wide selection of ETFs away from portfolios in an independent listing. Current "trading" positions in active portfolios if any are embedded within charts: Lazy & Hedged Lazy Portfolios maintain the following positions: VT, MGV, BND, BSV, VGT, VWO, VNO, IAU, DJCI, DJP, VMBS, VIG, ILF, EWA, IEV, EWC, EWJ, EWG, & EWU.
The charts and comments are only the author's view of market activity and aren't recommendations to buy or sell any security. Market sectors and related ETFs are selected based on his opinion as to their importance in providing the viewer a comprehensive summary of market conditions for the featured period. Chart annotations aren't predictive of any future market action rather they only demonstrate the author's opinion as to a range of possibilities going forward.