By John Nyaradi
With all of the excitement surrounding the U.S. Presidential election and the rapidly approaching fiscal cliff, the media have lost sight of the problems in Europe, particularly Greece and Spain, but that is about to change.
Starting Wednesday, when the results of the U.S. elections are known, Europe and its ongoing problems are very likely to spring back to the front burner of the global financial landscape.
With the world intensely focused on the U.S. Presidential election, hardly anyone has noticed that the Eurodollar (NYSEARCA:FXE) has fallen to a near two month low as Greece works to approve even deeper austerity programs and Spain hesitates about applying for a regional bailout
Greek Prime Minister Antonis Samaris said on Sunday that Greece could be forced to leave the European Union if the new austerity program that includes spending cuts, higher taxes and older retirement age is rejected by the country's parliament in a vote planned for Wednesday.
The cuts are expected to pass, which will allow Greece to get its next round of aid from Europe. However, the Greek stock market (NYSEARCA:GREK) and euro have been hit hard lately as uncertainty prevails.
Meanwhile in Spain, the depression-like conditions continue with soaring unemployment and a severe economic contraction still underway. Everyone expects Spain to come calling on Europe for aid. However, if that doesn't happen, it will likely be very negative for the euro and for European ETFs like iShares MSCI Spain Index. (NYSEARCA:EWP) In spite of the broadly held view that Spain will eventually ask for aid, Prime Minister Rajoy doesn't seem too eager to go down that path.
So why should we care about Europe and is the future of Greece and the euro really a threat?
A quick glance at a chart gives us the answer.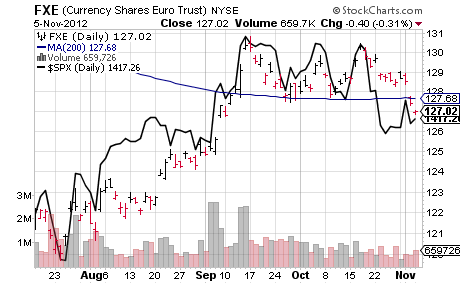 chart courtesy of StockCharts.com
In this chart, CurrencyShares Euro Trust is represented by the candlesticks and the S&P 500 (NYSEARCA:SPY) is the solid line. It's easy to see how the fortunes of the two are closely tied together and so any bad news for the euro like a Greek exit from Europe or a Spanish default is likely to be bad news for the S&P 500, as well.
Many experts forecast continued weakness in the euro which could bode ill for the S&P 500. As the drama surrounding the U.S. elections draws to a close, the ongoing "Greek Tragedy" and the soap opera in Europe are likely to retake center stage with significant ramifications for U.S. investors.
Disclosure: I have no positions in any stocks mentioned, and no plans to initiate any positions within the next 72 hours. I wrote this article myself, and it expresses my own opinions. I am not receiving compensation for it (other than from Seeking Alpha). I have no business relationship with any company whose stock is mentioned in this article.