Stocks To Trade
Today, we are looking at an earnings trade in Conoco-Phillips (NYSE:COP), longs in Netflix (NASDAQ:NFLX) and American Express (NYSE:AXP), and shorts in DuPont (NYSE:DD) and Dow Chemical (NYSE:DOW).
For an earnings trade, we are looking at COP today. The company recently reported earnings that came in very strongly. The company beat estimates by 0.24 to deliver a 21% surprise. The initial reaction was strong as COP produced more than was expected of them to beat estimates. The company, further, commented that they expected to produce even more in Q4, which was a bullish sign. The stock rallied up on the news, but it got hit over the past two days to form a bull flag that we think is great for entry long into the stock.
The company's spin-off of Phillips 66 (NYSE:PSX) is going to be of great benefit to the company as they can now focus COP on production alone. They are benefiting from North American production, and they would be a very bullish play if Romney were elected. Even without him, we still believe their earnings have helped place a bottom on the stock and are perfect for a bull put spread.
Trade: COP, Dec22, 55/52.50 Bull Put Spread
Max Gain: 18%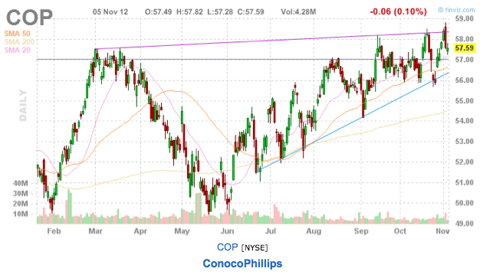 For longs, we like the looks of Netflix and American Express. Both companies are looking very solid right now. The NFLX-Carl Icahn deal is really putting a solid floor on NFLX share prices and the stock continues to take out higher technical levels. Monday's "poison pill" does take away from the likelihood of a large acquisition by private equity, but it does not mean that the company will not be bought out. The market enjoyed the news as well, and we believe there is a lot of catalyst here for the stock to push higher. They can easily see a push higher from here as investors will be attracted to the company's shareholder rights. We believe they are a solid trade above $80 as it will signal another breakout.
AXP, additionally, is looking solid. Credit card companies continue to do well, and we like AXP's current setup. The stock definitely did not do well on their last earnings report, but the stock appears to have found a bottom in its current upward price channel and is finding nice support at its 200-day MA. The stock has amazing support at 54 that has lasted all year, and we believe that the stock has priced in any weakness from earnings at this point. Heading into the holiday season, AXP is the type of stock you want to own as people spend money. A bull put spread in them looks attractive.
Equity Trade: NFLX, Long
Breakout Point: 80.00
Options Trade: AXP, Dec22, 52.50/50 Bull Put Spread
Max Gain: 11%
For shorts, we like the looks of chemical companies. Two in particular that are looking weak are DuPont and Dow Chemical . Both stocks look weak right now in this market. The reason? Chemicals are very cyclically weak right now. Demand is low in Europe for chemicals, and we appear to be at the end of a cycle of demand, which is not good for DD and DOW. Both stocks reported lackluster earnings, especially DD. We like shorting DuPont on a failure of $44 as the company continues to weaken since gapping down. The company got downgraded Monday by Piper Jaffray, and we believe they lack much upward catalyst until Europe turns a corner.
Additionally, we believe DOW lacks an upward catalyst. They seem to be in a better spot than DD as some of their products have less cyclicality than DD and they have attractive offerings in residential construction. At the same time, the stock is in a long-term downward channel with strong resistance at 31. The fact that they have been this weak despite strength in housing shows that they are still being held down by other sectors. We like using the 32/34 bear call spread to make money selling premium.
Stock Trade: DD, Short
Breakout point: Break of 44.00
Options Trade: DOW, Dec22, 32/34 Bear Call Spread
Max Gain: 18%
Tuesday's Outlook:
For Tuesday, it's all about the election. The market will still be unsure of what the election will mean for the market during hours, so look for the market to react to mostly initial results and speculation. We do not expect a big move much like Monday. Dips will be bought as shorts will cover and rises will be sold as people lock in gains. Some movement to the downside into the election night should most likely be expected. There is no major economic data for the USA as well to react to Tuesday.
On the other hand, we do get Great Britain GDP and Industrial Production as well as German Factory Orders to help set the stage at the open. Look for the market to also start to price in Greece's Wednesday vote as well. As for major earnings for Tuesday, we should be watchful of CVS (NYSE:CVS) and DIRECTV (DTV). Those two reports will be important.
Our Moves/Holdings:
We had a nice day Monday as we locked in a 10% gain in our Intuitive Surgical (IRSG) bull put spread. Additionally, we added a long in Target (NYSE:TGT) and added a bull put spread in Starbucks (NASDAQ:SBUX).
We have the following positions:
In our Short-Term Equity Portfolio we are long Target , Visa (NYSE:V), Deere (NYSE:DE), B&G Foods (NYSE:BGS), and Illinois Tool Works (NYSE:ITW). We are short Toll Brothers (NYSE:TOL) and CSX (NYSE:CSX).
In our Options Portfolio, we are long Whirlpool (NYSE:WHR), Capital One Financial (NYSE:COF), Intuitive Surgical (NASDAQ:ISRG), Discover (NYSE:DFS), Starbucks . We are short SPDR S&P 500 (NYSEARCA:SPY) and Baidu (NASDAQ:BIDU).
In our Earnings Alpha Portfolio, we are long Discover Financial, Michael Kors (NYSE:KORS). We are short SPDR S&P, Salesforce.com (NYSE:CRM). We have a reverse iron condor in Chipotle (NYSE:CMG) and Netflix.
In our Goldman Sachs Up/Down Paper Portfolio, we are long CSX and Expeditors International (NASDAQ:EXPD).
Chart courtesy of finviz.com.
Disclosure: I am long DFS.
Business relationship disclosure: The Oxen Group is a team of analysts. This article was written by David Ristau, one of our writers. We did not receive compensation for this article (other than from Seeking Alpha), and we have no business relationship with any company whose stock is mentioned in this article