While the political parties both can make the case that their presidential candidate will be better for the economy, not all companies will benefit equally from the final verdict. If Mitt Romney becomes the next president, we think that some stocks will be losers and others winners, but if we had to pick only one using the election angle it would be EDAC Technologies Corporation (NASDAQ:EDAC).
Although we are cynical after the bad-tasting campaign baloney being served by both parties, we will try to be apolitical about the investment rationale for this pick. However, in making this case, we will need to reiterate some of the campaign positions, even though they may be controversial.
EDAC Technologies Corporation, together with its subsidiaries, provides design, manufacturing, and services for tooling, fixtures, molds, jet engine components, and machine spindles in the aerospace and industrial markets. In the buildup to the election, much has been made of the Romney plan to increase military spending by two trillion dollars, which stands to benefit EDAC.
In the debates, Romney back-pedaled on this defense spending promise, which was essential to gaining campaign funding from the military-industrial sector, trumping it with a new promise to not increase spending without revenue to pay for it. It is unclear whether Romney, once safely in office, will actually push for two trillion dollars of spending on things that President Obama says the military "is not asking for." Politicians tend to say things for political expediency with little intention of follow-through; nonetheless, the recent history of the Republican party has been hawkish on defense. We also suspect the Obama comment may be over-simplification of the actual position of the Joint Chiefs. I doubt they would turn down the money. As a first term president, Romney will need to payback his supporters with friendly governance.
Another positive aspect of the EDAC - Romney connection is that EDAC has invested in initiatives to chase business in Latin America, and it already supplies parts for companies like Brazilian aerospace giant Embraer (NYSE:ERJ). Of course, EDAC already counts among its clients the large U.S. plane builders, such as Boeing (NYSE:BA). Romney has indicated that part of his economic strategy is to expand U.S. business to Latin America. The details of this plan are not clear, but we assume this includes economic incentives and legal facilitation for companies like EDAC that are active in that market.
Even if Romney does not win the election, EDAC still has compelling investment characteristics. From a value point of view, at its current price of $13.87, EDAC sells for about twice book value and has sales in excess of market cap.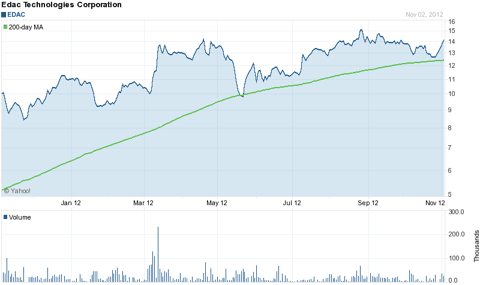 The stock has had a good move up of about 40% this year although the action has been mostly sideways since July. The stock has dropped back to its 200-day moving average, but the latest quarterly report has given EDAC a boost with 25% revenue growth and better than 50% EPS growth. The forward PE of EDAC would be 13, based on an analyst estimate of 2012 EPS of $1.12.
Forecasts for 2013 indicate 20% growth, in line with backlog growth over the past year. The company's total sales backlog at September 29, 2012 increased to $313.7 million. It included a previously announced long-term agreement with an OEM customer to produce a major case assembly for a military engine program with U.S. and export applications. This backlog is roughly equivalent to three times 2012 revenue, providing some assurance of near-term stability regardless of the election. A Romney budget would probably add some icing to the backlog as defense aerospace spending is boosted.
Conclusion. The Vegas bookies are setting heavy odds that Obama will take the 2012 presidential election. If you are sure of a Romney win, you can get a 250% return on your bet Wednesday morning, assuming that the vote will put a merciful end to the campaign. Although that kind of return is not out of the question with an EDAC stock investment, it will take considerably longer to achieve… shorter with a Romney victory.
On the other hand, if you are an Obama supporter, an investment in the EDAC stock might bring some comfort. In the event that the president retains his job, EDAC still appears to have a good near-term future, based on its existing backlog.
Disclosure: I have no positions in any stocks mentioned, and no plans to initiate any positions within the next 72 hours. I wrote this article myself, and it expresses my own opinions. I am not receiving compensation for it (other than from Seeking Alpha). I have no business relationship with any company whose stock is mentioned in this article.