Three companies from the drug delivery industry, namely InSite Vision Incorporated (OTCQB:INSV), IntelliPharmaCeutics International Inc. (NASDAQ:IPCI) and pSivida Corp (NASDAQ:PSDV), have come a long way down from their glorious price peaks several years ago (please see charts below).
Even if their market price is just a very small fraction of what it used to be a decade ago, it doesn't mean they're done for. After digging through the drug delivery industry's data, I have filtered out these three companies for their solid business model, great growth potential and capacity to produce positive results in the next few months.
IntelliPharmaCeutics International Inc.
The core technology behind IntelliPharmaCeutics International Inc. business is called Hypermatrix™. Basically, it is a technology for controlling the dosage, release time and release rate of drugs anywhere inside the Gastro-Intestinal Tract.
IPCI has 2 business strategies. The first is to take an existing oral drug whose patent is about to expire and combine it with their controlled-release technology and get a patent for it. The second strategy is to produce generic but bioequivalent forms of drugs whose patents have expired or about to expire. In both of these strategies, IPCI earns its revenue through licensing agreements with Par Pharmaceutical.
Sounds like a sound business strategy, so why is the stock so cheap? The answer is negative income. As shown in the figure below, the company's income is negative for the past few quarters. As a result, investors didn't see this as a good sign, thus the stock price was priced at a low $2.95 as of October 26, 2012.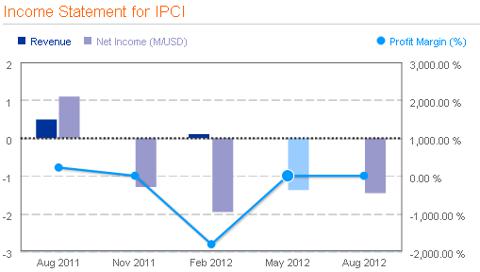 But recent developments regarding IPCI's progress caught my attention because of the possibility of a sudden turnaround. Just this year, the company has already submitted 2 Abbreviated New Drug Applications ("ANDA") with the US FDA for a generic form of Keppra XR (antiepileptic drug) and Pristiq (major depressive disorder drug). The total filed ANDAs of IPCI increased to 8, thereby also increasing the probability of securing partnership contracts from big pharmaceutical manufacturers. IPCI is clearly targeting drugs with already existing high and increasing demand. The target illnesses / conditions are as follows: ADHD, diabetes, depression and epilepsy. The combined global market demand can be summed up to annual revenues of over $6 billion (refer to market data and product pipeline below).
Click to enlarge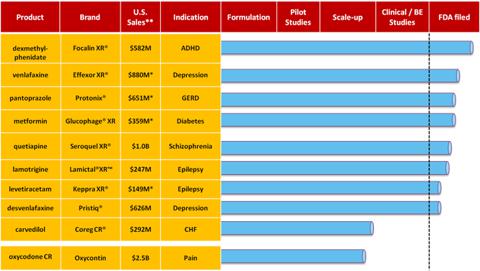 If the company just gets a share of a fraction of this demand, according to estimates from Brean Murray, Carrer & Co., one could expect the Company's stock value to shoot up by as much as $7.
InSite Vision Incorporated
InSite Vision Incorporated is a company that specializes in ophthalmic drug delivery. Its main edge lies in DuraSite, a mucoadhesive technology that can be applied to a wide variety of ophthalmic drugs to prolong the penetration and contact time of the drug with our eyes to make it more effective, thus minimizing the required dosage frequency. Even though this is a very small niche market, there are no known competitors for the same mucoadhesive technology. The company was able to secure a partnership agreement with Bausch & Lomb and Merck & Co. (NYSE:MRK).
Normally, if you're an investor and you see the company's income fall by a very steep amount each quarter as illustrated above, I doubt you're going to give it a second look. Currently the company's stock is valued at a per share price of $ 0.36. With such a steep falling income curve, you might be thinking that I'm out of my right mind to be recommending this stock, but I have good reasons to be recommending this company.
The first reason is the company's strong product pipeline. Currently, it already has 2 approved products, namely AzaSite, which is licensed to Inspire Pharmaceuticals, subsidiary of Merck and Besivance® a DuraSite formulation of besifloxacin, developed by and marketed by Bausch & Lomb. Three products (AzaSite Plus™, DexaSite™ and BromSite™) currently undergoing Phase III trials, another one in Phase II and 3 more lined up for further research.
The second reason is based on a recent announcement that Merck agreed to amend the payment terms of the existing AzaSite 1% license agreement. Merck agreed to pay the higher of the pro-rata annual minimum royalty or the earned royalty for 2012 and 2013. This means that Merck will pay InSite Vision approximately $7.2 million as catch-up payment for the first 3 quarters of 2012. The payment will be used to pay back a large chunk of the InSite Vision's debt and will definitely make it look more attractive to investors. Obviously, the company's next income statement filings will show significant improvement.
If Insite Vision succeeds in reaching 4-5 successful partnerships with just one product (projected earnings for AzaSite is $19 million annually), then the company could realistically expect to start making some serious earnings, and perhaps grab the attention of large institutional funds.
pSivida Corp
pSivida Corp is another company that specializes in eye diseases. Its competitive edge lies in its Durasert technology which is an injectable miniature implant for sustained release of medication inside the eyes. With Durasert technology, the company was able to produce 2 FDA approved breakthrough products currently licensed to Bausch & Lomb. The first product is Retisert. It is a very tiny device that is surgically implanted inside the eye in order to release precise dosage of medication for more than 2 years to treat Posterior Uveitis, a sight-threatening disease common to middle-aged people. The second product is Vitrasert, an implant used to delay the progression of AIDS-related Cytomegalovirus (CMV) Retinitis. The implant contains a polymer that slowly releases the drug over a 5 to 8 month period of time.
The company also has a very promising pipeline. One interesting treatment still under Phase II clinical trial is Iluvien™. It is used for the treatment of Diabetic Macular Edema which, if not given proper treatment, will eventually lead to blindness. Iluvien was created to serve as an alternative to laser photocoagulation therapy, which can create permanent blind spots in the eye. It is currently licensed to Pfizer (NYSE:PFE).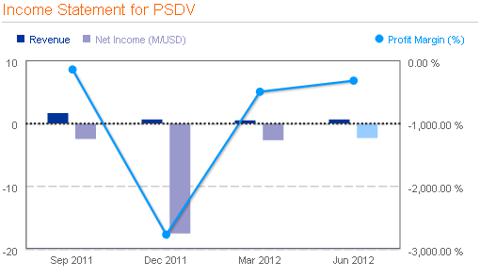 pSivida's quarterly income shows a very promising future for the company. The income curve is slowly climbing up and it is not that hard to see that the company will most likely report a positive income in the next few quarters.
The last indicator that we need to take into consideration is the October 1 insider stock purchase of 10,000 shares by Paul Hopper, a director of the company. This move may already reflect the confidence of an insider in the prospects of the company.
Risk and Reward
Of course, with great reward comes great risk. The above mentioned companies are pharmaceutical companies whose revenues are largely dependent of the FDA's approval, since this could make or break a critical product under the companies' pipelines. I believe the above are just the most likely scenarios and investment should be limited to a small fraction of any portfolio because of the highly speculative nature of this business.
Disclosure: I have no positions in any stocks mentioned, and no plans to initiate any positions within the next 72 hours. I wrote this article myself, and it expresses my own opinions. I am not receiving compensation for it. I have no business relationship with any company whose stock is mentioned in this article.