According to the TSX bi-weekly short report ending October 31, short interest on New Gold (NYSEMKT:NGD) shares has jumped more than 29 percent in the period, making it the company with the most shorted shares on Canada's largest stock exchange.
Although short interest today does not mean as much as it used to prior to the wide-use of stock options, the sharp rise should be examined to determine if the investment is flawed. The view from here is that the spike in shorts is primarily due to hedging and pessimism around third quarter reporting.
Short Interest in Millions of Shares & Percentage Increase: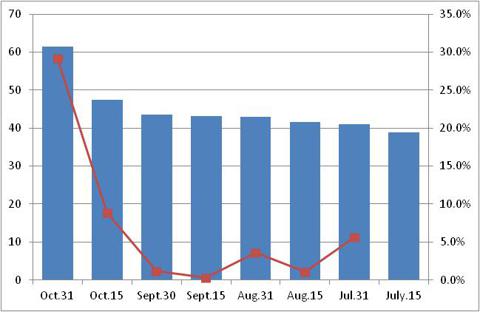 Click to enlarge
Source: The TMX Group
One of the possible reasons that short interest spiked in the period is the popularity among hedge funds to hedge their exposure to the gold mining sector by shorting New Gold shares. The company's market capitalization ($4.86B) is large enough to provide the liquidity needed to open and close a position easily, as well as deter a surprising takeover of the company. Therefore, short positions taken using this hedging strategy do not necessarily speak to the company's fundamentals. In fact, this strategy can hurt the hedger as was the case when KGHM Polska (OTC:KGHPF) acquired Quadra FNX on December 2011 in an all cash offer.
Another possible reason might be some pessimism around third quarter reporting. The company reported its third quarter results on November 1 as well as the status of its newest mine, which some probably believed will disappoint. Fortunately for New Gold shareholders the company delivered a record cash margin, record quarterly production and brought the mine into full production over a month earlier than expected (for more Q3 analysis see here). Therefore, any short positions based on this thesis probably evaporated in the days following the third quarter report.
New Gold Quarterly Gold Production: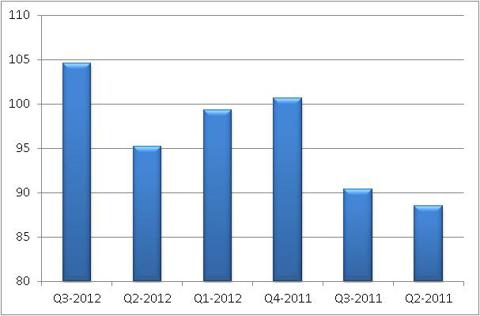 Click to enlarge
Lastly, some market participates might be speculating that the company will use its shares to make an acquisition and thereby surprise the market negatively. Although this scenario may materialize, it is certainly difficult to determine if and when it would take place.
In close, the spike in short interest on New Gold shares may be due to hedging and unjustified pessimism and do not characterize the company's operational performance. It is not to say that the increase in shorts should be ignored, but put into perspective with other points of data.
Disclosure: I have no positions in any stocks mentioned, and no plans to initiate any positions within the next 72 hours. I wrote this article myself, and it expresses my own opinions. I am not receiving compensation for it (other than from Seeking Alpha). I have no business relationship with any company whose stock is mentioned in this article.