After increasing 2.0% in the third quarter, economic growth is expected to slow over the next few months as businesses cut back on production in the face of upcoming demand shocks as a result of the fiscal cliff. With tax increases and spending cuts expected in early 2013, economic growth will likely remain muted in the first half of the year before returning toward a lackluster 2.0%.
Even under the best of circumstances, when economic trends and behaviors are steady and secure, forecasting more than two quarters out is a volatile and statistically-sensitive endeavor. In times like today, where potentially huge tax increases and spending cuts lurk nearby, predicting economic growth even in the immediate term becomes guesswork based on a hodgepodge of unreliable assumptions.
Until the uncertainty surrounding the fiscal cliff is cleared, all economic forecasts produced over the next two months are completely reliant on fiscal cliff compromise scenarios, which may all prove to be false. That means all forecasts should be taken with a grain of salt.
Our forecast factors in the CBO's alternative fiscal scenario in its latest Budget Outlook. This scenario is 67% smaller than the full-blown fiscal cliff and accounts for only 1.3% of nominal GDP at Q3 2012 levels. Under this assumption, consumption slows from an expected 1.8% gain in Q4 2012 to 0.9% in Q1 2013 before returning back to normal growth levels in the second quarter.
The drop in consumption perversely boosts inventories as customers leave more goods on the shelf. As a result, early GDP estimates for Q1 2013 remain firmer than what the consumption data would typically suggest, but real final sales is expected to increase as its slowest pace since Q1 2011.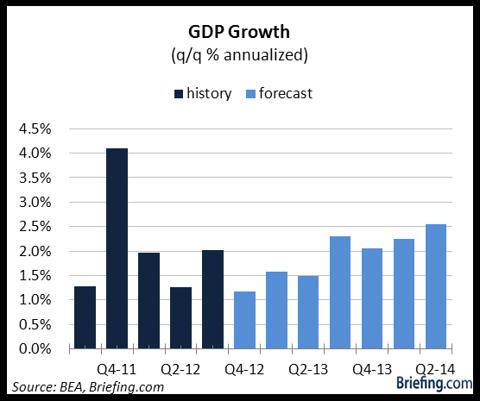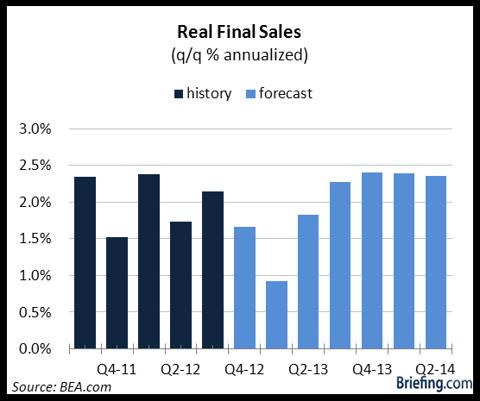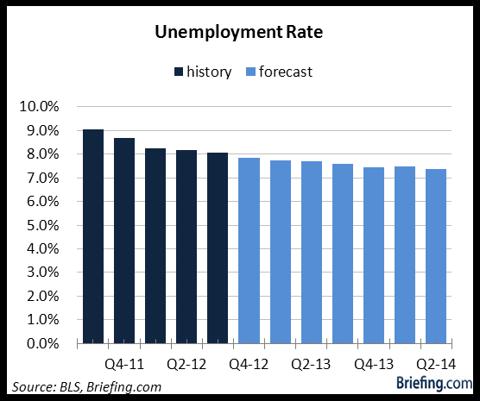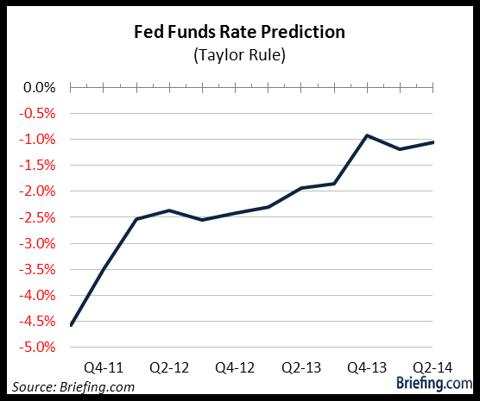 Understanding the Possible Implications of the Fiscal Cliff
Unless Congress is able to agree to a budgetary compromise, the fiscal cliff will be reached in less than two months.
That means:
Disposable income, according to the nonpartisan Tax Policy Center, would decline by $545.4 billion in 2013 as a result of higher taxes. In our estimation, that would reduce consumption by $524.1 billion.

Federal defense and discretionary domestic spending will fall by $109 billion in 2013 as a result of the sequestration agreement.
Altogether, the fiscal cliff is set to reduce total spending by at least $633 billion - equal to 4.0% of nominal GDP at Q3 2012 levels.
If inflation were to increase at the Fed's implied target of 2.0% next year, net exports and gross private domestic investment would need to contribute more than 2.0 percentage points of real growth to GDP in order to offset the effects of the fiscal cliff and prevent a recession.
The last time net exports and investment combined to contribute more than 2.0 percentage points to GDP was in 1984.
To put it bluntly, the domestic and global economic conditions today do not mirror those in 1984. The U.S. would more than likely return to a recession if the austerity measures from the fiscal cliff are not delayed.
Businesses and consumers normally pull back on spending and increase their savings in the face of an impending recession. Therefore, the negative effects of the fiscal cliff are expected be felt a quarter earlier, in Q4 2012.
As a result, economic growth projections for the fourth quarter - using the fiscal cliff as a base-line - are sharply weaker than the already lackluster gain seen in the third quarter.
Yet, despite the contention that businesses and consumers would cut spending as the fiscal cliff nears, the most recent data released for September showed economic growth is improving and is currently growing slightly stronger than its trend over the last ten years.
The only explanation for the pickup in growth is that businesses and consumers believe that Congress will reach a compromise on the tax hikes and spending cuts before the economy tumbles off the cliff. Thus, there is no reason to prepare for impending austerity if the austerity is not expected to materialize.
In this case, economic growth will likely remain at its current pace and GDP would grow by a little more than 2.0% in the fourth quarter and remain on a similar path throughout 2013.
Unfortunately, businesses and consumers are playing a dangerous game of chicken with Congress. If signals develop that suggest Congress MAY not - not will not - reach a suitable compromise on the fiscal cliff, consumers and businesses will immediately cut spending and prepare for lost income.
The problem is that it is unknown what businesses and consumers expect in a suitable compromise. If they expect Congress to completely punt on the fiscal cliff and push back all scheduled spending cuts and tax increases, then any signal of a compromise that results in austerity will cause immediate weaker economic growth.
In this case, the economy will likely slow significantly over the next several quarters before returning to its previous trend in the second half of 2013.
We assume a fiscal cliff compromise will mirror the expectations described in the CBO's "alternate" fiscal scenario from its August 2012 update to the "Budget and Economic Outlook." This scenario assumes spending cuts of only $58 billion and tax increases of $148 billion in 2013. The austerity package is 67% smaller than the full-blown fiscal cliff and accounts for only 1.3% of nominal GDP at Q3 2013 levels.
At this size, flat real growth in investment and net exports would be enough to compensate for the decline in real consumption and government spending. Thus, any type of gain would keep GDP growth solidly positive.
The CBO's "alternative" fiscal scenario is similar in scope to the types of compromises currently being discussed among media and policy pundits. However, it is still likely to be slightly more than what consumers and businesses are preparing for.
Therefore, we anticipate growth in Q4 2012 to slow slightly from its September pace before picking up moderately in the second half of 2013.
Disclosure: I have no positions in any stocks mentioned, and no plans to initiate any positions within the next 72 hours. I wrote this article myself, and it expresses my own opinions. I am not receiving compensation for it. I have no business relationship with any company whose stock is mentioned in this article.