Well, no one can say the market isn't exciting these days. And I'm not just referring to the US market; the action is global.
The Euro fell 2.5% against the US dollar on Tuesday, marking the largest single day decline against the dollar the currency had since its inception. A great day for those who shorted ERO, the ETF that tracks the EURUSD exchange rate.
And that just may be the start. Tsutomu Soma, a bond and currency dealer at Okasan Securities Co. in Tokyo, has said selling the euro is "all but unavoidable."
While I tend to agree, I would note that selling the US dollar is even more unavoidable. With that in mind, I am slightly bullish on ERO over the next six months.
However, I will most likely not be trading it, as I think the EURUSD rise has its best days behind it. Dollar bearishness is practically inevitable in my opinion, though, but I think it is better against other currencies -- namely the Swiss Franc, and its CurrencyShares ETF (NYSEARCA:FXF).
PowerShares Dollar Index Bear Fund (NYSEARCA:UDN), though, remains my favorite currency ETF to hold over for a few years. But back to the ERO.
Bank failures and government interventions are driving both the Euro and the US dollar at this point, with Tuesday's big drop in the Euro resulting from speculation that France and Belgium would bailout Dexia SA. Those looking to short ERO may want to consider looking at the spot market for the EURUSD exchange rate.
Below is a chart (click to enlarge); a major trendline is at 1.3850, with the spot market trading at approximately 1.4100 at the time of this writing. The market has been reacting well in the short-term to nationalization/bailout news out of the US, while responding poorly to the same type of news out of the Eurozone.
Should we get bearish news for the ERO and a break below 1.3850 in the spot market, EURUSD might be a very nice short-term short opportunity.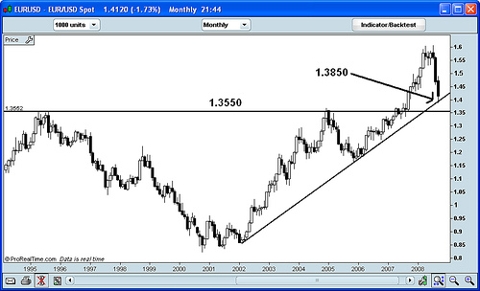 Click to enlarge Disclosure: No positions