We previously published four reports analyzing and evaluating Altria Group (NYSE:MO) in June. Two of those reports were 100% focused on Altria Group's operations and the other two were analyzing Altria in comparison to its peers. Although we are not going to expect a repeat of the exceptional outperformance of Altria Group and its former subsidiary Philip Morris International relative to the S&P 500, we believe that the companies will outperform the S&P 500 over the long-term time horizon as these companies generate high levels of free cash flow and require minimal capital investment expenditures.
Part of the reason why we expect these companies to continue generating high levels of free cash flows, dividends and share repurchases is because the "Master Settlement Agreement" the tobacco companies signed with the states has effectively turned the American tobacco industry into a cartel and enabled it to continuing growing its revenues, net income and EPS. With that in mind, we believe that Altria will continue to be the best in breed tobacco maker and it offers a 5.5% annual yield and 8.7% dividend growth.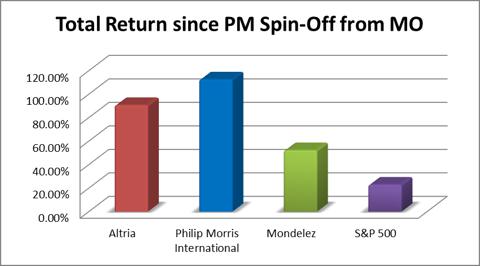 Source: Morningstar Direct
Altria has shown solid dividend growth since 2008 even though it spun-off Philip Morris International (NYSE:PM) and Kraft Foods/Mondelēz (NASDAQ:MDLZ) and those companies had higher growth potential that Philip Morris USA (Altria's primary subsidiary). Altria's target dividend payout ratio is approximately 80% of adjusted earnings per share. Considering that Altria Group generated a return on beginning period shareholders' equity well in excess of 100% and a pre-tax return on invested capital of over 31%, we can see that PM can certainly afford to pay 80% of its annual profits to shareholders and leave plenty of available cash for marketing, research and development, growth CapEx, acquisitions, debt service and share repurchases.
We also note that most of Altria's business development expenditures would be in marketing (which is restricted) and research and development (which isn't as much of a priority in a cartelized market) and these expenses are period expenses that are immediately expensed on the balance sheet. As such, these investment expenditures are already taken off the top before shareholders get their share from dividends.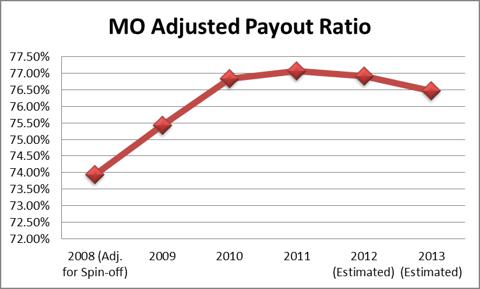 Source: Morningstar Direct and Saibus Research estimates
Now let's look at Altria's YTD performance versus its competition in order to see if it can maintain its high dividend yield as well as grow it. We have found that tobacco companies in general are known for the ability to generate mammoth free cash flows, require minimal CapEx and spend heavily on dividends and share repurchases. This is especially true of US tobacco companies as the anti-smoking have sapped the growth potential from this market.
We can see that Altria is maintaining its edge versus Lorillard (NYSE:LO) and Reynolds American (NYSE:RAI) due to Altria's strong operating margin and dominant market share position within the US tobacco market. Altria commands 50% of the US cigarette market and 55% of the smokeless tobacco market. We can see that Altria has a stronger competitive position than Lorillard and Reynolds American and has been able to grow its revenue faster than its competition, even though it is a larger company. Then again, it has the single most dominant tobacco brand in the world (Marlboro cigarettes).

Source: Morningstar Direct
Because Lorillard had grown its revenues and profits faster than Altria group from 2008-2011, we were concerned that we owned stock in the wrong company. However, Altria Group was the only domestic tobacco company to increase its cigarette shipment volumes year-over-year while industry volumes had declined by 2.7% year-over-year in Q3 2012. While a 120bp increase in annual cigarette volume for Altria may not be impressive to most people, it still beats the 6.9% volume drop from Reynolds and the 2.1% decline in volume from Lorillard. This helps support our dividend thesis behind Altria because it means that the company is better able to pay growing dividends than its peers; it can take market share away from its peers and doesn't need to merely raise prices simply to fund dividends and share repurchases.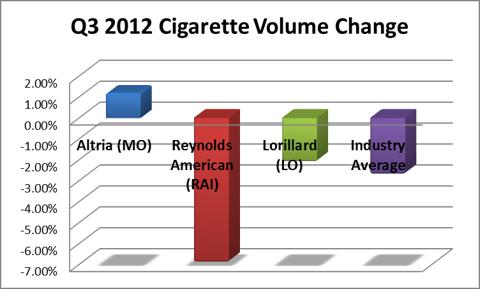 Source: MRQ Reports for Altria, Reynolds American and Lorillard
In conclusion, we are pleased with the performance from Altria Group. Philip Morris International and Philip Morris USA (Altria Group) have each shown the ability to be a solid high-dividend yielding company and a dividend growth champion in terms of quantity (44 years of consecutive dividend increases) and quality (8.7% CAGR since 2008). The Philip Morris Companies have the ability to rain down dividends and share repurchases due to their ability to generate maximum cash flows with minimal capital investments and Altria and Philip Morris have continued this track record even though both firms are now separate, independent companies.
We also see that Altria Group is still head and shoulders above its immediate competition. We were especially impressed with the fact that Altria continues to increase its market share at the expense of Reynolds American and to a lesser extent Lorillard. In addition to showing organic volume growth in its cigarette business, Altria is seeing organic volume growth in its smokeless tobacco and premium wines businesses.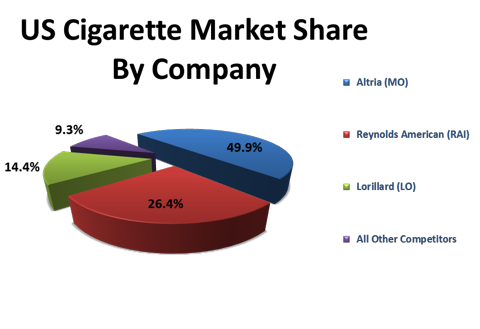 Source: MRQ Reports for Altria, Reynolds American and Lorillard
Disclosure: I am long MO, PM. I wrote this article myself, and it expresses my own opinions. I am not receiving compensation for it (other than from Seeking Alpha). I have no business relationship with any company whose stock is mentioned in this article.
Additional disclosure: This article was written by an analyst at Saibus Research. Saibus Research has not received compensation directly or indirectly for expressing the recommendation in this article. We have no business relationship with any company whose stock is mentioned in this article. Under no circumstances must this report be considered an offer to buy, sell, subscribe for or trade securities or other instruments.