Investors' expectations ahead of the latest earnings season were quite low given the challenging macro environment in the September quarter. The earnings season so far has been more or less in-line with expectations. According to data from Thomson Reuters, only 38% of the S&P 500 companies have beaten revenue forecasts.
Still, there have been some bright spots. On Monday, Japanese automaker Toyota Motor Corp. (NYSE:TM), and scientific instruments manufacturer Bruker Corporation (NASDAQ:BRKR) came up with positive surprises. In a depressing market like we are seeing right now, stories like these give us hope and some direction about possible places to park our hard-earned money.
Toyota Motor Corporation
The Japanese automaker not only reported strong quarterly results that beat estimates, but also raised its financial forecasts for the full year. TM reported net income of 257.9 billion yen ($3.2 billion USD) for the quarter ended September 30, 2012. This compares to net income of 80.4 billion yen ($1 billion USD) reported in the same period last year. Analysts surveyed by Thomson Reuters, on an average, were expecting TM to report net income of 228.8 billion yen ($2.83 billion USD).
Toyota's results were particularly impressive given the recent problems in China. A dispute over tiny islands between China and Japan recently led to a boycott of Japanese brands in China. However, Toyota's exposure to China is less than that of Honda (NYSE:HMC) and Nissan (OTCPK:NSANY), the two other major Japanese automakers. Therefore the sales decline in China in the September quarter had less impact on Toyota's results.
Toyota's revenue for the second quarter rose 18% to 5.4 trillion yen ($67.6 billion). While Honda has lowered its full-year profit outlook due to sales decline in China, on Monday Toyota raised its full-year earnings outlook. The company said that its cost-cutting measures would help offset the sales drop in China. Toyota's quarterly results point to a strong recovery for the automaker. The March 2011 earthquake, the tsunami in Japan and the flooding in Thailand hurt its production last year. However, the company's production is back on track.
Toyota is also making a comeback in the U.S., where its reputation had taken a hit due to vehicle recall issues back in 2010. According to Autodata, the company saw a 15.8% increase in sales of light vehicles in U.S. in October.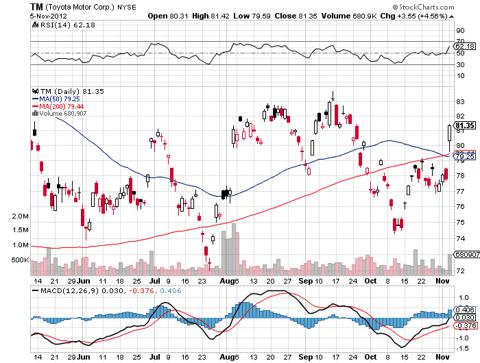 Source; stockcharts.com
The earnings beat and outlook sparked a rally in TM shares on Monday. Shares ended 4.56% higher at $81.35 on Monday, breaking through their 50-day and 200-day moving averages. The technical indicators for TM are giving bullish signals, with the MACD crossing the zero-line. Toyota shares could face resistance at around $83. The stock is trading on a P/E ratio of 17.62, which is higher than the Industry average of 13.18.
Bruker Corporation
Bruker Corporation, a worldwide manufacturer of scientific instruments, also reported its quarterly results on Monday. The company's net income for the third quarter doubled and easily beat Street estimates. Bruker also raised its guidance for the full-year following the better than expected third-quarter results.
In the latest developments in Bruker products, the company said that in the last two months:
Bruker's ultrafleXtreme™ MALDI-TOF/TOF is to be coupled with Nextval's MassInsight™ High-Throughput Pharmaceutical Assay Platform - Bruker and Nextval collaboration for high-throughput screening. This technology is for faster screening of drugs and their metabolites.
Bruker Releases New Benchmark 3D Optical Microscope System. This is an industry standard microscope system optimized to accelerate and simplify measurement setup and feature-tracking.
RI Research Instruments GmbH, a majority-owned subsidiary of Bruker Energy & Supercon Technologies, Inc. (BEST), announced the award of a contract for five radio frequency (RF) cavities for the Facility for Antiproton and Ion Research (FAIR) project, valued at approximately $5.8 million.
The company reported earnings of $39.7 million, or $0.24 per share for the third quarter, compared to $19.8 million, or $0.12 per share reported for the same period in the previous year. Excluding one-time items, the company earnings for the quarter were $0.28 per share, easily beating consensus forecast of $0.16 per share. Revenue for the quarter was $418.4 million.
Bruker saw revenue growth across all its businesses, with energy and supercon technologies business rising an impressive 53%. Below is a list of various company products and services:

Bruker's strong third-quarter results prompted the company to raise its full-year earnings outlook to $0.75 per share to $0.79 per share from previous guidance range of $0.65 per share to $0.70 per share. The company also raised its revenue guidance range from $1.7-$1.75 billion to $1.73-$1.76 billion. The consensus forecast for full year earnings is at $0.67 per share.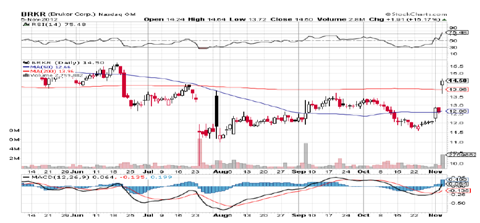 Source; stockcharts.com
Bruker shares rose more than 15% on Monday and are now trading above their 50-day and 200-day moving averages. The stock also broke through $13.50, which has been a stiff resistance level in the past. The next resistance level for BRKR shares will be at around $15.50. The MACD chart for Bruker is giving bullish signals. The MACD has crossed the signal-line and the zero-line, which are strong buy signals.
Disclosure: I have no positions in any stocks mentioned, and no plans to initiate any positions within the next 72 hours. I wrote this article myself, and it expresses my own opinions. I am not receiving compensation for it (other than from Seeking Alpha). I have no business relationship with any company whose stock is mentioned in this article.