We are bullish on Frontier Communications Corp. (NYSE:FTR) based on improvement in its key business metrics. Despite losing customers in recent quarters, the company has been able to bring about a consistent slowdown in access line losses quarter over quarter. Moreover, internet broadband subscriptions are on the rise, which is reflecting positively in its average monthly revenue per user. Broadband Subscriptions and Average Monthly Business Revenue Per Customer improved by 2% and 8%, respectively, in the second quarter. The stock currently offers a very high dividend yield of 8.50%, which is very attractive in the current low yield environment. The dividend yield compares well to its high operating cash flow yield of 33%. The company is currently paying 4 cents per share in dividends, which is sustainable because of its high operating cash flows. In the first half of the year, FTR paid total dividends of $199 million, while it generated operating cash flows of $758 million.
A stock that pays a high dividend yield is always scrutinized from a cash flow perspective. Many high dividend yielders do not have the cash flow sustainability and run a risk of dividend cuts. However, FTR generates operating cash flows that are more than thrice the dividend payments. This puts FTR in the class of dividend stocks with a clear margin of safety. FTR has a levered free cash flow yield of 12% which shows the company has the ability to keep paying dividends as well as interest payments.
Frontier Communication Corp. , a telecommunications company mainly serving rural areas and smaller communities, is scheduled to announce its quarterly results next week. The average analyst estimate is for the company to report earnings per share of 7 cents per share, which is 2 cents higher (40% increase) than what the company managed to post in the third quarter of the previous year. Analysts are also expecting yearly profits per share to grow by 13% compared to FY 2011. As far as revenues are concerned, the market is expecting FTR to generate third quarter revenues of $1.23 billion, which represents a 4.50% decline from the same quarter last year.
It has been a mixed bag as far as revenues are concerned. However, in the most recent quarters, the company has been able to beat revenue expectations quite comprehensively.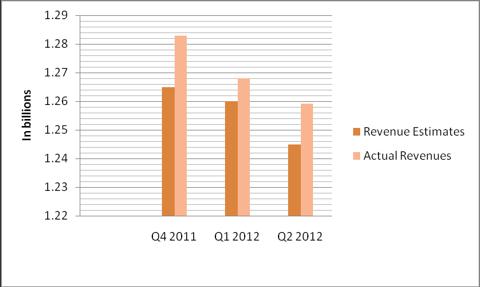 The company ended the second quarter on a high, posting earnings per share of 8 cents and topping estimates by a margin of 3 cents, with an earnings surprise of 60%. However, the quarter before that ended with a negative earnings surprise of 17%.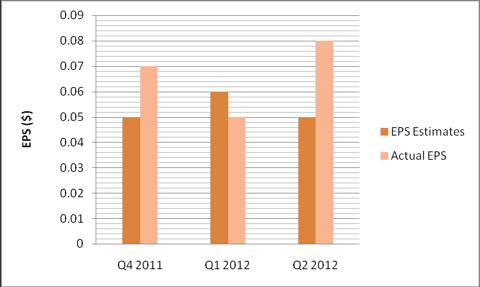 FTR has historically posted high gross margins. In fact, it currently has the highest gross margin in the industry. In the most recent quarters, FTR's gross margins have remained stable at around the 90% mark, despite the lack of any visible expansion. In the financial year ended 2011, FTR posted gross margins of 90%, ranking above AT&T and CTL, with gross margins of 58% and 53%, respectively. Moreover, its operating margins are also higher than most of its peers, reflecting the strength in its operations.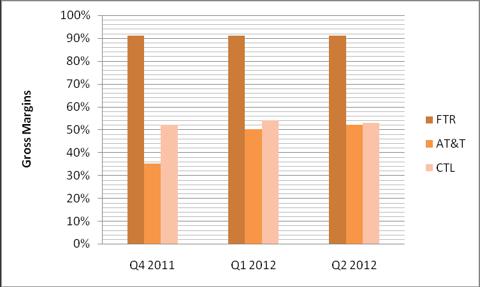 The stock is currently trading near the $4.70 mark and has done well on YTD basis, gaining 14%.

Disclosure: I have no positions in any stocks mentioned, and no plans to initiate any positions within the next 72 hours.
Business relationship disclosure: The article has been written by Qineqt's Telecom Analyst. Qineqt is not receiving compensation for it (other than from Seeking Alpha). Qineqt has no business relationship with any company whose stock is mentioned in this article.