The strategy we are going to look at today has two components to it. In the first part, you sell a put. In the second part, the proceeds from the sale of the put are used to leverage your position in Chimera Investment Corporation (NYSE:CIM). The best time to put this strategy into use is after a stock has pulled back strongly, has put in a bottom formation and is building momentum to take out its recent highs. If you look at a two-year chart (illustrated further in the article) you will see that the stock is trading well off its highs and appears to have put in a bottom towards the end of July. Presently, it's consolidating and attempting to build momentum to trade past $2.80.
The benefits of this strategy are twofold. If the stock should take off while you are waiting for the shares to be put to your account, the calls you purchased will protect you from missing out on any gains. On the other hand, if the stock pulls back you have the chance to get in at a price of your choosing.
Reasons To Consider Chimera Investment Corporation:
A very strong yield of 13.7%.
Even though the Fed is going to purchase $40 billion worth of mortgage-backed securities indefinitely, the spread between short and long-term rates is still wide enough for Mortgage REITs to make money. The spread has narrowed, and that is why all the players in this sector have lowered their dividend payments over the past year. However, they are still offering very attractive double digit yields.
It makes more sense and it is safer to invest in Mortgage REITs as opposed to Junk bonds that offer high yields.
The recent sell off could be overdone at least in the short to intermediate time frames. Historically, stocks in this sector have almost always experienced strong follow through counter rallies whenever they have gone through such phases.
There is also a high probability that the market will rally towards the end of the year (Santa Claus rally), and this strategy provides investors with a way to leverage their positions for a relatively low fee without having to take on too much extra risk. A nice strong bounce is all we would need for this strategy to work once a position is established. An investor does not need to hold the position till the option expires. In fact, we would consider closing this position out early next year.
Analysts have an estimated growth rate of 5% per annum for the next five years.
It is trading above its 200 moving day average. In general, the outlook is more bullish for stocks that are trending above their 200 day moving averages.
According to fastgraphs (look at the chart below) the stock is currently undervalued.
It is trading roughly $0.67 below book value. The current book value of the stock is $3.27.
Benefits Associated With Selling Puts
In essence, you get paid for entering a "limit order" for a stock or stocks you would not mind owning.
It allows one to generate income in a neutral or rising market.
When you sell a naked put you are in a way acting like an insurance agent. The Seller of the option agrees to buy the stock in the future if it drops to a certain level before the option expires. For this, you (the seller) are paid a premium upfront. If this strategy is repeated over and over again these premiums can really help boost you returns over time.
Acquiring stocks via short puts is a widely used strategy by many retail traders and is considered to be one of the most conservative option strategies. This strategy is very similar to the covered call strategy.
The safest option is to make sure the put is "cash secured." This simply means that you have enough cash in the account to purchase that specific stock if it trades below the strike price. Your final price would be a tad bit lower when you add the premium you were paid up front into the equation. For example, if you sold a put on stock with a strike at 20 for $2.50, and the shares were put to your account. Your final price per share would be $17.50 after the premium was factored in.
Every day you profit via time decay as long as the stock price does not drop significantly. In the event it does drop below the strike you sold the put at; you get to buy a stock you like at the price you wanted. Time decay is the greatest in the front month.
The Technical Outlook
click to enlarge images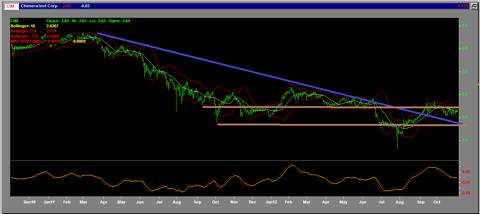 It managed to trade past its long term down trend line and appears to have bottomed on the 27th of July. It is subsequently mounted a rally and is presently consolidating and building up momentum to take out its recent highs. It has strong support in the $2.25-$2.35 ranges and could test this zone before trending higher. This zone of support dates back to Oct of 2011. A weekly close above $2.80 should easily lead to a test of the $3.10-$3.50 ranges. Consider waiting for a test of $2.35 before putting this strategy to play.
Another bullish development would be a daily close above its 200 moving day average, which currently stands at $2.72. It has been trading below this level since June 2011. Stocks tend to perform better when they are trending above their 200 moving day averages.
Charts Of Value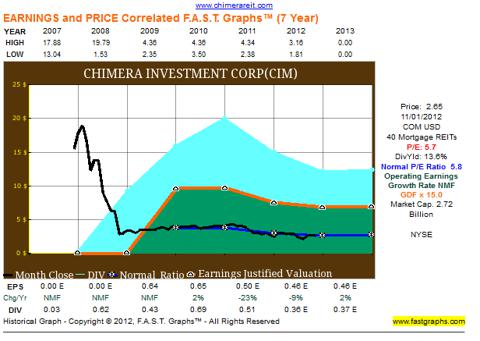 The blue shaded area represents the dividends. The orange line represents the valuation growth rate line. Generally, when the stock is trading below this line and in the shaded green area, it represents a good long term entry point. The stock is currently trading below this line. According to fast graphs, it has an estimated earnings growth rate of 2.00%.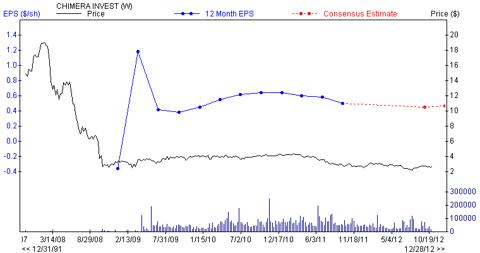 When a stock is trading above the EPS and EPS consensus estimate line, it is a bullish phase, and the outlook is for higher prices. The stock is trading well below the EPS line, and so until it trades above this line it might not make for a good longer term investment. Our suggestion is therefore to focus on the short to intermediate time frames. Consider position trading as opposed to adopting a buy and hold strategy.
The Competition
Chimera Investment Corporation will be pitted against its competitors using several key metrics such as P/E, quarterly revenue growth, operating margins, PEG, etc. This will give you further insight into the company, and it could also help you determine if it is the right play for you.
| | | | | | |
| --- | --- | --- | --- | --- | --- |
| | CIM | (NYSE:NLY) | (NYSE:CMO) | (NYSE:MFA) | Industry |
| Quarterly revenue growth | -0.38 | N/A | -0.03 | -0.05 | 0.21 |
| Revenue | 614.10M | 655.97M | 186.47M | 345.67M | 86.79M |
| Gross Margin | 1.00 | 1.00 | 1.00 | 1.00 | 0.75 |
| EBITDA | N/A | N/A | N/A | N/A | 53.58M |
| Operating Margin | 0.91 | 0.60 | 0.91 | 0.91 | 0.51 |
| Net Income | 555.28M | 315.63M | 149.03M | 303.84M | N/A |
| EPS | 0.55 | 0.32 | 1.63 | 0.85 | 0.15 |
| P/E | 4.81 | 49.97 | 7.57 | 9.57 | 24.51 |
| PEG (5 yr expected): | 1.14 | -1.20 | 1.22 | 2.13 | 3.09 |
| P/S | 4.43 | 23.79 | 6.64 | 8.49 | 5.66 |
M= Millions B = Billions
The Strategy
Part 1

The June 2013, 2.00 puts are trading in the $0.05-$0.15 ranges. The spread is wide, so do not put in a market order. Try to place a limit order that is between the bid and the ask price. If the stock pulls back to the stated ranges, these puts should trade in the $0.10-$0.20 cent ranges. We will assume that you can sell the puts at $0.15 or better.
Part 2

The June 2013, 3.00 calls are trading in the $0.05-$0.10 ranges. If the stock pulls back to the stated ranges you should be able to purchase these calls at $0.05 or better. Again the spread is wide and the open interest is low, so you need to work this option. Do not place a market order as you will take a beating and end up paying the highest possible price. With the proceeds obtained from selling the puts you could purchase up to three calls.
Suggested Strategy To Lower Your Risk
You could purchase a put with less time on it to hedge your position. It would be variation of the bull put spread. Instead of purchasing and selling puts with the same amount of time on them, you could for example purchase a put that expires in March and sell a put with an expiration in June. This strategy would limit your downside risk until March. After that, if you still want to hold onto the position, you purchase another put to limit your downside risk.
Transaction Details
For every put you sell you will be in a position to purchase up to three calls. Note that we have estimated the price at which the put and calls will trade when the stock pulls back to the stated ranges.
Total monetary requirement for this strategy is $200.
Your maximum risk per put sold is $200.
Your maximum profit potential is unlimited as a result of the call you purchased.
Benefits And Risks Associated With This Strategy
As an investor you have an opportunity to significantly leverage your position in this stock for a relatively low fee.
If the stock should take off, you have the opportunity to benefit from this upward move via the calls you purchased.
You have the opportunity to get into this stock at a lower price. If the stock trades below the strike price, you sold the puts at, the shares could be assigned to your account (assignment usually occurs on the last trading day of the option). Depending on the number of calls you purchased your cost per share could range from $1.90 (if you purchased one call only) to $2.00 (if you purchased three calls).
As long as you are bullish on the stock, having the shares assigned to your account should not be an issue. If you do happen to change your mind and feel that the stock could trade well below the strike price you sold the puts at, you can simply roll the put. Buy back the old puts and sell new out of the money puts.
Conclusion
In our opinion, this stock would have to be classified as a speculative play at this point of the game. Thus only investors willing to take on some risk should consider this strategy. This strategy does provide investors with means to establish a long position without actually having to purchase the stock. For every put you sell you could purchase up to three calls. If the stock should take off, you could end up walking away with very nice gains.
This strategy should not be abused because the shares could be put to your account if the stock trades below the strike price you sold the puts at. As long as you are bullish on the outlook of this stock, this should not be an issue. If you have a change of heart and feel that the stock could trade much lower, you could simply roll the put. Consider closing the position out if it is showing gains in the 60%-100% ranges or towards the beginning of next year.
Options tables sourced from yahoofinance.com. Option Profit loss graph sourced from poweropt.com. Competitor comparison data sourced from yahoofinance.com . EPS consensus charts sourced from zacks.com
Disclaimer: It is imperative that you do your due diligence and then determine if the above strategy meets with your risk tolerance levels. The Latin maxim caveat emptor applies-let the buyer beware
Disclosure: I have no positions in any stocks mentioned, and no plans to initiate any positions within the next 72 hours.
Business relationship disclosure: This article was prepared for Tactical Investor by one of our analysts. We have not received any compensation for expressing the recommendations in this article. We have no business relationships with any of the companies mentioned in this article.