J.C. Penney (JCP) stock is trading around $23.70 versus its 52-week range of $19-$43.18, down 30% in the past 1-year. As of October 15, 2012, shares shorted as a percentage of the total float was 43%, putting it on our list of the most shorted S&P 500 stocks on November 2, 2012. The following fundamentals justify the nervousness of the investors.
A highly levered balance sheet, which consists of $888 million in cash & cash equivalents, and $3.1 billion in long-term debt, which includes capital leases, and current maturities. The company's leverage ratio has increased to 46% in July 2012 versus 40% in July 2011. The company does have $1.3 billion in available capacity in its credit revolver.
J.C. Penney continues to burn cash, with cash burn as of July 2012 to be $207 million. Given that the company has a highly levered balance sheet in a challenging retail environment, sufficient liquidity would be necessary for any restructuring efforts.
A highly competitive environment presents a challenge for J.C. Penney. Products of J.C. Penney are not unique to customers. Similar or better quality products are available at stores such as Macy's (M), Kohl's, (KSS), and Target (TGT). Customers have plenty alternatives available to them.
Last year, the company decided to eliminate sales through coupons for everyday low price items. This strategy has proven to be a mistake as sales have continued to decline quarter-over-quarter, and annually. Sales for quarter ended July 28, 2012 were $3 billion versus $3.9 billion in the quarter ended July 28, 2011. Additionally, gross margins have continued to decline from 39.5% in FY2009 to 37% in FY2011, and are expected to be in the 36-36.5% range in FY2012.
A retailer like J.C. Penney requires a complete restructuring, which will have to consist of a change in product line, competitive pricing of products, a strong balance sheet, and a management with a fresh look at the business, and the industry. In conclusion, investors should wait for a complete restructuring of the business before adding J.C. Penny to their portfolio.
Compare the 1-year return for companies in J.C. Penney's peer group: (The far right company is SAKS).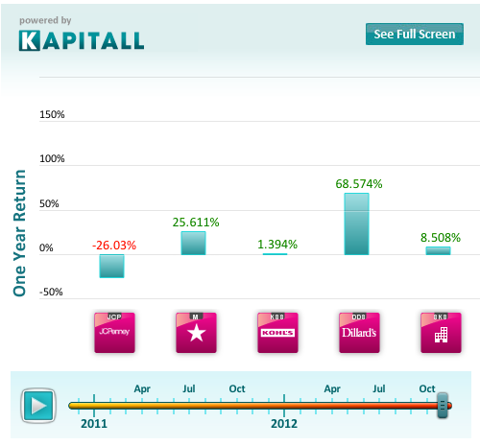 Written by Kapitall's Sabina Bhatia. Tool provided by Kapitall.
Disclosure: I have no positions in any stocks mentioned, and no plans to initiate any positions within the next 72 hours.
Business relationship disclosure: Business relationship disclosure: Kapitall is a team of analysts. This article was written by Sabina Bhatia, one of our writers. We did not receive compensation for this article (other than from Seeking Alpha), and we have no business relationship with any company whose stock is mentioned in this article.