By Ishtiaq Ahmed
Chesapeake (NYSE:CHK) lost considerable value over the past year due to poor results. The stock slid further after the company reported its third quarter results. A slump in natural gas prices has hurt the company over the past two years. As a result, the company is trying to increase its exposure to liquids. Chesapeake reported losses in its third quarter results, mainly due to the asset write downs in its natural gas segment. The company may decide to recognize those assets again once they become economically feasible. There was also some important news about the asset sales in earnings announcement. Let's look at how the quarter went for Chesapeake.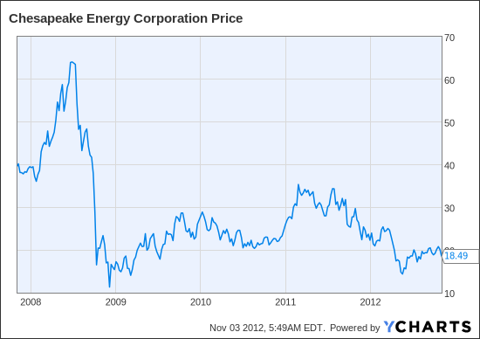 Third Quarter Results:
Chesapeake reported a loss of $2.1 billion for the quarter mainly because of write downs in natural gas assets. Chesapeake had revenues of $3 billion for the quarter and per-share loss of $3.19. Adjusted net income was $33 million or $0.10 per share. However, not all the figures were gloomy for the company. There was a considerable increase in adjusted EBITDA and cash flow from operations. Adjusted EBITDA increased by 27% and cash flow from operations increased by 25% during the quarter. EBITDA without adjustments for asset writedowns was negative at $2.367 billion. Total cash flows from operations were $1.118 billion during the quarter.
Chesapeake reported adjusted EBITDA of $1.021 billion. Asset writedowns and charges are usually nonrecurring items and are ignored by analysts. The company reported an impairment charge of $2.022 billion related to natural gas assets. Normally, an impairment charge could mean that the company has not recorded enough depreciation or amortization in the past. As a result, the asset will not be able to fetch the same value it has on the books of the company. However, Chesapeake has charged impairment due to fall in actual market price of the assets. It should be kept in mind that impairment is a non-cash charge and does not affect the cash flows of the company.
Chesapeake also reported mark to market loss of $63 million from its hedging program, and $28 million in losses from asset sales. Furthermore, the company reported a loss of $19 million from the sale of an investment. Almost all of the charges reported by the company are nonrecurring. I believe this may be the last write down for Chesapeake because the natural gas prices are recovering. A recovery in prices will increase the recoverable value of natural gas assets, and the company may not charge impairment.
Increase in Production and Shift to Liquids:
There was a considerable increase in production for Chesapeake. Average daily production increased by 24% on a year-over-year basis and 9% from the previous quarter. Chesapeake's daily production for the 2012 third quarter averaged 4.142 bcfe. The majority of the production consisted of natural gas (79% for the quarter). There was a 51% increase in liquids production on a year-over-year basis and 10% from the last quarter. For the quarter, liquids amounted to 21% of the total production and oil figured significantly in the increase. Oil production increased 96% from the previous year and 10% from the second quarter. Chesapeake is redirecting its drilling program from dry gas plays to liquids-rich plays. As a result, the company expects natural gas production to decline by 7%, and liquids production to increase by 29% in 2013.
Delay in Asset Sales:
I looked at how the company is trying to raise cash and get rid of debt in my previous article. The company planned to sell $14 billion worth of assets and get rid of debt. However, a delay in asset sales may push the debt repayment into next year. Chesapeake CFO said that the company wants to bring the debt down to $9.5 billion. In its most recent filing, Chesapeake reported total debt of $16 billion. The company fears that some of the deals involving asset sales planned for the fourth quarter can go into the first quarter of 2013. As a result, the debt repayment planned for the fourth quarter can go into the first quarter of 2013. Further, the company has announced that it will be taking $2 billion in term loan facility. The debt will yield 4.5% plus LIBOR. According to Bloomberg sources, LIBOR has a floor of 1.5% for the term facility. Chesapeake plans to use the proceeds from the facility to pay off senior notes due in 2019 and other unsecured term facility.
Why I am positive about the future?
I am positive about the future of the company because I believe Chesapeake is taking the necessary steps to turn the corner. The asset sales will allow the company to shed a major chunk of its debt. Additionally, the efforts to change focus to the liquids will make revenues less volatile. The company has already almost doubled the production from its liquids segment, and further expansion will continue. The most important factor to keep in mind is that the natural gas over supply was a domestic issue. Excessive supply from the shale plays and a milder winter dragged the prices down to the decade lows in April. However, the prices in international markets have remained substantially high.
The prices for natural gas in Europe have remained between $8 and $10 per million BTUs, despite the poor economic conditions. Moreover, demand for natural gas has increased rapidly in Asia, especially, in energy hungry Japan and South Korea. Natural gas prices have been between $10.95 and $13.80 in Asia and over $12 in South America. As a result, the government and companies like BP (NYSE:BP) and Exxon Mobil (NYSE:XOM) are looking to export natural gas.
Opportunity to export will help the companies avoid another oversupply in the domestic market and bring in additional revenues. However, currently, there is only one liquified natural gas plant in the U.S. In addition, a large number of power producers are shifting to natural gas, which will augment domestic demand. As a result of international potential and stable local demand, I believe natural gas prices will remain fairly stable going forward. Furthermore, I believe the recovering natural gas prices will help Chesapeake avoid another asset write down. In fact, the company may recognize a gain in future up to the recognized loss if the assets become economically viable. I see more positives for Chesapeake in the long term than negatives.
Comparison with Peers:
Chesapeake peers include Devon Energy Corp (NYSE:DVN), EOG Resources (NYSE:EOG) and Exxon Mobil Corporation.
| | | | | |
| --- | --- | --- | --- | --- |
| | CHK | EOG | DVN | XOM |
| P/E | 7.20 | 21.40 | 10.10 | 9.60 |
| P/B | 0.90 | 2.20 | 1.10 | 2.60 |
| P/S | 1.30 | 2.60 | 2.20 | 0.9 |
| EPS Growth | 35.60% | -25.00% | N/A | -0.90% |
| Operating Margin | 23.70% | 22.00% | 33.00% | 16.00% |
| Net Margin | 17.30% | 12.10% | 21.70% | 9.10% |
| ROE TTM | 16.20% | 10.90% | 11.10% | 28.30% |
| Debt to Equity | 1.00 | 0.40 | 0.40 | 0.20 |
Source: Morningstar.com
The comparison shows that the stock is trading at a discount compared to its peers based on multiples. In addition, the company offers attractive margins. However, the debt to equity ratio for Chesapeake is higher than its peers.
Summary:
Volatility in commodity prices has hurt most of the participants in the oil and gas sector. In my previous article, I looked at how BHP Billiton (NYSE:BHP), Encana Corporation (NYSE:ECA) and BP had to write down assets. However, I believe there will not be any asset write downs in the future due to a recovery in gas prices. The company is trying to reinvent and diversify itself, and there is still a long way to go. Nonetheless, the company is on the right track and will prove to be an astute long-term investment.
Disclosure: I have no positions in any stocks mentioned, and no plans to initiate any positions within the next 72 hours.
Business relationship disclosure: EfsInvestment is a team of analysts. This article was written by Ishtiaq Ahmed, one of our equity researchers. We did not receive compensation for this article (other than from Seeking Alpha), and we have no business relationship with any company whose stock is mentioned in this article.