Whenever you see a leveraged buyout (LBO) you should think of a potential bounty; opportunity for profits arising for many at the expense of the target company's balance sheet; A Pareto Efficiency point being abruptly switched to another position - sometimes a new optimum but sadly more than often not.
The beneficiaries:
the target's shareholders as they get bought at a premium,
the lawyers making hefty fees on both buy and sell side - generally greatest return on risk adjusted capital,
the capital providers, whether banks or institutional investors who usually run the numbers and get on the front seat of the revenue streams and first claims in case of bankruptcy,
and lastly the management teams as they get rewarded on the present [n] regardless of the outcome of the buyout [n+…].
Usually the LBO banquet goes at the expense of the once healthy entities (and its employees), who end up much more vulnerable to the vicissitudes of the future. The target becomes a living death entity sometimes unable to take advantage of new technologies or market trends, and sometimes even on the verge of Chapter 11 in every quarter.
Nevertheless, on some occasions the target companies can benefit from LBOs - if they survive and manage to repay debt - as they become leaner, thriftier, more proactive, and less complacent. This is the case of Clear Channel Media Holdings (CCMO.OB), a media conglomerate that was targeted by Bain Capital Partners and Thomas H. Lee Partners in 2008 (contributing $2.4B in equity), which ended with nearly $19 billion in LBO debt in its balance sheet.
The CCMO Lemonade - Investment Thesis
Don't buy the stock despite the recent run, at least not before the big maturity walls are refinanced; there is a negligible profit potential for a company in a matured industry that has 11x times its EBITDA in debt. However, don't overlook the bonds - the lemons; these securities pay a lofty coupon, weighted average of outstanding bonds of 10.41% yearly. The Senior Unsecured due in 2016 paying up to 20% coupon (mid yield) and selling at a ~25% below par. Not bad.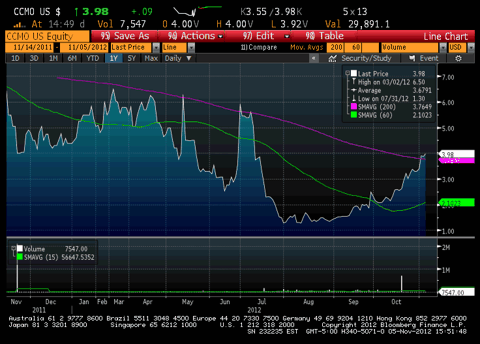 CCMO is a CCC+ rated company; never a fallen angel, it was given the B rating just after the LBO. Consequently, as with all bonds there is: I. A probability of default, in this case very high given CCMO financials, and II. a loss given default, which given the steadiness of the revenue stream of the advertisement Holdco, I would value at a 30% discount on a fire sale. Which means in gross numbers: discounted (30%) assets minus liabilities you would take a shave of 40% on the Unsecured paper face value, however all bonds are trading at a weighted average of 90 cents on the dollar, and 75 cents on the Unsecured 2016s which would result in roughly 20% shave in a bankruptcy scenario. Not modeling for the stomach ache given the uncertainty, but cashing in the paid coupons this is a profitable investment - the lemonade.
My thesis is the following:
CCMO is a big profitable company with substantial market share in its media markets. EBITDA margins are in the lofty level of 30%s. Which means that their only problem is over-leverage, and the fact that the whole company will be working for its creditors for the foreseeable future.
In case nothing gets done to renegotiate debt before the maturity wall of 2016, the bankruptcy court would have its way and most likely will mandate to renegotiate. Either way you have to refinance.
Company has money to pay out to capital providers as an incentive for the refinancing and thus provide a sweetener for voluntary actions. This is often good news for the banks and institutional investors who milk the cow.
And lastly, it will be a fatal mistake for Private Equity sponsors such as Bain Capital and Thomas H. Lee should the target company go bankrupt, since you know what will happen in their next deal if banks and institutional investors don't get their money back. So for a profitable and great company as Clear Channel, they could probably step in and alleviate the balance sheet a little bit with additional equity or by selling some assets.
CCMO Maturity Profile and Cash Position
CCMO has been proactively approaching creditors to extend maturities and spread its maturity peaks, mainly 2014 and 2016. In October 25, 2012 the company successfully exchanged $2.0B worth of loans to bonds maturing 2019, with a 4x oversubscription.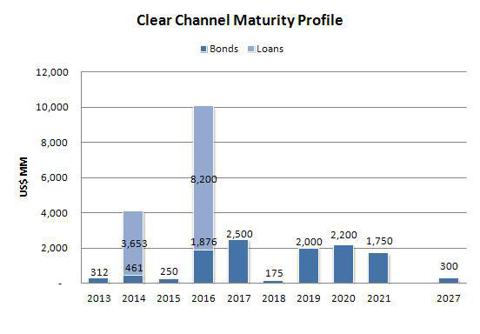 On the income front, CCMO revenues have held despite the challenging macro environment. On Friday, the company released 3Q2012 earnings pretty much flat to 3Q11, and 2Q12. Which together with the loan amortizations should - ceteris paribus - help decrease net leverage and improve the debt profile gradually.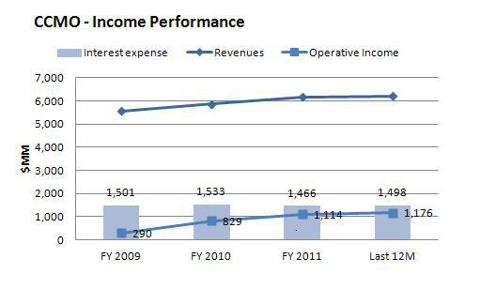 *Interest expense includes interest payment + amortizations.
Additionally, don't forget the cash… up to $1,316MM as of 2Q2012 thus we don't expect a meaningful reduction beyond the quarterly estimated deficit of $[40-60] MM, which on a back of the envelope calculation should be enough to run for another 5 years.
Conclusions
When life throws you lemons, make a Margarita!
Disclosure: I have no positions in any stocks mentioned, but may initiate a long position in CCMO.OB over the next 72 hours. I wrote this article myself, and it expresses my own opinions. I am not receiving compensation for it (other than from Seeking Alpha). I have no business relationship with any company whose stock is mentioned in this article.