Equity markets in the US, Japan, and Europe have rallied significantly and have outperformed emerging markets for the year. However, this will be a one year anomaly as borrowing and printing money does not drive prosperity. While Western countries have used the slow economy as a chance to rationalize excessive government borrowing and spending, emerging economies have been able to maintain stability in their governments' balance sheets. Debt to GDP ratios have climbed in the US, Japan, the UK and the Eurozone rapidly since 2000.
Italy and Greece, which already had a debt levels above 100% back in 2000, show the long term consequences of excessive government spending. Their economies are two of the world's slowest growing economies in the 21st century. The rest of the heavily indebted countries will face the same struggle. They will have to choose whether to cause a recession through a "fiscal cliff" style austerity or continue deficit spending until a debt crisis or high inflation erodes the real purchasing power of the country's citizens. Both outcomes are severe anchors to future real GDP growth.
Emerging economies on the other hand have kept debt in check. If a Chinese hard landing slows down the region, Asian economies have the cash reserves to stimulate the economy. In addition, emerging central banks can allow domestic currencies to appreciate and stimulate consumption through increased real purchasing power. A rising currency may cost these countries exports in the short term, but those will decline already due to the struggles in Western economies.
Debt to GDP and change in Debt since 2000 of Developed Nations: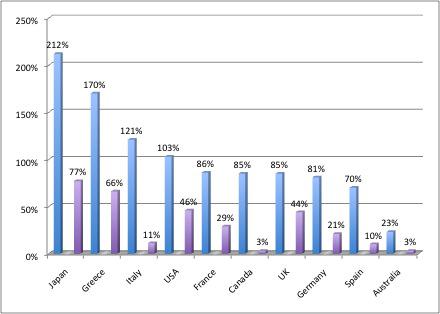 Debt to GDP and Change in Debt since 2000 in Emerging Economies: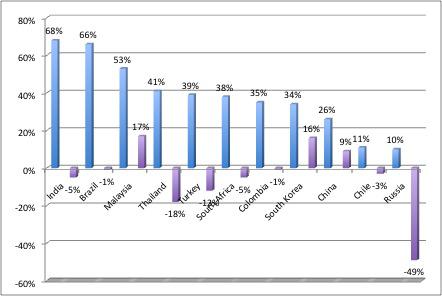 It's not just absolute debt where the developed nations lag, but also in the net change in debt to GDP since 2000. Whereas the developed nations gained have increased debt levels by an average 31% since 2000, emerging economies have cut back debt levels by an average of 5% over the same period. By showing fiscal policy restraint, emerging economies have set up a much more sustainable base for future economic growth.
Critics would argue that emerging economies are generally developing countries that lack geopolitical stability and established democratic institutions and are therefore less safe for investment. This is a valid concern, but the direction of governance is more important for the long-term investor than the current the state of a country. Developing countries are largely scaling back corruption and using reforms to open their markets to competition and clean up their governments. Corruption is the West is much lower than in the developing world, but it is increasing. Examples of this is the US falling to an all time low score of 7.1 on the transparency and international corruption perceptions index. Corruption has also increased in Europe with Italy and Greece climbing above South Africa and Turkey in their levels of corruption along with an upward trend in corruption for the rest of Europe.
Overall, debt levels in the Western world and Japan have grown out of control, and the high cost of paying of this back will hamper these economies for years to come. Emerging markets not shackled by debt should be able to continue to grow in the long term as the government is not crowding out private development and capital. What does this mean for investors. It means that investors should be overweight emerging market equities (NYSEARCA:EEM) and underweight US (NYSEARCA:SPY) and European stocks (NYSEARCA:VGK). Also commodities should benefit due to the Western nations high likelihood of using inflation rather than austerity to pay off their sovereign debts.
Disclosure: I have no positions in any stocks mentioned, but may initiate a short position in SPY over the next 72 hours. I wrote this article myself, and it expresses my own opinions. I am not receiving compensation for it (other than from Seeking Alpha). I have no business relationship with any company whose stock is mentioned in this article.